Every generation gains a bit of new knowledge and loses a bit of old knowledge. Here's some old knowledge, re-d

iscovered and recorded for posterity….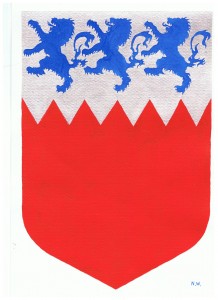 This is the amazing story of one family, spanning 34 authentically-provable generations from the beginning of the 11th century to today. During most of that time our ancestors lived in the English county of Yorkshire, but American researchers should find it interesting too, as we show how some of their families branched off from our line of descent in the 1600s as early Virginia colonists.
It has taken eight years of very meticulous and painstaking research by two brothers, in their spare time, to discover and put all of this material together. We have carefully questioned all uncertain facts to ensure our findings are as accurate as possible, within the limitations of historical documents that still exist.  Although amateurs, we hope that if any professional historians visit this website they might consider our project a good job done to a high standard.
If you can add any information please send us an email at admin@wormleyfamilyhistory.com .
We would be very grateful for your help. (Any emails we receive will be treated in complete confidence and not passed on or used in any way. We promise to totally delete any email addresses sent to us, if requested to, and to ask your permission before adding any details to this website).
Please also understand, though, that we cannot do any research for you or give guidance on how to trace your family tree. There are a number of professional websites that cover this, such as www.ancestry.com  and www.findmypast.co.uk .
We hope you find our history fascinating, and useful too if you are doing your own studies. It may help Wormleys or other people who are distantly related to us to fill in gaps in their own family trees, as the further back you go in time, the more likely it becomes that we share the same ancestors.
(Pictured above: Some members and relatives of the Wormley family living in England in 2013).
CONTENTS:
(Just scroll down until you reach the chapter heading you want. The whole book is on this single home page).
The Wormley Family Tree
The Wormley Family History
The medieval Wormleys and their relatives
Before the Norman Conquest of England we were Crispins
The Origins of the Crispin Family
The Newmarch family – knights and a baron who fought in famous battles
The first Wormleys: Normans who fought at the Battle of Hastings?
Wormleys took their name from a Yorkshire village
Our astonishing Y-DNA test – we share an ancestor with Scottish and Irish dukes
The Wormleys at Hatfield
Sir John de Wormele: 'Hammer of the Scots'
Margaret de Wormele: Granddaughter of a baron?
The Wormley coat of arms
The King and Geoffrey Chaucer came for Christmas
The second John de Wormele at Hatfield: Links with the legend of Robin Hood
The first Richard de Wormele at Hatfield: He paid 4d Poll Tax in 1379
The Cresacres…. our crusader ancestor
The later Middle Ages
The second Richard Wormelay
The next John: His tomb is in Hatfield church
The last medieval John: Monks wrote to him in 1469
The Tudor and Stuart Wormeleys
Robert Wormeley: Exchanged property with neighbours
The will of Thomas Wormeley of Hatfield, 1524
Charles Wormeley: He probably met Henry VIII
John Wormeley: Protector of Hatfield Chase
Shocking Elizabethan sex scandals fought out in the courts
Wormley shield is preserved in a castle window
Christopher Wormeley: Chamberlain of Hull and privateer ship owner
Thomas Wormeley: Founder of a grammar school
Thomas Wormeley's will of 1627
The Wormeleys at Riccall
Henry and Christopher Wormeley: One was fined by Charles I; the other was the Governor of 'pirate island' and a Virginia colonist
John and Henry Wormeley: Two generations of clergymen
The 18th and 19th Centuries
Samuel Wormley: The last gentleman
Wealthy farmer Wormley
Coachbuilders in York
Henry Wormley started the Victorian family business
Conisbrough and the 20th Century
Coal miners in a tough and dangerous job
Other branches of the Wormley family in the 21st century
Notes on the American Wormleys: Wealthy landowners and slaves
Connections with William Wilberforce: Wormley helped get famous anti-slavery MP into Parliament
Some final thoughts on our medieval research
Appendix 1 – The case for our earliest ancestors being the Crispins of Normandy
THE WORMLEY FAMILY TREE
THE Yorkshire Wormleys originated from Normandy. Our first ancestor to set foot on English soil was Gilbert Crispin II, a heroic commander in the army of William the Conquerer at the Battle of Hastings in 1066.
There is strong, although not conclusive, historical evidence that the Crispins may have been directly descended from the first three dukes of Normandy: Rollo the Viking, Duke William I "Longsword", and Duke Richard I "The Fearless".
After much detailed study of the limited historical information that survives today, we are confident that there must have been a blood relationship, or at least a connection through marriage, between the Crispins and the ducal house. However, the first Gilbert Crispin's parents have not been identified with certainty. One probable idea is that he was an illegitimate son of Gilbert Count of Brionne, who was a grandson of Richard I. We discuss the possibilities in depth in our chapter entitled "The Origins of the Crispin Family".
The Wormley family were a branch of the Yorkshire Newmarches of Bentley, Arksey and Womersley, who were descendants of the Crispins. They lived for about 150 years at Womersley, a village between Doncaster and Pontefract, from which their surname evolved. They are recorded at Hatfield Manor, near Doncaster, from around the beginning of the 14th century.
Our direct line of descent is believed to be as follows:
Gilbert Crispin I (c.1000AD – 1045). Gilbert, supposedly nicknamed Crispin because he had spikey, brush-like hair, was an important member of the nobility of Normandy. Duke Robert I put him in charge of Tillieres Castle, to help defend the Norman border against invasion by the king of France 1,000 years ago. His wife's name was Gunnor. They had children named Gilbert, William, Robert, Emma and Hesilia.
Gilbert Crispin II. Gilbert Crispin's eldest son, who with his brother William fought at the Battle of Hastings in 1066. Gilbert was a commander in the Norman invasion force and jointly led a charge with Henry de Ferrers against King Harold's Saxon army. It was written in a 12th century chronicle: "The earth trembled beneath them. All who did not flee before them were killed or captured." Gilbert inherited Tillieres castle and returned to live there after the Conquest. He was married to Hersende de Brezolles. Their children were Gilbert Crispin III, Ribault, Richard, Landry, William, Eleanor, Robert and Geoffrey d'Armentieres, and probably Raoul.
Robert d'Armentieres, who was a younger son of Gilbert Crispin II and came to England from Armentieres-sur-Avre, near Verneuil, in Normandy. The Dives and Falaise versions of the Battle Abbey Roll claim that he fought at the Battle of Hastings with his father, but this is unlikely as he was probably still a child. The Domesday Book records that Robert held Whatton in the Vale, near Nottingham, of Gilbert de Gand in 1086. Robert had a brother living in England called Geoffrey. We discuss their origins and possible ancestors in our chapter entitled "Before the Norman Conquest of England we were Crispins."
William de Whatton, a son of Robert d'Armentieres. He married a daughter of Ralph de Neufmarche (anglicised Newmarch), who in 1088 was living at Arksey, north of Doncaster, and also held a Nottinghamshire village called Elton, very close to Whatton. Ralph was probably a relative of Bernard de Neufmarch, who conquered the kingdom of Brycheiniog in Wales. William had a brother named Henry and a sister Beatrice.
Adam de Newmarch, son of William de Whatton, took his mother's name and inherited land from his uncle William de Newmarch. Adam died in 1161. He also had a brother called William and other brothers Robert and Walter.
Sir Henry de Newmarch, c. 1150 to 1178, who married Denise or Dionysia de Tilly, gaining Hatfield for the Newmarch family. Henry had a brother called Adam, who was born c 1145 and was living in 1180.
Sir Adam de Newmarch, travelling judge, born c 1175. Adam had a brother called Henry de Newmarch who married his second wife, Frethsenta Paynel, in 1218. Henry and Adam both went on King John's expedition to quell Ireland in 1210. He also had a daughter Margery who married Robert de Willoughby.
Sir John de Newmarch, married Pernel or Petronilla. John died in 1247, but his wife outlived him to a great age and was still living in Womersley, as a solitary nun, in 1293.
Baron Adam de Newmarch, John's son, born about 1220 and who died c. 1287. His wife's name was Joan. Adam was a leader in the barons' civil war against King Henry III. A Robert de Newmarch may have been Adam's younger brother or cousin. Robert was also known as Domino Roberto de Wilmersley (Lord Robert of Womersley/Wormley), recorded in charters in 1260 and about 1280. Here is Adam's seal – last used over 700 years ago. (Click or tap on the photo to enlarge it).
Sir Adam de Newmarch - son of Baron Adam, married  Elizabeth, or Isabel, daughter of Sir Roger de Mowbray of the Isle of Axholme. This Adam died in 1303.
Sir Roger de Newmarch, who held Womersley after his brother John died in 1308-1310. Roger lived until 1352. He fought at the Battle of Bannockburn in 1314 against Robert the Bruce. His wife's name was Matilda. Roger's sister or possibly  his aunt, Margaret, married baron Jordan Foliot of Fenwick. His sister Lucy married William Wentworth about 1290.
Sir John de Wormele. Son of Roger, knight and lord of his manor at Hatfield, Yorks, by 1331. Probably born somewhere around 1300 and died by 1350. His wife was Margaret or Margery, possibly a descendant of Sir Roger de London, who married a daughter of Adam de Newmarch the judge, c.1230s. John had an elder brother Adam – they probably both died of the Black Death, the worst epidemic of bubonic plague in history.
John de Wormeley esquire of Hatfield, died in 1373  – believed to have married Elinor Foliot, probably a granddaughter of Edmund or William, brothers of Baron Jordan Foliot, Lord of Fenwick.
Richard Wormeley of Hatfield, died by 1386. His wife was called Katherine,  believed to be a daughter of Thomas Cresacre of Barnburgh.
(Richard had at least one brother, named William).
Richard Wormeley of Hatfield, born mid 1300s and living in 1416 -  believed to have married a daughter of Thomas Mountney, of Coley (and perhaps Hickleton).
(Richard had a brother called Jeffrey).
John Wormeley of Hatfield, died about 1450  -  may have married a daughter of Sir Thomas Pollington.
John Wormeley  – married Cecilia, probably the daughter of Thomas Kellam of Rotherham. Both were still living in 1469.
Robert Wormeley of Hatfield, died 1526 -  wife unidentified.
(Robert's brothers were Thomas, died 1527, and others unidentified).
Charles Wormeley of Hatfield, died in 1545 -  wife unidentified.
John Wormeley of Hatfield, 1521 to 1567 -  married Margaret Hutchins, daughter of Thomas Hutchins, died 1601.
(John had a brother called Lawrence and probably others).
Christopher Wormeley of Hull, merchant and the Chamberlain of Hull, died in 1588  -  married Elizabeth Hogge, daughter of Richard Hogge of Marflete.
(Christopher's brothers and sisters were Symon, Francis, Thomas, Jane and perhaps Richard, all born in the 1540s to mid 1560s).
Henry Wormeley, 1584 to 1657, lord of the Manor of Riccall near York -  married Margaret Consett, born 1590, daughter of Christopher Consett, the Sheriff and Lord Mayor of York. She died at Riccall in 1652.
(Henry's brothers were Edward, Christopher born 1589, Jane, Mary, Thomas and possibly Ralph, although it is more likely that Ralph was 1589-born Christopher Wormeley's son, or a cousin from County Durham or Westmorland).
The Rev John Wormeley, 1622 to 1669, born and died at Riccall. Married his cousin in 1641 -  Jane Wormeley, 1629 to 1666, daughter of Captain Christopher Wormeley, Governor of Tortuga Island in the Caribbean, and Mary Adams.
(John's brothers and sisters were Edward, born 1613, Christopher, born 1614, and Henry, Jane, Faith, Elizabeth, Mary, Margaret and Timothy, dates uncertain).
The Rev Henry Wormeley, 1657 to 1699, Rector of St Denis' Church, York – married Elizabeth Tireman of York, who was born in 1669.
(Henry's brothers and sisters were Edward, born 1647, Mary 1661 and Jane 1664, plus seven others who died as babies or children).
Samuel Wormley, gentleman, 1697 to 1762 -  Sarah Mills at Riccall, 1707 to 1784.
(Samuel's brothers and sisters: Mary born 1691, Elizabeth 1693 and John, 1695).
Henry Wormley, 1739 to 1806, farmer of Riccall -  married Anne Vaux, daughter of William and Jane Vaux of Elvington, 1750 to 1825.
(Henry's brothers and sister were: Edward born 1733, John 1736, and Mary 1743).
Samuel Wormley, 1793 to 1830  – married Esther Driver, born in York, 1796 to 1879.
(Samuel's brothers and sisters were: Hannah, born 1775, Mary 1777, Anne 1778, Jane born 1778 died 1779, John born 1780 and died 1780, Elizabeth 1781, Edward born 1781, died 1782, Thomas 1784).
Henry Wormley, born 1815 at Riccall, coach builder in York, died 1880 -  married Anne Maria Quarton, born about 1815 in Selby. She died in 1898.
(Henry's brothers and sisters were: Ann born and died 1816, Mary born and died 1817, second Ann born and died 1818, third Ann born 1819 but died in childhood, Sarah born 1822, Elizabeth 1823, Mary 1826, William born and died in 1829, fourth Ann born 1830).
William Wormley, 1844 to 1910, coach builder in York -  married Hannah Dobson, who died in 1884, giving birth to her 11th child.
(William's brothers and sisters were: Amelia born 1841, Jesse 1842, Emily 1846, Elizabeth 1848, Henry 1851, Samuel 1852, Edward 1854).
John Henry Wormley, coal miner, 1876 to 1961, Conisbrough  – married Jessie Lewis, 1878 to 1958.
(John Henry's brothers and sisters were: Alice born 1865, Edward 1867, Arthur 1869, Walter 1870, Elizabeth 1871, John 1874, Fred 1878, William Hardwick 1880, Ernest 1883, Hannah 1884)
Thomas Wormley, coal miner, later chief cashier at an historical London bank, 1902 to 1970 -  married Alice Fox, 1903 to 1947.
(Thomas's brothers and sisters were: Elsie 1899, Eva 1901, Lewis 1905, Jessie 1911, John Henry 1914, Harold 1922).
Dennis John Wormley, born at Conisbrough 1931, planning engineer -  married Patricia Darcy, born in London, 1930.
(Dennis's brother Brian born 1938 in London. Wife Catherine died in 2010, daughters Carol – partner Michael Gates – and Wendy – married Michael Brooks, daughter Emma).
Kevin Wormley, born 1963 at Kings Langley -  married Marion Saunders, born Amersham, 1968.
(Kevin's brothers Nick, 1955, and Adrian Wormley, 1960 – partner Janette Knowler, their daughter Sophie).
Kevin and Marion's sons Luke Wormley, born 1991 at High Wycombe, and Kieran Wormley, born 1995 at Stoke Mandeville.
THE WORMLEY FAMILY HISTORY
WE EXPECTED the Wormley family tree to be fairly dull, perhaps a few generations of salt of the earth Yorkshire coal miners and farm workers. Very surprisingly, it turned out to be one of the most remarkable family trees in England, traceable for 1,000 years back to pre-conquest Normandy. It is unbroken through the male family line for probably 34 generations. Altogether they have lived in 11 or 12 centuries.
The 14th to the 17th centuries had already been partially researched, particularly by American university administrator and historical scholar, the late Professor Stanton L Wormley, and his son, Stanton Wormley jnr, aided by their associate Paul Sluby. On and off, they spent 50 years tracking down their own family tree between the 1940s and 1990. Sadly and unfortunately they spent a great deal of time studying our family tree in the mistaken belief that we shared the same ancestors before the 17th century. Y-DNA testing has now shown this to be incorrect.
We were also helped greatly by the existence, on the internet, of a section of the Wormley family tree drawn and published by the 17th century historian Sir William Dugdale, in his "Visitation of Yorkshire." He spent two years travelling across Yorkshire in 1665 and 1666, visiting important families in the county at that time and collecting their family tree details.
Working back from today through modern state records since 1837, the 17th and 18th century parish records from St Mary's Church at Riccall, and various internet sources, we were able to link into the Dugdale family tree through Henry Wormley who was christened at Stillingfleet in 1657 and became the Rector of St Denis's Church in York.
The Dugdale section links into Dr Stanton Wormley's research with John Wormley of Hatfield, born in 1521, and his wife Margaret. This John is our 11 greats grandfather.
After thousands of hours of research, the Wormley family tree is a fascinating history lesson. Along the way it includes a number of knights in armour who fought at some of the most famous battles of all time, the lords of several manors, and two captains ‑ one of them the governor of an island in the Spanish Main who became a wealthy plantation owner in Virginia and founded the first Wormley family in north America; the other an army captain who married the 1st cousin of the Commander in Chief of all Parliament's armies in the English Civil War.
The ancient Wormleys had their own genuine heraldic family coat of arms and motto. The red and silver shield with three blue lions rampant was officially recorded by the heralds of the College of Arms centuries ago as the arms of the Wormley family in Yorkshire.
The Wormley of Hatfield coat of arms was printed in Burke's General Armory of England, Scotland, Ireland and Wales, by Sir Bernard Burke, 1884. He said the lions were sable (black), but earlier sources describe them as azure (blue) on a chief indented argent (top third of the shield silver, divided from the gules (red) lower part by a zig zag edge).
A book called "The English Counties Delineated", by Thomas Moule, published in 1837, said: "In the chancel (of St Lawrence's Church, Hatfield) is an ancient altar tomb bearing the arms of the family of Wormley".
You can see the arms today on an aisle wall inside Riccall Church, near York. (Google St Mary's Church Riccall and view the pictures, specifically the interior photo. Our ancestors probably sat inside this church every Sunday for over 200 years).
Our splendid family motto is firmus in firmis – Latin meaning "Firm among the firm" or "Steadfast among the strong".
   A number of internet sites show this as the Richardson family motto, so clearly Toft Richardson took over the ancient Wormley motto when he inherited the lordship of Riccall in 1800, as we know he was proud of marrying into the family with its long history. (C N Elvin's Handbook of Mottoes, published 1860).
The medieval Wormleys and their relatives:
These notes should not be regarded as though they are a complete book. They were written  to be read in conjunction with the family tree above. You will need to have both in front of you at the same time to follow and understand who was who and when they lived. It would be far too complicated otherwise, because Christian names were passed on from one generation to another and repeated for centuries. We advise you to print a copy of the tree above and refer to it beside your computer screen at every stage.
American Wormleys might find it helpful to also read the Stanton Wormleys' family tree and accompanying notes in "Wormeley-Wormley – c.1160 to 1990".  However, they should use caution in taking information from this book, because it is now clear that today's black Wormley families of Washington and elsewhere are NOT partially descended from white Wormley settlers of Virginia, as was formerly thought. Additionally, most white people named Wormley in the USA are probably descended from later immigrants who arrived there in the 19th and 20th centuries. (See "Notes on the American Wormleys" towards the end of this website).
Medieval Wormleys and their relatives were mentioned a number of times in the Calender of Patent Rolls. These are records of the medieval English kings' official correspondence through several centuries and contain 13th, 14th and 15th century references to our ancestors. They have been translated from medieval Latin and may at first seem difficult to understand.
If you are interested in seeing them, the Rolls can be viewed by the public on http//sdrc.lib.uiowa.edu/patentrolls, or by Googling University of Iowa Patent Rolls.
There are also references to the medieval Wormleys in other historical documents that can be read on the internet. You can read nearly all of the Close Rolls, Fine Rolls, Patent Rolls, Chancery Rolls, Curia Regis Rolls, Pipe Rolls, feet of fines, inquisitions post mortem etc, by googling "Medieval Source Materials".  Go into probably the first site you see – "Medieval Source Material on the Internet" , (www.medievalgenealogy.org.uk/sources/rolls  ) and click on "sources" in the centre of the green bar at the top. Then work through the list under public records. Curia Regis Rolls are in Common Law Records.
Before the Norman Conquest of England we were Crispins
The Wormleys are directly descended through the Newmarches of Yorkshire from Robert d'Armentieres, who was almost certainly a younger son of Gilbert Crispin II. Robert held Whatton-in-the-Vale, Nottinghamshire, in 1086.
Therefore, we believe the Wormley family's ancestors can be traced back in a single line of male descent to Gilbert Crispin I, lord of Tillieres and Bec in Normandy, 1,000 years ago.
The next generation in our family tree was his eldest son, Gilbert Crispin II, who took over his father's roll of defending the duchy against the threat of French invasion, when William the Conquerer confirmed his family residence at the frontier fortress of Tillieres castle.
Until we made a stunning break-through in research in January 2015, Robert's ancestry had been uncertain. Historians had suggested three alternative possibilities.
The most likely idea seemed that he came from the Flemish town of Armentieres Nord, near Lille, which is nowadays just in France, next to the Belgian border. This was favoured by a number of top British and French historians, past and present, appearing to fit well with the Domesday Book's record that in 1086 Robert d'Armentieres' landlord at seven places in England was a Flemish leader at the Battle of Hastings, Gilbert of Ghent.
These included Ewelme, Hanborough and some land in Rowbury Hundred, in Berkshire and Oxfordshire; Whichford in Northants; and Whatton, Aslockton and Hawksworth in Nottinghamshire (plus one holding in Wallingford directly of King William I).
Geoffrey d'Armentieres' five or more Domesday holdings in Northants, Rutland and Lincolnshire were also all held of Gilbert de Ghent as tenant in chief.  Geoffrey was probably Robert d'Armentieres' brother. They were definitely related – this is confirmed by a record in the Ramsey Priory Cartulary which shows them both making gifts to the church at Cranwell in Lincolnshire.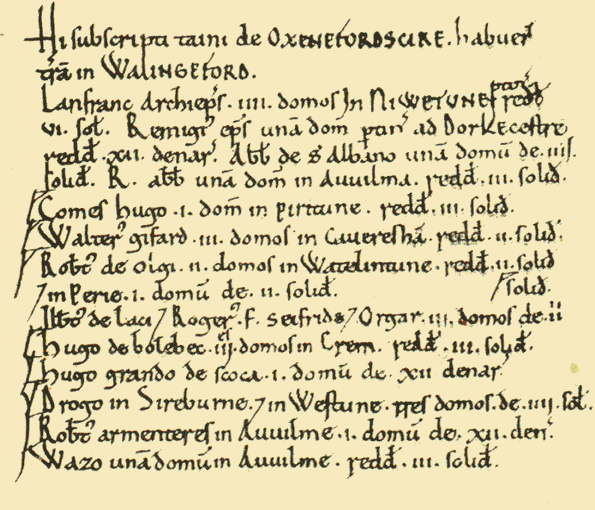 Robert d'Armentieres recorded as a land-owner at Wallingford in the Domesday Book, in 1086. His name starts off the penultimate line. Thanks to Professor J.J.N. Palmer and George Slater for permitting use of the photo.
Leading historian  J Horace Round wrote in 1902: "The family must have come to England with this powerful Fleming at the Conquest".
And H W Whatton, writing his family history in 1825, said that the first William de Whatton was of Flemish extraction. William was a son of Robert d'Armentieres.
However, although it appeared that Robert must have been a Flemish knight from Armentieres in Flanders, a remarkable alternative theory by British historian Michael Stanhope has now been shown to be correct instead. This indicates that Robert d'Armentieres was a member of the illustrious Crispin family, who lived about 50 miles west of Paris in the 11th century.
Robert took his name from a small village called Armentieres-sur-Avre – where a charter recorded that a Robert d'Armentieres made a grant between 1100 and 1120. A past French historian M. l'abbe De La Rue thought this was the same man as the Robert d'Armentieres named in the English Domesday Book. Mr Stanhope, a medieval families expert, agreed and in 2014 he put together an incredibly-detailed hypothesis to support the case.
Michael Stanhope's argument  for Robert d'Armentieres being part of the Crispin family is based partly on him taking his name from a place owned by them – his father, Gilbert Crispin II, became enfeoffed in Armentieres through his wife Hersende's dower land there.
He backs this up by explaining that the Crispin family were related around that time to the family of Gilbert de Gand (Ghent), who was the tenant in chief of Whatton  in 1086 and would probably have granted it in turn to a relative or someone he favoured.
You can read Mr Stanhope's impressively-detailed arguments for Robert d'Armentieres being a member of the powerful Crispin family in Appendix 1, at the end of this website. His reasoning is largely based on the intricate network of arranged marriages between them and other wealthy families, which followed a pattern for generations.
The feudal system of that time was obsessed with family relationships, deliberately brought about by arranged marriages between families of the same land-owning class, to the point eventually of considerable inbreeding. It was not an age of women's rights – daughters married who they were told to marry and that was that. The aim was to ensure continued inheritance of land, which was the only way to have any wealth and power. The alternative was destitution and poverty for one's descendants. This helps to explain to modern minds why these possible family links are such important clues to medieval genealogy.
Certainly Robert d'Armentieres of Armentieres-sur-Avre was likely to have been at least some relation to the Crispins. Family connections were everything, and he must have had some, with the "right" people….
It was an impressive theory, but it seemed that was all it could ever be. Then, in January 2015, an unexpected opportunity occurred to compare Nick Wormley's DNA test results with those of another person who had a very strong historical claim to be a direct descendent of Gilbert Crispin I through his son William. Incredibly, the match was remarkably close – we had a genetic distance of four at 37 STR markers, and shared a combination of two slow-mutating, subclade-defining numbers that is unique to us.  We also share in common most of the marker differences that separate us from our nearest known genetical relatives – an earlier branch of the L-1237 subclade in haplogroup I-Z 63.
This indicated that the Wormleys and this other family, who preferred not to be publically identified, shared a common ancestor, probably around Norman times.
It fitted hand in glove with Michael Stanhope's historical evidence for a branching of these two families around the end of the 11th century, and can pretty certainly be assumed to prove it. Any alternative explanations for such a close genetical match are far less likely. It would be astonishing beyond belief if it was just a coincidence.
We are also extremely grateful to Mr Stanhope for doing a great deal of finely-detailed research on the Newmarches, Foliots and other south Yorkshire families, which has enabled us to confidently trace the Wormley family's line of descent back into the 11th century.
Gilbert Crispin I lived from about 1,000 to 1045 AD and was an important member of the ruling class in Normandy. His probable descendant, Milo Crispin, wrote that Gilbert was "of renowned origin and nobility". Anselm, who was the Archbishop of Canterbury from 1093 to 1109, said that the Crispins were "rich and of the first nobility of Normandy".
Unfortunately neither of them elaborated on these statements and it is not clear who Gilbert Crispin's parents or ancestors were. He is wrongly confused in many websites and books with Gilbert of Brionne - frequent statements that they were one and the same man are very unlikely to be correct, as they had different wives and different children and lived in different places!
There is a strong possibility, however, that Gilbert Crispin might have been an illegitimate son of Gilbert de Brionne, whose own father was Geoffrey/Godfrey Count of Eu. Michael Stanhope suggests this to be the case in his website "Danes and Normans:"
(See an extract from this right at the end of this website. Also read our next chapter about the origins of the Crispin family).
Gilbert was supposedly nicknamed Crispin because he had spikey, brush-like hair. He was first mentioned in Duke Richard II's entourage at Fecamp in 1025. Duke Robert I put him in charge of Tillieres Castle between 1027 and 1034, and another frontier fortress at nearby Damville, to help defend the Norman border against invasion by the king of France 1,000 years ago. Gilbert defended Tillieres doggedly against King Henri of France in 1040, and only surrendered when he was personally ordered to by the young Duke William, who was later to become William the Conquerer and king of England.
His wife's name was Gunnor, probably Gunnor d'Anet (not Gunnor d'Aunou, a daughter of Baldric the Teuton, as was once thought). Her father was Osmund de Conteville – the Crispins owned Conteville, near le Harve, in 1130, and it can be assumed that they inherited this village from Gunnor. Gunnor Crispin was the granddaughter of Harfast, brother of another woman named Gunnor – Duchess Gunnor, who was the wife of Duke Richard I. (They were William the Conquerer's great grandparents, so through this the Crispins had a family connection to the Conquerer).
Gilbert Crispin I and Gunnor had children named Gilbert, William, Robert, Emma and Hesilia.
The eldest son, Gilbert Crispin II, succeeded his father as the castellan of Tillieres. He is one of only 20-odd knights who are known with complete certainty to have fought at Hastings in 1066, when the Normans invaded England. Gilbert led a joint charge of the Norman army against the Saxons with Henry de Ferrers at the most important battle in the whole of English history.  It was written later by Wace in his epic chronicle Le Roman de Rou that "the earth trembled beneath them."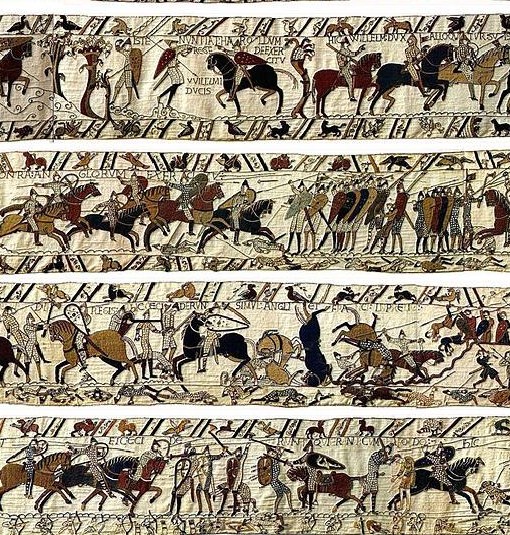 Battle scenes at Hastings as depicted in the Bayeux Tapestry.
Gilbert was probably born in the late 1020s and he married Hersende de Brezolles, who brought a number of local border villages into the possession of the Tillieres family, including Armentieres. The marriage was a diplomatic alliance with the family of Albert Fils-Ribaut, who were rival neighbours based at Chateauneuf Castle.
Norman charters, written in Latin nine centuries and longer ago, show that Gilbert Crispin II and Hersende were the parents of Robert d'Armentieres, and therefore direct ancestors of the Wormleys.
Firstly, a document in the Cartulaire de l'Abbaye de Saint-Pere de Chartres, dated c 1090, was signed by "Gislebertis de Tileriis senoire, Hersende eius uxor; Gislebertus junior" – proving that Hersende was the wife of Gilbert Crispin II and that they had a son called Gilbert.
Secondly, a charter dated to within a few years after 1107, records that Robert d'Armentieres made a charitable gift of land and a third share in the profits of a mill at Armentieres to St Peter's Abbey at Chartres. Assent for this donation to go ahead was granted by his brother and his mother. They were not named in the document, but in several similar charters around the same time, consent was given by the tenant in chief for the Tillieres estate Gilbert III, in tandem with his mother Hersende, who had become a "dowager widow" after her husband Gilbert II died in 1107. It stands to reason that they would do the same in Robert d'Armentieres' case, as no doubt they were overlords of the property involved – showing that Robert's brother and mother were Gilbert and Hersende.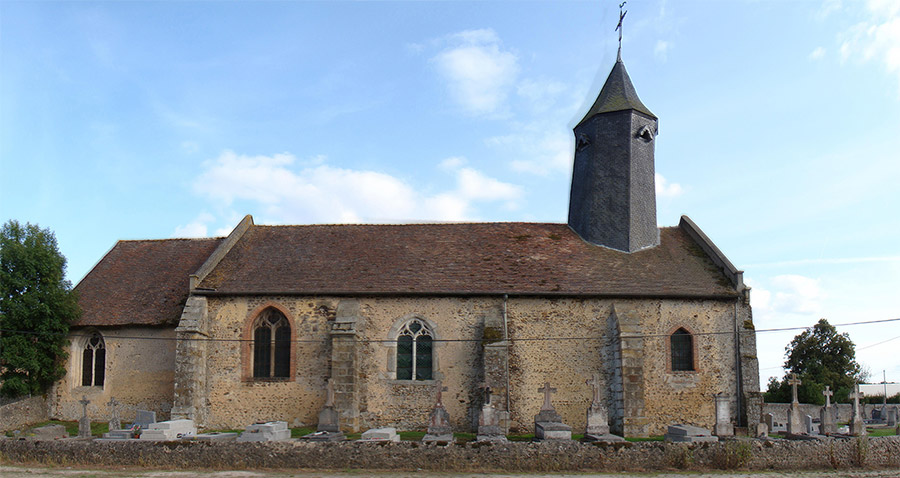 St Martin's Church, Armentieres, was built by the Normans and apart from the belfry and altered windows probably looked much as it does now when Robert d'Armentieres  and his mother Hersende lived there.
Gilbert II's younger brother Robert Crispin was a Norman mercenary who fought the Turks in the Near East and was poisoned soon after the battle of Manzikert.
Emma Crispin married Pierre de Conde and inherited estates in Lincolnshire.
Gilbert I and Gunnor's other daughter, Hesilia Crispin, was married to William Mallet. He was the Sheriff of York and was captured there in 1069 with Gilbert de Gand and their families when the Danish fleet staged a surprise invasion attack. The marauding Danes and Northumbrians burnt the city and slaughtered 3,000 people, sparing just a handful for ransom.
The second son in this generation, William Crispin I, probably fought at Hastings with his elder brother Gilbert II. He was definitely one of the leaders at the Battle of Mortemer in 1054, when the Normans heavily defeated their invading French neighbours.
Duke William of Normandy made William Crispin the Viscount of the Vexin county and lord of Neaufles Castle so that he could ward off any further threats from France.
Milo Crispin wrote that William Crispin I was "of outstanding manners, the best known of all. With military fame he rose above almost all of his contemporaries. His famous prowess made many envious."
William's wife was Eve de Montfort-sur-Risle, sister of Norman frontier lord Simon de Montfort. Their parents were Amauri I de Montfort, who died in 1031, and Bertrade de Gometz.
Gilbert de Gand, who was Robert and Geoffrey d'Armentieres' overlord in England, married Alice de Montfort in the same family. Robert and Geoffrey were nephews of William Crispin I and Eve and so were related to Gilbert de Gand by these marriages. This probably explains why they held so many tenancies from him when the Domesday Book was written in 1086.
Among Eve's many other children was another Gilbert Crispin, who became the Abbot of Westminster 900 years ago – his tomb can be seen in Westminster Abbey in London.
Robert d'Armentieres' cousin was William Crispin II, who held land in east Yorkshire and Northumberland. He married Agnes de Mauvoisin and one branch of their descendants became the Colevilles in Scotland. Agnes was a granddaughter of King Robert II of France. Her great aunt married Duke Richard III of Normandy and had a daughter, Mathilde, who became the Queen of England.
(Gilbert Crispin II mainly lived in Normandy but he appears to have held several villages in Suffolk under the alias Gilbert de Coleville).
Another probable cousin or maybe brother of Robert d'Armentieres, Miles Crispin, was one of the main land-owners in England in the Domesday Book. King Henry I, a definite descendant of the Norman dukes, spent a Christmas with Miles and attended his wedding in 1085, suggesting perhaps that they were cousins.
Miles owned Wallingford Castle and may have been its builder, although he probably inherited it from William Crispin I, as building started immediately after the Conquest.
William Crispin I died by 1079 and as an elderly widow Eve spent her last years in chambers attached to Bec Abbey in Normandy, which her husband had supported financially. The monks all thought of her as a kindly mother-figure, and she also loved little dogs. She died in a fire in 1099.
Several other Crispins were living in the 11th to early 12th centuries, but it isn't clear exactly who they were. One was Fulk Crispin, who witnessed a charter concerning Bath Abbey in January 1091, in company with Abbot Gilbert Crispin and Miles Crispin's father-in-law Robert d'Oilly. Perhaps he was also known as Foulkes d'Armentieres, who made donations to the monastery of St Pierre at Chartres at the beginning of the 12th century, and so he might have been a close relative of Robert and Geoffrey d'Armentieres?
A Raoul Crispin of Tillieres married a daughter of Richard de Bienfait (Clare), son of Gilbert de Brionne, and he witnessed charters between 1055 and 1100. All we can say for sure is that he must have been the same generation as Gilbert Crispin II or possibly Gilbert III.
*A Geoffrey Crispin was in command of the fortress of Châteauceaux, in frontier lands to the west of Normandy near Angers, in 1038. He was followed later by a Simon Crispin, and they were probably a branch of the Crispins at Bec and Tillieres. Geoffrey might have been a brother of the first Gilbert Crispin, but we can only guess.
The Origins of the Crispin Family
English historian Michael Stanhope, an expert in medieval family connections, has proposed that Gilbert Crispin I was probably the son of Gilbert de Brionne and a concubine. Gilbert de Brionne's father was Geoffrey/Godfrey Count of Eu.
An alternative possibility is that Gilbert Crispin's father was Geoffrey's brother Guillaume d'Eu. Geoffrey and Guillaume were illegitimate sons of Duke Richard I of Normandy, so if either of these suggested relationships was correct, Gilbert Crispin would be  descended from the first three Dukes of Normandy. His grandfather or great grandfather would be Richard "The Fearless", son of Duke William I ­- "called William Longsword", who in turn was the son of Rollo the Viking, founder of Normandy at the beginning of the 10th Century.
Geoffrey and William d'Eu's half-sister, Emma, was married to two pre-conquest kings of England – firstly Aethelred the Unready and secondly Cnut. She was also mother of the last Anglo Saxon king but one, Edward the Confessor. William the Conquerer's claim to the English throne stemmed from this.
Therefore, Gilbert Crispin I may have been a 2nd cousin of both Duke Robert of Normandy (William the Conquerer's father), and of King Edward the Confessor of England.
If we could be totally certain that Mr Stanhope's theory is correct we would start the Wormley family tree as follows:
Rollo the Viking, who may have come from Denmark or Norway, and led Viking raids in northern France at the end of the 9th Century. He was granted territory around Rouen in 911AD by the Frankish king, Charles III, to pacify him and act as a buffer against further Norse incursions. Rollo was baptized into the Christian faith as Robert, and was effectively the first "Duke" of Normandy, although at that time he was only styled Comte (Count) de Normandie. He married Poppa, daughter of Berengar, Comte de Bayeux. Rollo died before 933.
Guillaume (William) I, the second Duke of Normandy. Son of Rollo, born at Rouen c.900-905, and known as William "Longsword". William quelled a rebellion led by the Viking chief Riulf, who besieged Rouen, and he was involved in fighting with Brittany and Flanders. His first wife (or concubine) was called Sprota – "a noble Danish girl". He was murdered in December 942.
Richard I, third Duke of Normandy, son of William and Sprota. Born at Fecamp in 932, and buried there on November 20th, 996. Known as Richard "The Fearless". He was captured as a boy by Louis IV, king of the West Franks who marched on Rouen, but he escaped. Later, Richard defeated an army of German king Otto I and also French forces after King Lothaire of France had captured the Norman town of Evreux. Richard married firstly Emma, daughter of Hughes, Duke of the Franks and Count of Paris. He married, secondly, Gunnor, of a noble Danish family, who had previously been his mistress. Their children included Duke Richard II of Normandy and Robert, the Archbishop of Rouen. One of their great grandsons was William the Conquerer, who became the first Norman king of England in 1066.
Geoffrey/Godfrey d'Eu, or perhaps his younger brother/half-brother William d'Eu. Both were illegitimate children of Duke Richard I, but by a different mistress to Gunnor.
Gilbert de Brionne, who was the son of Geoffrey d'Eu. Geoffrey was the Comte de Brionne from c.996 to his death in 1015. Gilbert de Brionne was born in about 980 and it is very feasible that Gilbert Crispin I may have been his illegitimate son, probably born around 1000AD. Illegitimacy did not carry a stigma or necessarily prevent accession to property or titles then.
Another suggested pedigree in some older books has Gilbert Crispin as a son of Crespin Ansgot and Heloise de Guines. This is a long-standing, traditional belief, which would make him the grandson of Guillaume de Bec (c.918 to 1000AD) and Bertha de Vermandois. His great grandparents would thus be Hrolf Turstain (a nephew of Rollo) and Gerlotte de Blois. This version of events contains a difficulty, however, because it shows Gilbert as a brother of Herluin, Abbot of Bec, which seems unlikely. A 19th Century embellishment involving "Crispina daughter of Rollo" marrying Grimaldi of Monaco is pretty certainly an invention.
A broader family tree, through the wives and mothers of these men, would bring the Holy Roman Emperor Charlemagne, early kings of France and King Alfred the Great of England into Gilbert Crispin's list of ancestors.
All we can say is that various members of the Crispin family were of such status and rank that a family connection with the ruling dynasty of Normandy seems very likely.
Not all historians share this view, however. Astrid Lemoine-Descourtieux wrote in her book "La Frontiere Normande de l'Avre", in 2011, that Gilbert Crispin I was from a second rank of the nobility, in the shadow of the Count of Brionne, and that he did not have ducal relatives.
The Crispins were clearly part of a kinship network involving several top aristocratic families, particularly the d'Ivry family, the de Crepon family and a branch of the ducal family through Geoffrey d'Eu. It looks a sound idea that Gilbert Crispin I was an illegitimate son of Gilbert de Brionne, but this is only a theory and it might be that they fitted into this kinship pattern in some other way.
One suggestion is that they may have originated in the Crepon family. A monk called Milo Crispin, writing a century after the time of Gilbert Crispin I, said that Gilbert was given the nickname Crispin from the Latin phrase pinus crispinus – meaning he had bristly hair that stuck out like pine needles. Maybe this tale was just a bit of invented family folklore…?
A more realistic thought might be that perhaps Crepon/Crespon/Crespin/Crispin are all one and the same name?
On the other hand, Gilbert de Brionne appears to have also been called Crispin in the past, which has caused great confusion for centuries. Many books and websites still wrongly claim that he and Gilbert Crispin I were the same man. This remains puzzling, as he is not thought to have been a descendent of Duchess Gunnor de Crepon, but there might have been a Crepon wife and mother in his unclear maternal ancestry. If so, either of these Gilberts might possibly have taken the name Crispin from their mother's family.
Other evidence of Crispin kinship connections (a sort of old school tie system but much stronger) with these families includes the close association of their names in a number of ancient Norman charters.
In one, a gift of land by Gilbert Crispin I to Jumiege Abbey was witnessed by William FitzOsborn  and Hugh d'Ivry. In another, Robert Crispin witnessed a gift to Jumiege by Osborn de Crepon, along with William FitzOsborn and Count William and Countess Mathilda (future king and queen of England).
Gilbert Crispin II with his sons, Guillaume de Breteuil and Roger de Bienfait all confirmed a gift of land at Guerneville by Gilbert Crispin and William FitzOsborn's sub-tenant there.
Some years later, William Crispin, William de Breteuil and Roger de Bienfait combined together again to oppose Robert, Count of Meulan, claiming the abbey of Bec as part of his demesne lands.
Osborn de Crepon and Gilbert de Brionne were two of William the Conquerer's guardians who protected him after the early death of his father, while he was still a boy. Osborn and Gilbert were clearly both part of the Crispin "kinship network", although probably only related by marriage.
This all implies that these families were inter-related, but does not reveal the Crispins' origin – although some links appear to stem from Gilbert Crispin's wife Gunnor, daughter of Osmund de Conteville. Kinship connections cannot necessarily be assumed to mean blood relationships – often families were linked by marriage, step-children, half-brothers and sisters, godchildren or adoptions.
Michael Stanhope has no doubts about the importance of these kinship links. He says: "The main point to me about early charters  of other people that the Crispins witnessed is a link to the FitzOsborn family, that is, to the d'Ivris. Prevost was unable to offer an explanation for this. The general answer is that Gilbert Crispin or his father was at least intermarried into the ducal circle, or was a family member. It had to be a close relationship, because the entire defence of the Norman border was placed in the hands of the Crispins; such a role would have usually only been given to a blood relative."
One fly in the ointment that bothers us about Michael Stanhope's hypothesis is that the 11th century chronicler William of Jumiege wrote that Raoul Crispin of Tillieres married a daughter of Richard de Bienfait (Clare), son of Gilbert de Brionne. But if Gilbert Crispin I and Richard de Bienfait were both sons of Gilbert de Brionne, even if only half brothers, then Raoul and his bride would be probably first or second cousins and so would not normally have been allowed to marry by the Church.
The same problem of consanguinity rules preventing marriage to a close relative also makes it hard to see how the Crispins might have been descended from the de Crepon family instead. Gilbert I cannot have been a son of Osborn de Crepon without marrying his own first cousin – again, the Church would almost certainly not have allowed this. On the other hand they often bent the rules.
Another medieval genealogy expert, Michael Harris, suggested in 2012 that the first Gilbert Crispin may have been a son of Viscount Erchembald, who was closely connected with Osbern de Crepon. This is a good theory, because Erchembald definitely had a son named Gilbert who was badly wounded defending Osbern against his assassins, but it has its pros and cons – as do all of the other ideas for the origins of the Crispins.
So at the moment, we can only begin the Wormley family tree with definite certainty, with Gilbert Crispin I.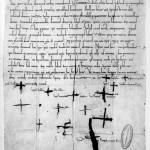 Pictured left are two Norman charters from the French archives, which are in wonderful condition for their 950 years of age. Double click on each photograph in turn to enlarge the images to a readable size. Then return to the main page.
The upper charter is dated about 1054. Gilbert Crispin II gives to Jumiege Abbey the fief (village) of Hauville, which he holds of Duke William. He receives back in return £200 in silver, a horse and 2 ounces of gold.
Hauville is beside the River Seine, next door to Jumiege, which is close to Rouen and to Brionne. It is also just north of Montfort-sur-Risle, Le Bec Hellouine, Le Theil Nolent, Plainville, Drucourt and other places held by the Crispins or connected to them through marriage or grants. This says that this area was just as much "home" to the Crispins in the 11th century as Tillieres was.
At the bottom of this charter, the first cross was made by Gilbert Crispin II as his mark (signature). Next to this is the cross written by his wife (not named). Then, the cross immediately following theirs was written by William Count of Normandy (soon to become William the Conquerer, king of England). Undoubtedly, they stood in the same room beside each other and must have chatted together while this business was being transacted, probably at Jumiege Abbey. It helps to support the idea that they may have been related – perhaps cousins.
There is another interesting suggestion of this in the charter. In those days, giving a charitable donation to a religious institution was partly viewed as making a deal with God. In return for his generosity to Jumiege Abbey, Gilbert Crispin II asked for God's kindness towards the souls of his parents, wife and children, his lord Duke William, and of Richard the Great Prince. This could have meant Duke Richard I of Normandy (933-996), or his son Duke Richard II, who ruled the duchy from 996 to 1027. Either way, Richard died a long time before the 1054 charter, and we wonder why his name was included in Gilbert Crispin's request list for God's mercy.
"The Falaise Roll", page 137, claims this was because Richard I was Gilbert Crispin's great grandfather. Perhaps this book might have been muddling up Gilbert Crispin with Gilbert de Brionne, which happens frequently, so we cannot be sure. But the wording of this charter does clearly imply that  the Crispin family was descended from "Richard the Great Prince". If so then our earliest-known ancestor was indeed Rollo the Viking, as suggested at the start of our family tree.
The charter o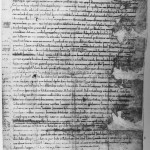 n the left is dated 1077 or not long before. William the Conquerer confirms gifts he has made to St Etienne's Abbey near Caen in Normandy. A chief witness was William Crispin, maybe William I just still alive, or if not his son William II, who signed it with his cross near the bottom left hand corner of the document.
*Just to mention in passing the third theory for the origin of Robert d'Armentieres, John Burke wrote in his "History of the Landed Gentry or Commoners", 1826-48: "Sir William de Watone, 'Domino Willielmus Watuna', was lord of Watone in the Vale in the time of Henry I. He was the son of Robert, who took the surname of de Watone, a younger son of Gautier de Tirel, seigneur de Poix, in Picardy". It is clear today that this statement was totally incorrect.
The Newmarch family: Knights and a baron who fought in famous battles
The Wormley family of Hatfield was a branch of the Newmarch family of another Yorkshire village called Womersley, just south of Pontefract. This separation happened somewhere around the year 1300.
The name Newmarch is derived from Norman French Neufmarche, meaning new market. The Yorkshire Newmarches were probably a branch of the family of Bernard de Newmarch, who was given land in Herefordshire, and conquered the Welsh kingdom of Brycheiniog (Breconshire). Bernard was the grandson of Turquetil de Neuf-Marche, who lived in Normandy 1,000 years ago and was killed protecting the boy Duke William.
The Newmarches of the Welsh marches and northern England both bore the same arms. They were often alternatively called, or at any rate written down as, Novo Mercato, which is new market in Latin. Nearly everything was written in Latin in the Middle Ages.
The Yorkshire Newmarch's somewhat bewildering family tree can be traced back to Ralph de Newmarch, who was alive in the time of William the Conquerer and held the village of Arksey in 1088. His daughter married William de Whatton, tenant of Whatton in the Vale near Nottingham around the beginning of the 12th century.
Ralph's grandson was Adam de Newmarch, who took his mother's family name. He was an early benefactor of Nostell Priory and witnessed the foundation charters of Roche Abbey, near Maltby, close to the Yorkshire and Nottinghamshire border, in 1147. He died in 1161.
This Adam had sons called Henry and Adam. He also had a brother named William de Newmarch.
Henry de Novo Mercato (Newmarch) married Dionisia de Tilly from Hatfield and Thorne, acquiring Womersley and Hatfield through this in about 1173.
Henry was Adam's younger son, born about 1150. His wife, Dyonesia or Denise, was the daughter of Otes de Tilly and Mabel, herself the daughter of William FitzRaven. William had given Hatfield to Mabel and Otes as a wedding present. He had inherited it from his own father, a Saxon Thane called Raven, who was allowed to keep Hatfield after the conquest.
William FitzRaven was the steward of Wakefield manor  from 1148 to 1159 and he married a daughter of Hugh de Boseville. His son-in-law Otes was from an important Norman family. Born in about 1120, he became the Seneschal of Conisbrough Castle.
Henry and Dionysia had a son called Henry who married twice, but left no heirs. We only know the name of his second wife, Frethsenta, a widow of the neighbouring Paynell family of Hooton Pagnell. They were married in about 1218.
Our next ancestor was this Henry's brother Adam – the second Adam de Novo Mercarto – who was born around 1175 and lived at Womersley.
Both brothers served with King John in his military campaign in Ireland in 1210. This was one of the few occasions when John was regarded as being a good king. In the last years of his reign powerful barons worked against him, and in 1213 Adam de Newmarch came under royal suspicion. He was imprisoned at Corfe Castle in Dorset and had to give up his young sons John and Adam as hostages, although they were released and delivered back to their father later that year. Soon afterwards, King John was forced to sign the famous Magna Carta, or Great Charter of rights.
From around 1215 to 1234 Adam was an itinerant justice who dispensed sentences in eight English counties. An important case he dealt with was in Lincolnshire in 1218, concerning a land dispute between Gilbert de Ghent and William de Fortibus. It brought Adam and his fellow justices into conflict with the king, Henry III.
An early Newmarch, most likely this Adam, may have married a daughter of the powerful de Clare family in Suffolk. If so, this could explain how the Newmarches came to have four holdings in Suffolk, including the manor of Ketton or Keddington, held by Adam the justice in the 1190s, with the de Clare family as his overlords. The Clare's main seat was the village of Clare, only four miles from Keddington.
He died in or shortly before 1247.
Judge Adam's son Adam took over the family's Whatton estate in Nottinghamshire. He also had a daughter Margery who married Robert de Willoughby.
John de Newmarch inherited his uncle Henry's lands at Bentley and elsewhere, and he may have given  up Womersley to a possible third brother Robert, although he could equally well have been a son of John. He was identified as Robert de Novo Mercarto in a charter dated 1260 and as Domino Roberto de Wilmersley in the 1270s – Robert lord of Womersley. Robert had a son called Adam who was alive in 1307.
John is thought to have died before his father, but he continued the family tradition of making gifts to monastic establishments, which everybody believed in those times would help to assure your place in heaven.
He left a son named, unimaginatively, Adam, who was probably born about 1220. The third Adam's wife was called Joan or Johanna, and she outlived him into the early 1300s.
He was called up to fight for King Henry III in the Scottish war of 1256 and in the Welsh war a year later. He was summoned as a baron in 1260 and again in 1264, the second time by the rebellious barons headed by Simon de Montfort who led them in a civil war.
Baron Newmarch was captured at the Battle of Northampton in April 1264 and the king confiscated his properties in Yorkshire and Lincolnshire, giving Womersley and Bentley to his neighbour Richard Foliot of Norton and Fenwick.
He was released when the tables were turned by the Battle of Lewes a month later and appointed to the Monfortian council.
At the barons' parliament early in 1265, Monfort was at the height of his powers and the king was forced to swear observance to the Magna Carta. One of the official witnesses to this royal humiliation at Westminster was Adam de Newmarch.
War soon resumed and Adam was captured again after the six-month seige of Kenilworth castle.
Eventually he was forgiven to a point and got his lands back, for his lifetime, through an agreement called the Dictum of Kenilworth in 1267, but Bentley, Arksey and several other manors were lost to the family for good when he died in about 1287. After that Womersley became the Newmarch's main seat, although another branch continued at Hickleton near Barnburgh.
(It has been suggested that yet another Adam de Newmarch in the Yorkshire-Lincolnshire family might have been the baron, because he married Cecily de Neville and her lands were escheated after his death in 1291. But our research shows that he and Cecily were too young for this to have been likely, as she was an unmarried girl, living with her mother, in the 1250s. Presumably this Adam was a cousin of the other Adams. In addition, subsequent generations of Newmarches, including John de Wormeley II, had continuing strong connections with the Mowbrays of Axholme, which are best explained by them descending from Elizabeth de Mowbray).
St Martin's Church, Womersley, contains a late 13th century reclining stone effigy of an Adam de Newmarch, probably the baron, who died in 1287 to 1290.
Adam and Joan had at least one son called Adam, who married Elizabeth de Mowbray, and probably a second son named John.
If so, then as a young man aged perhaps about 20, this John almost certainly played a significant role in the English civil war of the 1260s, in which his father was one of the rebel leaders. And excitingly, he appears to have been called "Wormley".
There is a reference to a John de Wormeley in the Calendar of Patent Rolls in 1267, being bound over to keep the peace after being against the king "in the present disturbance of our kingdom". This meant the three years of civil war between Henry III and the rebellious barons led by Simon de Montfort between 1264 and 1267.
The king was here ordering John de Wormeley  – presumably meaning John (de Newmarch) of Womersley - and his fellows to be on Henry's side and loyal, "provided that they give good and sufficient security that they will act faithfully in future". Otherwise a large sum of money would be confiscated through sureties.
As his father had been imprisoned and their home confiscated, it would hardly be surprising if John was a hot-headed, angry youth, who took up arms.
Another clue is that a Stephen de Wasteneys was bound over with him in the same proceedings. The de Wasteneys family were centred in Staffordshire in the 1270s and later, and also at Todwick near Doncaster, from about 1300 until the 20th century. The earliest resident there is thought to have been Stephen de Wasteneys' nephew, so it is likely that John de Wormeley/Newmarch and Stephen de Wastneys were at some time neighbours or associates.
The fourth Adam de Newmarch, son of the baron, married Elizabeth or Isabel, daughter of Roger de Mowbray. They were probably both born in the 1240s and married about 1260ish, he dying in 1303 and she in 1317. They had sons named John and Roger, and possibly also a daughter – Margaret de Newmarch who married baron Jordan Foliot, although Margaret could in fact have been  Adam's sister. They also had a daughter called Lucy, who married William Wentworth between 1290 and 1295.
Adam son of Adam borrowed 20 marks from his neighbouring son-in-law/brother-in-law Jordan Foliot in 1273.
Interestingly, Elizabeth's own grandfather, William de Mowbray was one of the original executors of the Magna Carta – the 25 barons who forced King John to sign one of the most famous legal documents in history – under duress at Runnymead.
The fourth Adam de Newmarch fought in Edward I's wars to conquer Wales. He was summoned to muster at Worcester on July 1st, 1277, to perform military service against Lewelin, Prince of Wales. He was ordered to fight the Welsh again in 1282, mustering at Worcester in May and at Rhuddlan in August.
This Adam's younger son, Roger de Newmarch, inherited Womersley in 1310, and we believe he was the father of the first John de Wormele recorded at Hatfield in 1331.
Roger fought against Robert the Bruce at the Battle of Bannockburn in 1314. It is possible that John de Wormele fought there with him, although he was probably too young.
In 1317 King Edward II granted Roger de Newmarch a right of free warren to kill certain species of game for food on his land in Womersley and near Campsall and Bentley. This probably included roe deer, hare, rabbits, pheasants, partridges woodcock, quail, and rail, which, legally, were all property of the sovereign.
Roger's lands were briefly seized on suspicion of him being a partisan of the rebel John de Mowbray in 1322. This was quickly recognised as a mistake and his property was restored to him.
In 1327 Roger was commanded to array the men of the Honour of Pontefract and lead them against the Scots. At the same time the king promised Roger's wife, Matilda, that he wouldn't allow his agents to steal/requisition the Newmarches' cattle, to help feed his army, while her husband was away in Scotland. Despite this pledge, the following year Stephen d'Eure was accused of stealing cattle worth the princely sum of £100 from Roger de Newmarch. But Roger seems to have behaved just as lawlessly himself in 1324, when he and others were investigated for breaking into Thomas de Furnival's parks in Wirksop and Whiston to steal cattle and deer.
However, John de Wormele's likely father seems to have been a loyal and trusted subject to Edward III, who made him one of the custodes portuum (a warden of the ports) in 1336. In 1343 he and three other men were instructed to hold an inquiry into bridges, weirs and other obstructions that were preventing shipping from navigating the River Don and causing flooding.
The king granted him the right in 1347 to hold a weekly market at Womersley and an annual fair on St Martin's Eve.
Roger and his wife Matilda had an older son, Adam, who married Agnes, daughter of William Fitzwilliam. Adam died while his father was still living – probably of the Black Death in 1349 - so Adam's son Robert inherited Womersley manor in 1352, while still a boy.  Robert married Emma, daughter of William Rolston.
Roger also had a daughter called Elizabeth, who married Robert Waterton of Methley in Yorkshire and of Lincolnshire, and it appears two other sons named Reginald and Roger, who were summoned to fight in Scotland in 1340 and 1347.
Although, despite the repetition of names, the main line of the Newmarch family is reasonably clear, we are not sure exactly how, when and where the Wormleys of Hatfield branched off from them.
The first known Wormley at Hatfield must have been a John de Newmarch from Womersley. He was identified simply as John de (of) Wormele – one of the varied medieval spellings for Womersley.
There is no evidence for another family living in Womersley in the late 1200s and early 1300s who were important enough to own a manor, have a coat of arms and a seal, and produce a knight fighting in Scotland in 1335.
The Newmarches owned Hatfield – or were possibly tenants of their part of it from John de Warenne, the Earl of Surrey. Subsequently the Wormleys were tenants of Warenne at Hatfield – so they weren't a different family who had been sub-tenants of the Newmarches. THEY WERE NEWMARCHES, with a shield that looks like it could be a combination of the Newmarch arms and the Mowbray rampant lion on a red background.
There were several Johns of Womersley over two or three generations, but it seems certain that the first John recorded in Hatfield was the second son of Sir Roger de Novo Mercarto, who owned Womersley from 1310 to 1352.
Roger was the second son of the 4th Adam de Newmarch. Roger's eldest brother John de Newmarch succeeded their father in 1303, but himself died as a young man and without children in 1310.
Roger took over the family estates and his eldest son was yet another Adam. But Roger also had a second son called John, born around the beginning of the 1300s. This John is the most likely one to have become John de Wormele of Hatfield, mentioned in the Calendar of Patent Rolls in 1331 as buying some land there with his wife Margery.
However, there were two other Johns who could be candidates, and they ought to be mentioned in passing. The least-likely possibility is that the first John de Wormele of Hatfield was the John de Wormley who was told off for fighting the king in 1267. As he must have been born by 1245 or earlier he would have been aged about 90 by 1331, and so can't have been the man in the Patent Rolls. But on the other hand we have no evidence that John of 1331 was the very first Wormley at Hatfield, so he shouldn't be ruled out.
John de Wormele might have been a son of Robert de Wilmersley, recorded as lord of Womersley in the 1270s.
Then there is another possibility for the first John de Wormele's identity. Perhaps he was the John son of Roger de Wilmersley, recorded giving evidence to an inquest at Skelbrook in 1299. In turn, this must have been a Roger who was son of Manser, of Womersley, who witnessed a charter there in 1293. We don't know who Manser was, but he was probably a younger brother of John de Newmarch who married Pernel, or a younger brother of their son Adam, who married Joan.
We can be fairly certain that John de Wormele of Hatfield wasn't the John de Novo Mercarto who fought at Falkirk in 1296 and again in Scotland in 1301 and 1306. He was Roger de Newmarch's elder brother John, who died childless in 1310.
The chief difficulty is that there must inevitably have been more members of the Newmarch family around than we know about. Most married couples who lived long enough would have been likely to have about ten children, and even if half of them died in childhood, this is bound to have resulted in extra brothers, sisters, uncles, aunts, nephews, neices and cousins, not mentioned in business documents and forgotten by history.
You can read more about the lesser Newmarch contemporaries of the very first Wormleys – who were their relatives simply using a different surname – in the chapter headed "The Wormleys took their name from a Yorkshire village".
*In the past a different origin for the Wormley family of Hatfield was proposed. Brack's pedigree, dating from about 1700, claimed the first three or four generations of Wormleys lived at Knutsford in Cheshire, before moving to Yorkshire in the early 14th century. We have studied this idea in great depth and are certain that it is wrong. The Wormleys never had any connections with Cheshire at all. Somebody probably confused our family with members of the Walmersley or Walmsley family of Walmersley next to Bury, just north of Manchester. This is only about 20 miles from Knutsford, on the same side of the Pennine Hills.
The first Wormleys: Normans who fought at the Battle of Hastings?
The oldest reference we know of to a person called Wormley is in a charter copied in a 17th century history book, Dugdale's Monasticon. Henry de (of) Wermeleie witnessed Hugh de Bohun's grant to found Monkton Farley Priory in Wiltshire, in 1125. He might have been our ancestor but there is no evidence one way or  the other. As this was in southern England, rather than the north, he probably wasn't.
There were several Wormley families in England in the 13th and 14th centuries. They are recorded at the village called Wormley on the border of Hertfordshire and Essex, at Rougham in Norfolk, at Boston and the nearby village of Wrangle in Lincolnshire, and in Herefordshire. Although these families were locally important in this period, they seem to have all dropped into obscurity or become extinct before the end of the Middle Ages. It is unlikely that they were connected to each other and that our ancestors branched off from one of them. Our research shows that our family originated independently in south Yorkshire.
As the medieval Wormleys were knights holding a manor and married into a number of prestigious landed families from the 12th century onwards, it is clear that they were of Norman origin, arriving in England at the Battle of Hastings in 1066 or soon after this.
There is evidence that a direct Wormley ancestor fought at the Battle of Hastings, 948 years ago. The historical case, coupled with truly remarkable Y-DNA test results, shows this to be true.
One version of the Battle Abbey Roll ‑ a list of knights' names who supposedly came to England with William the Conquerer ‑ includes the name Wermelay, which is a recognisable medieval spelling of Wormley.
This spelling is given in John Leland's copy of the Roll, written in the mid 1500s, and can be seen in Vidler's "Gleanings Respecting Battle and its Abbey", 1841, page 118.
John Leland visited Hatfield Manor House in about 1540. Moreover, a book called "British Family Names", by Henry Barber, 1894, says Wermelay was a Norman name.
Leland appears to have taken his copy of the Roll from a history book called Scalacronica, written in the 1350s in Norman French by Sir Thomas Gray, a knight who fought in the wars between England and Scotland in the reign of Edward III – at the same time as or just after our own ancestor Sir John de Wormele fought in the same campaign. Gray's list spelt the name Wermerlay, and he may well have known John de Wormele through their military service or at least have heard of him as a contemporary in this war.
Unfortunately the Roll is unreliable and discredited, as some names in it were definitely fraudulent, added by monks who were bribed to please the vanity of wealthy medieval families. The earliest part of it dates from about 260 years after the battle. The oldest version was destroyed in a fire and the four surviving 'copies' are all different from each other.
On top of this, we don't think the surname Wormley existed as early as 1066.
Nevertheless, however imperfect the Battle Abbey Roll is, the name Wermelay is in it. If nothing else, this shows that in the time of Henry VIII, and even earlier in the time of Edward III, the land-owning establishment thought of the Wormleys as a centuries-old family that were very likely to have been involved in the Norman conquest. We can assume this meant our family in Yorkshire as other Wormley families elsewhere in England had no recorded arms and were of no lasting prominence.
Historians think the Roll was only really intended to show the important families that came to England as a result of William's victory; not to be regarded as a precise list of the knights who fought on October 14th, 1066. It was socially important, whether historically accurate or not  – a very prestigious club. Among other family names on it is Newmarch, although this does not prove that we had an ancestor in the battle.
The Duchess of Cleveland reassessed the discredited Roll in a book in 1889 and she also included the same name as Leland, but she spelt it slightly differently as Wemerlay, without the first r. Both spellings were variations of Womersley, a Yorkshire village where we are fairly sure our ancestors lived in the 1100s to 1200s and where their surname developed as a corruption or early form of Womersley. The spelling Wemerlay for this village was used in a chantries report in the time of Henry VIII.
Even if a "Wormley" was not at the Battle of Hastings, it is strongly probable that two of our earlier ancestors did fight there. The Crispins and Newmarches are listed in the Battle Abbey Roll, both subsequently being recorded as land-holders in the Domesday Book of 1086.
The Wormleys took their name from a Yorkshire village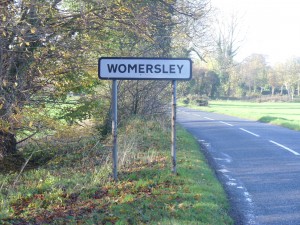 The direct male line of the Wormley family tree can be traced back to the early 14th century through a range of contemporary historical deeds and documents. Prior to that it is clear that our earliest ancestors were the Womersley line of the Yorkshire Newmarch family, whose main seat was at Bentley until the 1280s.
In a time when surnames were still developing and not yet fixed, some of them changed their name to Wormley as a result of living in a village between Doncaster and Pontefract, now called Womersley but in medieval times pronounced Wormley or Wormsley. These were the people who established themselves in Hatfield. The rest of the family, who stayed at Womersley, kept the name Newmarch.
We have already shown how the Hatfield Wormleys descended from the Womersley Newmarches in our family tree. The first who can be seen to be identified as both a Newmarch AND as a Wormley was John, probably a brother or son of baron Adam de Newmarch. He was called "John de Wormeley" in the Patent Rolls in 1267.
Yorkshire Inquisitions of the Reign of Henry III and Edward I, pages 86 to 87, records an inquiry into the land and financial interests of the Botiller family of Skelbrook, a village seven miles north of Conisbrough and four miles south of Womersley. This was in 1299 and one of the jurors was John, son of Roger de Wilmerlay.
In addition, the Cartulary of St John of Pontefract tells us that in 1228, Adam de Newmarch (the judge) gave St Nicholas's Chapel in the hamlet of Cobcroft, in Womersley parish, to be a chantry. This gift was confirmed (renewed) by Adam's grandson, baron Adam, in the second half of the 13th century, probably in the 1270s. The renewal charter was witnessed by Domino Roberto de Wilmersley. This "Robert lord of Womersley" was identified elsewhere as Robert de Newmarch, so he was the second Newmarch to be also called Wormley. He was probably baron Adam's brother.
Roger de Newmarch became head of the Womersley line after his brother John died in 1308-1310. Roger lived until 1352 and had a son of his own called John. It seems certain that this John  was the first recorded John de Wormele at Hatfield in 1331.
However, there are historical references to a number of other people identified as "de Wormley" from as early as 1210. They were probably all relatives of our ancestors – brothers, younger sons, brothers-in-law and cousins – living in maybe three Newmarch households in Womersley and nearby Wood Hall. We can't be sure who each was but we have noted their existence as follows:
The earliest reference to a Wormley in the Doncaster area is in the Harleian Society's Book of Yorkshire Pedigrees. This shows a Richard Wormley marrying a Mary Eastoff, one of the Eastoffs of Eastoff or Eastoft, a village in the Isle of Axholme about nine miles east of Hatfield. The Eastoft pedigree (displayed on the wall of Lockington Church, Yorkshire, in 1634) claims that Mary's sister, Ann Eastoff, got married in 1191.
This family tree looks far too perfect for such early dates, and so cannot be trusted at all, but if it's mention of Richard Wormley is genuinely accurate, he must have got married to Mary Eastoff between about 1180 and 1200. This means he was probably born around the 1160s, presumably at Womersley, ten miles north of Doncaster.
Perhaps this Richard was the same man as the Norman Rolls recorded in 1200 was a son of William de Novo Mercarto, and who sold his inherited land in Normandy, near Bayeux, and at Gours, close to Bordeaux in Aquitaine, to a Roger de Marche (probably meaning Newmarch). These men might have lived in France, but it is also likely that the William mentioned was William de Novo Mercarto of Cadeby, next to Conisbrough, who died c.1198. We know that he had sons called Ranulf, who inherited Hickleton, and Jordan, as well as daughters Isabel and Mary. Just possibly he had a third son named Richard who became Richard of Womersley and maybe married an Eastoft daughter around 1190….
We have repeated historical evidence that Womersley was pronounced Wormley during the Middle Ages, and beyond this into Tudor and Stuart times.
A chapter in the Victoria County History of Yorkshire, about the Black Friars of Pontefract, mentions "Petronilla de Newmarch, formerly recluse of WYRMELAY (probably Womersley)." This was in the 1200s and it's a reliable source from an original Latin deed that can be read on the internet.
The y in Wyrmelay would have been used as an "ugh"-sounding vowel, so in speech the word would have come out as Wormley.
There is more evidence in Kirkby's Inquest for Yorkshire – a Domesday-style survey of land-ownership carried out by John Kirkby, Edward I's treasurer, in 1284-85.
Kirkby recorded that a man called Daniel de Botiler was the tenant of Goldthorpe manor, a small village about a mile west of Barnburgh. He also held land in the nearby villages of Billingly and Swinton, as well as Molendinum de Wormeleye – WORMLEY MILL. This may have been Womersley Mill, a water mill which still exists beside the A19 a couple of miles east of the village of Womersley. An aerial view (Google Earth) suggests this is an ancient place, quite possibly medieval, with a large irregular pond beside old buildings.
In 1334 the Botiller family also owned land at Skelbrook, Burghwallis and Skellow, and probably also at Campsall and Sutton. These are all villages to the north of Barnburgh and Doncaster, stretching close towards Womersley and Balne. There are indications that Botillers and Newmarches/Wormleys intermarried.
An important national church taxation list, written in about 1291, spelt it Wyrmerleye.
The Index of Inquisitions and Assessments Relating to Feudal Aids, 1284-1431, Vol VI, page 341, records church funding details at WERMERELEYE church in 1428. The index makes clear that this was Womersley Church.
Womersley was called Womerley in a travellers' guide of 1682 and a deed in the Sheffield archives of 1696. It was also spelt Wormley in an 18th century book.
Walter Gray, Archbishop of York, kept a register or "diary" of his religious activities from 1215 to 1255. In 1240 he recorded that Henry de Novo Mercato gave a plot of land in Barnburgh to Southwell Cathedral chantry. Among the witnesses to this who were named in the deeds was Thomas de Wirmele in Balcona.
Other witnesses included Henry's brother Adam de Novo Mercato (Adam de Neumarche), William de London and Robert de London, who must have been close relatives of Margaret de London who is said to have married a Wormley/Newmarch. The grouping together of de Londons and Newmarches in these early charters suggests they were already related by marriage in the 1240s.
Barnburgh is about four miles west of Conisbrough. We don't know who Thomas de Wirmele was but because this is such an early date it can be assumed that he was part of our family.
Thirty years earlier, a Curia Regis Roll, volume 6, from the reign of King John, has a Yorkshire item on page 114.
This is in medieval Latin, as follows:
"Robertus Malet dat domino regni ii marcas pro licencia concordandi cum Henrico de Novo Mercato de advocacione ecclesie per plegium Henrici de Novo Mercato. Dies datus est eis de capiendo cirographum. Henricus de Novo Mercato ponit loco suo Thomam de Wlmerele".
If we have translated this reasonably correctly it means:
Robert Malet gives to the lord king two marks (66 pence in today's money) for permission to make an agreement with Henry de Newmarch concerning the advowson of the church of Bolton upon Dearne, by the pledge of Henry de Newmarch. A day is set for them to record their business/agreement as a written legal document. Henry de Newmarch mentions Thomas de Wormley as his attorney. (ie someone empowered to act on his behalf).
   In other words, Henry de Newmarch, who was a major landowner in that part of Yorkshire, including owning Womersley and in the Barnburgh area, appointed Thomas de Wormley to act as his trusted representative in  a business matter concerning church funding with another landowner. This could have been because Henry and his brother Adam de Newmarch were both away, fighting with King John in Ireland in the summer of 1210. Thomas wasn't mentioned in the record of the subsequent agreement (Feet of Fines, December 14th, 1210) so maybe, in fact, his services weren't actually needed when it came to the day.
Thomas de Wlmerele was very probably a relative of Henry de Newmarch.
Anyway, the 1210 record in the Curia Regis Roll is the first definitely provable reference to a 'Wormley' that we have found in south Yorkshire. Thomas must have been born in the second half of the 12th century. Eight hundred years later, the Saxon nave of St Andrew's Church in Bolton Upon Dearne, is still in use.
The Henry de Novo Mercato and Thomas de Wirmele in the 1210 document could be the same men as we read about 30 years later in the 1240 charter.
It certainly suggests that if the place names Womersley and Wormeleye/Wermereley were the same thing, then so too were the person's names Wlmerele and Wirmele (at least in spelling. Do not be disconcerted by the first l, as there was a Norman-Latin tendency to put ls into some names like Willelm, nowadays spelt William).
Spellings of Womersley from the 12th and 13th centuries range from Wilmerley to Wylmersley and Wymerley. In an age before dictionaries and the modern English language existed, each medieval scribe spelt names and places as he thought fit and nobody considered this strange, but there was clearly a strong tendency to render it as Wormley. In fact today's spelling Womersley does not seem to have existed then.
Thomas de Wirmele "in Balcona" is presumably a Latinised version of "in Balne", which is a village close to Womersley. Balne was also an ancient administrative sub-area between the Rivers Don and Aire. Many places in it were called Fishlake in Balne or Walden Stubbs in Balne etc. so we would expect people to have written Womersley/Wirmele in Balne. There was an old area near Hatfield and Thorne called Balne Croft Common. This might well have been abbreviated Balcon or something similar (the a on the end is just a Latin grammar twiddly bit).
The Register of Archbishop Walter Giffard (1266 to 1279) has a long list of names including Thomas de Wilmeley on page 192, being ordained or admitted to the church as a Deacon in 1268. The Calender of Patent Rolls also mentioned a Thomas de Wyrmesleye, monk at Selby, in 1300, carrying letters from his abbott to the king's court at Newcastle. This could be the same man.
The Register of Thomas Corbridge, Archbishop of York 1300 to 1304, refers to a charter of 1293 in the Cartulary of Guisborough Priory. It mentions Parnell or Petronilla de Novo Mercato, who was the recluse of Wyrmeley/Wyrmerley (Womersley).
It also mentions Maurice de Wyrmerley and Roger, son of Manser, of Wyrmerley. Manser was an Anglo-French or biblical name, reasonably popular in the middle ages. They and William and Adam de Novo Mercato were witnessing a gift of corn to Petronilla from John de Bella Aqua or Bellew, from his manor at Burn, near Selby. Being a recluse meant she had adopted a life of solitary religious devotion in a nun's cell, perhaps after being widowed. So the gift gained Bella Aqua favour with the Church.
The Calendar of Patent Rolls in the reign of Henry III, recorded that on July 8th, 1260, the king pardoned William de Camera of Pontefract for the death of Robert, son of Richard de Wilmerleg, after Roger de Thurkilby and his fellow justices in Yorkshire concluded that William killed Robert in self defence.
Camera (Chambers) were a local family in Pontefract just four miles north west of Womersley.
Richard de Wilmerleg (leg pronounced like Leigh, so it is just a further variation of Wormley), who was Robert's father, also had another son called Henry.
A south Yorkshire charter noted by the 19th century historian Joseph Hunter was witnessed by Robert de Wilmersley, capellanus – meaning chaplain. This document dates from no later than the mid 1200s. He may have been the domino Robert just referred to above, as domino was used as a title of respect both for the holder of a manor and for a priest. Probably though, he was a different man living slightly earlier.
The Calendar of Patent Rolls also records that Henry de Wilmerlaye challenged the parson of Wilmerslaye to prove his title to the property they disputed in Womersley before two judges.  Henry hoped to legally recover the tenement that he claimed belonged to him.
Henry was involved in a land dispute with the priest at Womersley church in 1276 to 1277. He arraigned an assise of novel deseisin ‑ an old law, now obsolete, which enabled somebody to challenge another person's right to own or rent a piece of land or property, if they could prove that it really belonged to them, not the current holder.
Brother William de Wylmerley (Womersley) was mentioned in the Register of Archbishop John le Romeyne. He was a canon at Drax, where he lived in a communal clergyhouse and had special duties to do with running the Priory of Drax. Page 320 of the Register records that Brother William was appointed to be Vicar of Byngeley (Bingley, near Leeds) on Nov 30th, 1299. Maybe he was William de Novo Mercato who witnessed a charter in 1293.
Whoever they were, all this information put together shows there was a Maurice, Manser, Robert, Henry, Richard, Roger, John and William de Wilmerly/Wymerley/Wormele at Womersley in the 1200s, as well as two or more Thomases de Wlmerle/Wirmele/Wyrmesleye in 1209, 1240, 1267 and 1300.
However they were spelt, it is clear that at least three or four generations of people lived at and were named after Womersley, which was frequently pronounced Wormley right through the middle ages and later. They knew the Londons and Foliots throughout the 1200s and were on a par with them in legal dealings, helping each other in a good-neighbourly way by acting as witnesses to their business deeds. This means they must have been on the same social level too and were probably related by intermarriage.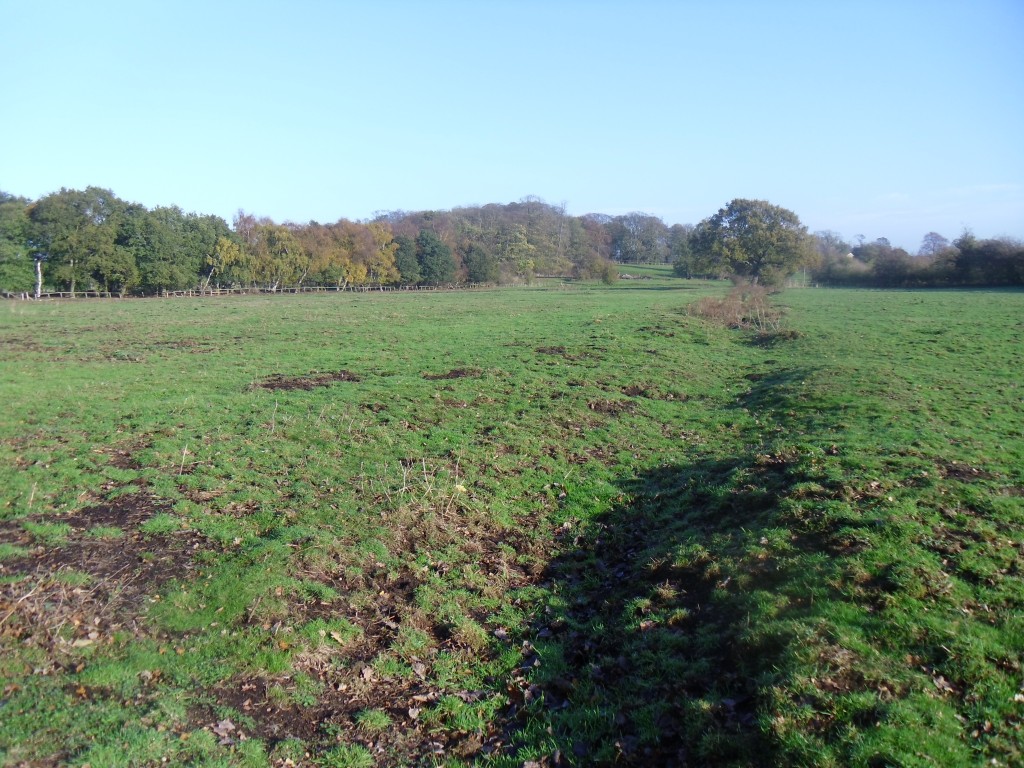 This field ditch at Womersley may indicate where a medieval building stood.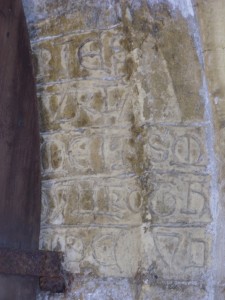 The main line of the Newmarch family (originally spelt Neufmarche, in Norman French, and Novo Mercato in Latin) were the major land-owners in Womersley from the late 1100s onwards, but their main seat was in the village of Bentley, a few miles south, until around the 1280s. You can read more about their history in our discussion chapter headed "Margaret de Wormele: granddaughter of a baron?"
Pictured right: A Norman French prayer carved into the door jamb at Womersley church. Maybe one of our ancestors read it in the 13th century…
Feint markings on the ground suggest that the Newmarch family might have had a moated castle in what is now the western edge of Womersley Park. Or the "Wormley" family might, perhaps, have lived in a house where Womersley Hall now stands, close to the church.
An American commercial coat-of-arms website shows the Womersley shield as a purple lion rampant on a gold background. This was in fact the arms of Womersley village's regional overlords, the de Lacys. But we note that the site says the family name Womersley had many variant spellings including Wormley, and that Womersleys "were first found in Yorkshire where they were anciently seated as lords of the manor."
We have found no records at all, or anything in the Visitations or Burke's General Armory/Commoners etc to indicate that a Womersley family of note occurred in medieval history or had a coat of arms. So it is reasonable to assume that these 12th and 13th century generations, however strange their spellings appear nowadays, were all ancestors to the Wormeleys of Hatfield.
* A John de Wormele rented land in Boston, Lincolnshire, in 1272, for 30s a year. It is unlikely that he was part of our family as the Boston John appears to have been a wealthy London merchant and Boston was a busy national port.
Our astonishing Y-DNA test – Wormleys share an ancestor with Scottish and Irish dukes
Y-DNA comparisons combined with historical evidence indicate that the Wormley family in Yorkshire is directly descended from the Crispin family of Normandy. But the story also has an unexpected Scottish twist.
At the beginning of 2014 Nick Wormley took a Y-DNA test to 67 markers with Family Tree DNA. The lab results were extremely unusual and proved scientifically that we share a male ancestor with the Dukes of Hamilton in Scotland and the Dukes of Abercorn in Northern Ireland, probably in the 11th century.
A very rare combination of uncommon STR numbers (22 at DYS390, 7-9 at DYS459, 18-21 at YCAII and 12 at DYS640) revealed our haplogroup to be I1-Z63+, L1237+, FGC9528+, 18-21 subclade (also called I-Y6615* by Y-Full in February 2015). Only a very tiny proportion of people are in this group and all are distantly related to each other. Chief among them are the main line of the Hamiltons, who for centuries were almost the most powerful family in Scotland, second only to the Crown.
Further proof of a shared ancestor came from detailed scientific analysis of SNPs, through comparing Nick's Big Y results with those of descendants of Sir James Hamilton.  This tells us that most probably in the 1000s AD, our last joint ancestor had two sons. One son's descendants eventually became Wormleys. His brother's descendants eventually became Hamiltons.
The Hamilton DNA Project, based in America, believes there was a break in continuity of the main line family, probably through Sir James Hamilton, 5th Earl of Cadzow in Scotland, born in the late 14th century. The believed progenitor of the Group B Hamiltons in Scotland was the unknown father of Sir James, who appears to have had an illicit relationship with Lady Janet Douglas in about 1390. Her husband, Sir John Hamilton, was probably away from home at the time engaged in war, and perhaps never knew that he was not the real biological father of baby James, who later inherited the family estate at Hamilton in the central Scottish county of Lanarkshire.
His true father's identity remains a mystery, but this "secret lover" must have been a cousin of the Wormleys and Newmarches living in England at that time, although probably not a close cousin.
Our most recent shared ancestor with the Hamiltons of Scotland might have been one of the first men shown in our family tree - Robert d'Armentieres, or his son William de Whatton, or Robert's brother Geoffrey de Armenters.
It seems most likely, however, that he was more probably a descendant of their uncle, William Crispin I. If so, our most recent common ancestor was Gilbert Crispin I, who lived from about 1000AD to 1045.
We can guess that Sir James Hamilton's DNA might have come to him from the Crispin family of Normandy via one of three lines:
Either through Geoffrey d'Armentieres of Rutland and Northamptonshire, and his line's associations with the Umfraville family who went to Scotland;
OR through one of the Whatton/Newmarch descendants of Robert d'Armentieres who were ancestors or cousins of the Wormleys in Nottinghamshire or Yorkshire;
OR via Robert and Geoffrey d'Armentieres' cousin, William Crispin II, also known as Coleville, a branch of whose descendents went from north east England to Scotland and might have contributed to the Hamilton line there.
The Scottish Colevilles had medieval associations with the Hamiltons of Lanarkshire, so they are an obvious contender. Indeed, Professor Gordon Hamilton, the administrator of the Hamilton DNA Project, may well have solved the mystery with his suggestion that a Thomas Coleville who lived in Scotland in the late 14th century could have been the culprit.
Gordon says: "John Hamilton (4th of Cadzow), the person who married Janet Douglas but (as the DNA shows) was not the father of Sir James Hamilton (born about 1390), was, through their Keith grandparents, a first cousin of Margaret Lindsay, the wife of Thomas de Colville (died about 1403). This strongly implies to me that Thomas may have been the father of Sir James.
"As pointed out by Henry Lloyd Hamilton in the second part of a recent article at
http://www.personal.psu.edu/faculty/g/a/gah4/HamDNA/AD.htm
John (4th of Cadzow) spent a considerable amount of time away from home shortly after he was married because he was involved in various battles with the English. It seems very conceivable to me that, in John's absence, Janet might have spent some time with John's cousin and her family. That would have presented an excellent opportunity for Thomas to have had intimate relations with Janet, either voluntary or involuntary. The circumstances just seem perfect for such a liaison."
By coincidence – and this has caused a great muddying of the water – there are English villages called Hambledon very close to where the descendants of both Robert and Geoffrey d'Armentieres lived. The first Hamiltons in central Scotland were not the fearsome Highlanders of popular imagination, but were almost certainly Normans who 'leap-frogged' there via their manors in England after the Conquest. They may have taken their name to that country from either of these places. It crystalised into Hamilton and so became the Scottish town's name.
Geoffrey's branch of the Armentieres family were based from the late 11th century onwards at a village called Burley, which is next to Hambeldon, in the county of Rutland.
Within a few decades this Hambledon in Rutland came under the ownership of a Norman family called Umfraville, who went on to have strong connections with Scotland and probably the Hamiltons of Lanarkshire. Through this association Crispin DNA might have been passed on to Sir James Hamilton in 1390 and so all of his "Group B" Hamilton descendants today.
On the other hand the first Wormleys/Newmarches lived at Womersley in Yorkshire, which is only six miles from another village called Hambelton, close to Selby.
A Hamilton family of note lived in this Yorkshire village in the 13th and 14th centuries. One member, William de Hamilton was appointed Dean of York in 1298 and the Chancellor of England in 1305. He was involved in determining the claims of competitors for the Scottish throne in 1292, although we know of no evidence linking him to the Lanarkshire family. William de Hamilton himself held the manor of Marr, north of Doncaster, as a tenant of Adam de Newmarch.
William was the son of Arnald de Hamilton and had a brother Adam de Hamilton. He was also clerk to Sir William de Ryther, a knight from close to Selby who fought in Scotland several times for Edward I.
It is not impossible that a Newmarch ancestor of the Wormleys might have been an ancestor of the Group B Hamiltons in Lanarkshire.
Sir James Hamilton's line was certainly a distinguished one. His maternal grandmother was Agnes Dunbar, who was the mistress of King David II of Scotland, the son of Robert the Bruce.
James' eldest son, another James, became the first Lord Hamilton and married Princess Mary Stewart, daughter of King James II of Scotland, before 1422.
*At the end of 2014, American man Warren Deatherage took a Big Y test which showed that his ancestors branched off from the Wormley's ancestors in the 12th century. Only one SNP separates us, indicating that Mr Deatherage's separate family line was probably started in England by a Newmarch or Armenters son during the 1100s. They probably took their family name from a hamlet called Detheridge in the area that is now Rowley Regis, just west of Birmingham in the once-heavily industrialised "Black Country". We aren't aware of any Newmarch, Armenters or Crispin connections with that area, so how the family might have arrived there is not known.
Anyway, certainly our haplogrouping shows that our male ancestors came to England around or before the Norman conquest as invaders from northern Europe/southern Scandinavia, where they had lived for about 4,000 to 5,000 years. Their most likely area of origin is Denmark or Schleswig-Holstein, which is now a border region of Germany. At a point in history during the Dark Ages they might have been "Vikings", "Danes", "Angles" or "Saxons", but a century or two later these over-simplified terms for many "tribes" living close to each other had partially combined to produce the Normans in an area of what is now northern France.
After winning the Battle of Hastings, the Normans took control of England. They didn't come here in great numbers, but by military conquest and enforcement ensured they became the country's land-owners and stayed in charge to preserve their position of privilege for several centuries.
Combined with our family history and pedigree as passed down on paper, our extremely unusual and distinct Y-DNA numbers prove that our early ancestors were an important family in the ruling class of Normandy.
The Wormleys at Hatfield
Sir John de Wormele – 'Hammer of the Scots'
The Wormleys were lords of their manor at Hatfield in Yorkshire for more than 300 years, marrying daughters of neighbouring landed families, knights and squires.
The first was Sir John de Wormele in the early 14th century, who fought in the wars between England and Scotland. He was almost certainly born in the village of Womersley, a few miles to the west, and was the younger son of Roger de Newmarch of Womersley.
John may have been born around 1300. He had an elder brother called Adam and probably two other brothers named Roger and Reginald, who are recorded going to fight the Scots in 1340 and 1347.
Their father Roger got heavily into debt for some reason. In 1310 he was given permission to pay off his debt to the king of 200 marks (£66.63) in yearly instalments of ten marks. In 1320 Roger gifted the advowson of half the church of St Andrew, Bolton-upon-Dearne, to Monk Bretton Priory, York.
"Recollections of Ralph Randolph Wormeley", written in 1858 by the daughters of Admiral Ralph Wormeley and published in 1879, tells us: "In the year 1312 we find the name of John de Wormele, knight, made owner of lands in Hatfield, Fishlake and the Park of Eshefield (Ashfield on modern maps) in Yorkshire, also of lands in Stamford, Lincolnshire, by John de Warrenne, Earl of Surrey, for the 'honourable service of a pair of golden spurs', which grants were confirmed by the king in 1333 (Edward III)."
Admiral Wormeley served in the Royal Navy in the time of Nelson, and was a distant relative of our branch of the family, sharing the same ancestors prior to the 1600s.
Sisters Katherine and Elizabeth Wormeley wrote authoritatively about the early family history as a prelude to their father's memoirs, after his death. They listed among their sources of information the Calendar of Patent Rolls for several years in the 1330s and 40s and other reliable historical documents, some of which we have read and confirmed for ourselves.
The details above about Sir John de Wormele were repeated by several other late 19th century books, including Ex Libris, published by the American Bookplate Society in 1897, the National Cyclopedia of American Biography, compiled by George Derby and James Terry White in 1899, and in 1990 by Professor Stanton Wormley, who wrote that grants of the Manor of Hatfield to John de Wormeley, knight, were confirmed by Edward II in 1312 and again by Edward III in 1341.
Although it sounds poetical, the Wormeley sisters' reference to "the honourable service of a pair of golden spurs," was legal wording in the Middle Ages for a form of rent. You had to be a knight to own gold-plated spurs, and it presumably meant Sir John had to give military service to his over-lord if and when required as a condition of his tenancy.
We believe their mention of Stamford in Lincolnshire was a misunderstanding arising from medieval spelling, and that it actually meant Stainforth, a Yorkshire village next to Hatfield.
We have also been unable to find any medieval records to substantiate their mention of the year 1312, and we wonder if this was a misunderstanding or mistranslation.
The first grant of land to Sir John de Wormele that we have a detailed contemporary record of was approved by the king in the Calendar of Fine Rolls on May 8th 1331: "Grant to John de Wormeleye that he may hold to him and his heirs 45 acres of land of the wastes of John de Warrena, Earl of Surrey, in Haitfeld, and that he and Margery his wife may hold to them and the heirs of their bodies 28 acres and (unreadable amount) of roods in the earl's lordship of Haitfeld, and 40 acres of land in the earl's park of Essefeld, rendering to the earl in his life and to the king and his heirs after the earl's death, 15 shillings a year for the said waste at Michaelmas, Christmas, Easter and St Peter's Chains in equal portion, and 4d an acre in the said lordship and 20 shillings for the land in the said park, in accordance with letters patent of the earl thereon made pursuant to letters patent of the king."
So their total annual rent was £3.5s.2d (£3.26 in today's money) for these 113 acres, in addition to their existing lands.
The "waste" was rough grazing and woodland for farm animals, collecting firewood, rabbits and honey etc. It was paid for in quarterly instalments.
The 28 acres in the earl's lordship would be good cultivated land, and the park presumably meant hunting reserve for deer etc.
The entry refers to John de Wormeleye and his wife Margery. It has been claimed that she was a daughter of Roger de London, but this is unlikely – we discuss it further in a later chapter.
Although the Wormeley sisters made mistakes in several details of their early family history, their research was quite scholarly in its time. Elizabeth Wormeley wrote a number of important Victorian history books and Katherine was an eminent translator of French literature.
One sentence in their account is particularly exciting: that John de Wormele "bled against Wallace under Earl Warren, and fought Robert Bruce at Bannockburn".
William Wallace and Robert the Bruce were two of the greatest Scottish heroes and their battles against the English at Stirling Bridge (1297), Falkirk (1298) and Bannockburn (1314) were epic events in British history. Wallace was portrayed by the film star Mel Gibson in the historical movie "Braveheart".
It is unlikely that Sir John fought against Wallace and the Bruce, but we do know that his father, Roger de Newmarch of Womersley, almost certainly fought at the Battle of Bannockburn, and he was summoned back again to march against Scotland the following year, 1315.  We doubt that John would have been old enough to go to Scotland with him, but just maybe the sisters gleaned some information from the original 14th century Patent Rolls, which have been translated and edited/summarised in published versions since Victorian or Georgian times. Admiral Wormeley's daughters wrote that "the Wormeley arms are found on the grants confirmed by Edward III, as quoted in the Cal. Rot. Patentium", which suggests that they saw more information on the actual medieval documents or fuller transcripts than we now see on the internet versions.
The Scottish Rolls record that John de Novo Mercato was summoned to fight for King Edward I against William Wallace at the Battle of Falkirk in 1298, again in 1301, and against Robert the Bruce, just after he had been crowned king of Scotland in 1306. In 1301 the English besieged Bothwell Castle in Morayshire. In the summer of 1306 the battles of Methven and Dalrigh forced Bruce to seek refuge in the Hebrides  until his victory at Glen Trool in 1307.
This John de Newmarch was brother of Roger and so John de Wormele's uncle. It wouldn't be surprising if these various Johns have been confused at some time in the past.
Whether or not John de Wormele acquired his land at Hatfield through marriage to Margery or Margaret de London, the supposed daughter and heiress of Sir Roger de London and his Newmarch wife, he rented part or all of his Hatfield land from a major baron at that time, John de Warenne, who owned Conisbrough Castle.  His status was an under-lord, while de Warenne, who was the Earl of Surrey, was the over-lord of much of South Yorkshire, and other parts of the country. De Warenne was in turn tenant-in-chief to the Crown.
Tenancy was normal practice in the Middle Ages rather than freehold ownership, and it was subject to royal permission. Everything had to be "granted" (officially approved) in medieval times because that was how the system worked to keep the powerful in control, reward people on their side and prevent trouble makers or rivals getting too rich and powerful.
* A John de Wormele definitely fought in Scotland for Edward III in the 1330s. We are pretty sure this was the first John, who married Margery, the couple being mentioned in the Patent Rolls in 1331.
Records exist of Sir John de Wormeley extending his Hatfield lands in 1332, 1334, 1340 and most importantly from a historical point of view in 1335, because it definitely shows us that he was a real knight in armour who performed good military service in Scotland in the reign of Edward III, and was rewarded for it.
Sir John de Wormele and John de Warrene were probably both present at Berwick on Tweed when Edward held court there in the autumn of 1335. The Fine Rolls record that on October 15th, the king made a "grant to John de Wormele, at the request of John de Warenna, Earl of Surrey, AND FOR THE FORMER'S GOOD SERVICE IN SCOTLAND, 60 acres of land and meadow in Staunford, which the earl by his writing granted to him for the earl's life, by the service of a pair of gilt spurs to be rendered yearly at the Exchequer at Easter."
Staunford was an old spelling of Stainforth, the village next to Hatfield.
This was clearly a reward for fighting in Edward III's Scottish campaign, perhaps at the Battle of Dupplin Moor, near Perth, in 1332, or at the Battle of Halidon Hill, near Berwick, in 1333. Both were very bloody battles.
Earl de Warrene played a leading role in the Seige of Berwick in the spring and summer of 1333, culminating in the subsequent battle at nearby Halidon Hill, so it is very likely that his knight and tenant Sir John de Wormele would have fought there with him.
There is good evidence in the Scottish Rolls that John de Wormele was serving the king in Scotland in 1334 and it is certain that he was there in 1335, taking part in the English invasion of the Scottish Lowlands, Edinburgh and Perth.
The campaign followed the death of Robert the Bruce in 1329, leaving his teenage son David II as King of Scotland. Rival claimant to the throne of Scotland Edward Balliol took the opportunity to invade, with support from Edward III of England and John de Warenne, who was Balliol's cousin.
Edward Balliol and other dispossessed Scottish nobles, sailed from Yorkshire with English supporters to land in Fife in the first stage of the campaign. Although Balliol was victorious at Dupplin Moor and became king of Scotland, his control was weak and he was soon chased back to England.
In 1333 Edward III led a proper English invasion and after a second Scottish defeat at Halidon Hill, Balliol was restored to the Scottish throne, to some extent as a puppet ruler and again only briefly.
The timescale of events during this period suggests John de Wormele's involvement.
The Calendar of Fine Rolls records that on December 9th, 1332, at York, Edward III confirmed a grant to John de Wormele of 26 acres and three and a half roods of land of the wastes of John de Warenna, in Haytefeld, rendering to the earl in his life time and subsequently to the king and his heirs, eight shillings and tenpence halfpenny a year at the three usual terms in equal portions.
It might be that this was a reward for fighting in the Battle of Dupplin Moor on August 12th 1332, but we have no evidence for this suggestion: it is just a guess.
On February 27th, 1334, Edward III granted "Exemption for life to John de Wormeleye from being put on assizes, juries and recognisances, unless his oath be required by the statute, and from appointments as mayor, sheriff, coroner, escheator or other bailiff or minister of the king, against his will."
It is possible this might have been a reward for his service the previous year, maybe at the seige of Berwick and Halidon Hill. Or it might have been a means of "clearing the decks" to make him free and available for military duty to come.
Exemption from the expected duties of one of his class was more important than it sounds.  Such posts were positions of power in those times, but were unpaid and probably took up a lot of time, so were not very popular among knights and gentry. Being granted exemption was a privilege that usually had to be paid for with a substantial sum and indicated the king's favour.
John de Wormele was granted more land by de Warenne – a toft (house) and 30 acres of the waste at Hatfield – on November 3, 1334, when Edward III held court at Newcastle. This looks like it may have been a reward for service performed that summer.
The Scots weren't fully quelled by Halidon Hill and further English invasion of the country as far as the Moray Firth proceeded in 1335. We know that John de Wormele took part in this.
In March 1335, Edward III issued a command to his knights to muster at Newcastle by June 11th.
On April 21st, 1335, Edward granted "protection to John de Wormele, in company of John de Warenne, Earl of Surrey, until Michaelmas" (September 29th).
The word "protection", used in this way, meant that John de Wormele was doing a job for the king and this took priority over everything else. Edward III issued a command that this knight was engaged on crown business and anybody else who had claims on his time or was owed debts by him must wait. John de Wormele was "protected" against anything that might interfere with his service to the king.
Several other knights were granted similar protection while defending Berwick Castle until Michaelmas.
The granting of protection indicates that John de Wormele was with de Warenne in 1335, when the earl attended the Newcastle Muster and then led an invasion of the Lothians with his cousin Edward Balliol, king of Scotland, in July. They marched west from Berwick, meeting up with Edward III's army at Glasgow. The king then continued to Perth and stayed there for two months.
The English army was 13,000-strong, the biggest force that Edward III led against Scotland during his several campaigns across the border. But only a small number of knights were granted royal protection, which suggests that John de Wormele had an important role in the campaign.
The Scots put up little resistance to the invasion and the English advanced without any serious battles, devastating the countryside as they swept forward. In September the main army moved south again and was disbanded.
Subsequently Sir John de Wormele was rewarded for his service in Scotland by the grant of 60 acres in October. It is a further indication that he had an important role in the Scottish war, as few knights were honoured in this manner. He may have been one of John de Warenne's right hand men.
Edward Balliol gave up his claim to be king of Scotland in 1356, after further fighting, and lived in retirement at Wheatley, on the edge of Doncaster, only four miles from Hatfield, until his death in 1367. He is known to have visited Hatfield manor house in about 1353. So Sir John de Wormele very probably met the kings of both England and Scotland in his lifetime.
*  Edward III confirmed a grant by John de Warenne of a further 58 acres to John de Wormele in the wastes of Haitfeld, Steinforthker and Fishlake, at the rent of 4d an acre, in 1340. This was recorded in the Patent Rolls on July 18th.
The Rev Joseph Hunter wrote in his History of South Yorkshire (published 1830) that John de Wormley was the foreman of a jury at Hatfield in 1340 for the Inquisitiones Nonarum. This was not a criminal trial but an official valuation of property in 27 counties for taxation purposes.
Hunter described the Wormleys as first among "a few families of distinction who settled within the limits of Hatfield Chase."
John de Wormeley also witnessed charters to help his neighbours. On January 27th, 1333/34, he witnessed a grant of 20 acres with appurtances by John de Warren to his serjeant,  Henry de Kelsterne, in the earl's manor of Hatfield. Other witnesses to this business matter, conducted at Hatfield manor house, were Sirs Thomas de Noirford, William de Warenna, Roger Saleman, John of Doncaster and Richard Martyn.
John de Wormeley witnessed another deed, dated November 11, 1342, at Sandhall (Kirk Sandall, a village next door to Hatfield) confirming a grant from John le Boteler of Sandhall to his daughter Margaret. (Full Text of Descriptive Catalogue of the Charters, Rolls, Pedigrees, Pamphlets etc forming the Jackson Collection at Sheffield Public Reference Library.)
The Calender of Inquisitions Post Mortem in the 21st Year of Edward III (1348) catalogues in detail the land that had been granted by John de Warrene in his lifetime. This shows he had rented out 40 acres of (agricultural) land to John de Wormele of Hatfield at 6d per acre a year; 18 acres of land and moor in the park at 4d per year; and 98 acres of waste, one rood, at Fisshelak. Presumably there was more than this as the grants we have read add up to about 290 acres.
*John de Wormele is shown to have held the manor at Hatfield in his will, dated 1350. This was copied as a note in Tudor Latin on the side of Flower's Visitation of Yorkshire Wormeley chart, drawn in 1584.
It reads: Sigillum Johannis de Wormeley, annexum cartae per quam dat. Thomae, filio suo, manerium in Haytfeld, dat apud Haytfeld, ao 23 E. III - Gules, on a chief indented argent with three lions rampant azure.
Roughly translated it means:
 Seal of  (equivalent to signed by) John de Wormeley, stamped on the charter by which he gives Thomas, his son, the manor in Hatfield, given or dated at Hatfield, 1350. – Red and silver shield with three blue lions rampant: the Wormley arms.
This looks like John's will, or part of it, leaving the manor to his son Thomas.
Thomas was presumably the eldest son but must have died young, to be succeed by younger son John. As the Black Death had reached Yorkshire the year before, in 1349 – the worst-ever epidemic of bubonic plague, which killed half the population of England – any of the family might have died around that time. The plague returned 12 years later and killed another fifth of the population.
It is possible that this might be the will of the second John, not the first. But if so he must have written it about 20 years or more before his death. The note shows that  John II had been succeeded by his own son Richard de Wormeley, in 1373, with an annulet for difference on his arms.
Margaret de Wormele: Granddaughter of a baron?
Margery or Margaret, who was married to the first John de Wormele at Hatfield, was identified in an Elizabethan collection of pedigrees and historical notes as being a daughter of Sir Roger de London and a granddaughter of one of the Adam de Newmarches at Bentley. If this was true she and John would have been probably cousins, which would have been legal and it was a common practise for cousins to marry in those days. But the timescale doesn't fit: they would have been a generation apart.
It was stated in the Tudor pedigree that John de Wormele became the holder of his Hatfield manor through this marriage, as Margaret had inherited it from her father.
However, we suspect these details were garbled or contrived two or three centuries later to show how the Wormleys came to own their Hatfield lands.
We think that the first John de Wormele was a son of Roger de Newmarch of Womersley and so probably inherited Hatfield in his own right. Maybe the story of him obtaining his Hatfield manor by marriage to a supposed Newmarch heiress was a false supposition by his Elizabethan descendants, who only half-remembered that the Newmarches once owned Hatfield and needed a way to prove their subsequent legal right of ownership.
In 1608, the Wormeleys took pride in mentioning in their deed of sale for Hatfield Manor that it had once been inherited from Baron Novo Mercato and Sir Roger de London, presumably through Sir Roger's wife being Newmarch's daughter. But an earlier inquest post mortem of 1550, simply stated that Robert Wormley 's land in Hatfield in 1526 had been "held of the heirs of Adam de Newmarch".
We have no way of settling this question.
All we know for certain is that John and Margaret de Wormele were husband and wife in 1331, because this was recorded in the Patent Rolls of that year. There is no known 14th century evidence showing who her father was at all.
Sir Roger de London was very probably descended from Thomas de London, mentioned in the Yorkshire Pipe Roll in 1171, paying scutage to Tickhill Castle, just south of Doncaster.
Thomas's son was William de London, who had land in Nettleworth and Warsop, near Mansfield, Nottinghamshire, and at Tinsley, between Rotherham and Sheffield, in 1195.
William de London went to fight in the wars in France in 1202 and died there. His youngest child was another William, who died in 1249, although a William de London was the Steward of Wakefield in the 1250s.
It seems a reasonable guess that Roger de London was the second William's son or grandson, particularly as this William and a Robert de London witnessed a charter with members of the Newmarch family of Womersley in 1240. Roger married a Newmarch daughter, confirming that these families were closely associated.
Roger de London witnessed a deed with the third Adam de Newmarch, involving property in Thorn and Fishlake, which are next to Hatfield, being given to the Knights Templar.
Roger was a witness to two other medieval charters concerning Thorn and Fishlake and a fourth in this group of legal documents was witnessed by Adam de Newmarch, Richard Foliot and Thomas de Polington, all heads of local families.
All of these deeds appear datable to between 1236 and 1248. This shows that Roger de London must have been born by about 1220 at the latest, and he would be unlikely to father a daughter much after about 1250. It's not likely that she would marry a man 20 or 30 years younger than herself and still be living in 1331!
Roger could have been a nephew of yet another Roger de London before him. The most famous and important member of this family was the Abbot of Selby Abbey, a Benedictine monastery a few miles north of Doncaster.
He witnessed a charter by Henry of Pudsey, giving land to found Finchale Priory in County Durham, in the late 12th century. Among the other witnesses were brothers Adam and Henry de Novo Mercato, (an earlier generation), which strongly suggests the de London and Newmarch families were connected or closely associated over several generations.
The earliest Roger de London was nominated as Abbot by Richard the Lionheart and pumped a lot of money and resources into his Crusade. He was buried in Selby Abbey, which is still an impressive ruin.
When John and Margery Wormeley's son later married Ellinor Foliot, probably around 1340, their families were already connected by marriage between the Foliots and Newmarches.
The Wormley coat of arms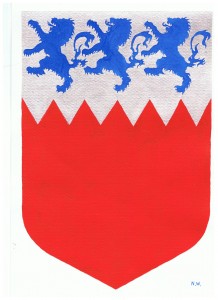 The Wormley arms, described in heraldic terms,  were gules, on a chief indented argent, three lions rampant azure. This means the bottom two thirds of their shield in red, separated from the top third in silver by a zig zag edge. There were three blue lions standing upright on the silver part.
This design probably reflected at least one earlier family influence.
Burke's General Armory shows that the arms of the Newmarchs in Yorkshire was a red shield with a wide horizontal gold or silver band across the middle of it, indented (zig-zags top and bottom, or they can be described as five diamond-shaped fussils). This is very similar to ours, but with red at the top as well as underneath.
The Wormley arms were probably an adaptation of the Newmarch arms, just taking the red strip off the top, pushing the silver part up to replace it and adding three lions. The first John de Wormele's grandmother was probably a daughter of Roger de Mowbray, of the powerful baronial house of Mowbray, and it is evident that the Newmarch and Mowbray families were closely connected in the time of the first Wormleys. So we can imagine the Wormley arms being a blend of Newmarch and Mowbray shields (Mowbrays' arms were a silver rampant lion on a red background).
This is our best guess, although the design of Sir John de Wormeley's arms could possibly have been inspired by several other local influences:
The Bosville blazon, for instance, is similar to the Wormleys', and we know that the early Newmarches and Bosville family of the Conisbrough area were related by marriage in the 13th century.
At Barnburgh, the arms of the Cresacre family bore three rampant lions.
A shield the same as ours, gules with a chief indented argent, but lacking the blue lions, can be seen in the Lord Marshal's Roll, part 9, blazon 424. This collection of heraldic coats was painted in 1295. The bearer of shield 424, like 47 others, is unidentified. Some of the shields were unfinished, so this could be the earliest picture of the Wormleys' arms, from more than 700 years ago. On the other hand, there is confusion between silver and gold in some armorial bearings in the Lord Marshal's Roll, which leaves an alternative possibility that it shows the arms of a Nigel de Brok, not of our family.
If Sir John de Wormele did fight against William Wallace, the timing of the Lord Marshal's Roll would be spot on. It was painted in the same year, 1295-96, as the Scottish war of independence started, with Wallace becoming Scottish leader. The Battle of Stirling Bridge followed in 1297.
* It is possible that the early Wormley family of Womersley were connected to the de Stapleton family of Darrington, a village two miles away and close to Pontefract with its castle. Apart from the general likelihood of neighbouring landholders intermarrying in medieval times, a reason to think this is that a Robert de Stapleton's coat of arms in 1186 and in 1206 was a chief indented. We don't know its colours, but this is the same basic design as Sir John de Wormele's arms in the early 14th century.
This Robert de Stapleton married Clarice, a daughter of Adam de Reineville. The Reinevilles were early Norman lords of Womersley from Domesday until the late 1100s, when they were replaced fairly briefly by the de Tillys and subsequently by the de Newmarches. They probably intermarried.
With the death of Robert de Stapleton's grandson, the Stapleton lands passed through his daughter to the Scargill family, who – confusingly – used the arms of a different, more northerly family called Stapleton in the 14th century: a black rampant lion on a silver background.
Perhaps there was a misunderstanding in that period and the Scargills mistakenly thought the two Stapleton families had been related several generations earlier. If the early Wormleys thought this too, it is feasibly possible that they might have combined the Darrington Stapleton's chief indented with the north Yorkshire/Durham Stapleton's rampant black lion to create the Wormley arms – gules, a chief indented argent, with three lions rampant sable or azure. The similarity between the shields is either a surprising coincidence or might be evidence of an early relationship with or descent from the de Stapletons and/or the de Reinevilles.
* The earliest arms of a family called Frame, who may have lived at another local village, Osgodby, were argent on a chief gules, three lions rampant or (gold). This is almost identical in design to the Wormley arms, with the main colours reversed. The date of this is unknown, but it does suggest a relationship or connection between our families, especially bearing in mind that the Frames probably intermarried with the neighbouring de Hambletons (see the chapter about about our DNA connection to the Hamiltons of Scotland).
The King and Geoffrey Chaucer came to stay for Christmas
The first Wormleys to live at Hatfield in the 1300s probably met the King and Queen of England at that time, Edward III and his wife Queen Philippa, as they seem to have been their hosts at the manor house in 1336.
Hatfield was a royal hunting lodge, next to Hatfield Chase, which was in those days a marshy forest of 70,000 acres. It was fenced and home to large herds of deer. This was visited at times by important nobility and royalty for hunting, so as well as presumably being the Wormleys' home the manor would have been taken over when required as a kind of early holiday hotel for very select guests.
Regional over-lord John de Warenne was tenant-in-chief of the area until 1347 and after that it belonged to the Crown, so the Wormleys were their sub-tenants and would no doubt have had to comply with this.
We assume they lived in the main house, although it is possible that they might have had their own manor house in Hatfield and did not actually live in de Warenne's building. But we have found no evidence of a second manor or any other lords of manors there, so have taken the tenancy situation at face value.
(They certainly did not own the whole village; there were other local land-owners around, and it is unclear exactly where the Wormleys' property was. In 1608 they were living at West Hall, alternatively known as Edward Wormeley's Hall, but this was nearly 300 years later and the hall may have been built as a newer and more stylish family home long after Edward III and Chaucer's time).
Hatfield Manor House was traditionally built on the site of King Edwin of Northumbria's palace from early Saxon times.
A book called "Greater Medieval Houses of England and Wales 1300 to 1500", by Anthony Emery, published 1996, says: "Hatfield is a rare 12th century manor house or hunting lodge enclosed within a house of Georgian character. The first-floor hall above an undercroft was extended during the late medieval period of royal ownership.
"Hatfield  was retained by the crown until 1628."
Doncaster Council 's local history of the area says that Edward III's second son, William de Hatfield, was born at Hatfield in 1336 when Queen Phillippa stayed there while awaiting Edward's return from fighting the Scots. Prince William died soon after and was buried at York. Edward III spent Christmas of that year at Hatfield.
Slightly later royal visitors included John of Gaunt (1340 to 1399), who was the third surviving son of Edward III and Queen Philippa. Gaunt was the Duke of Lancaster and of Aquitaine in France. He was the brother of the Black Prince and the father of King Edward IV. His descendants included Henry V and Henry VI, the first Tudor.
Edward Baliol, the abdicated King of Scotland, stayed at Hatfield in 1356, and the Prince of Wales hunted there in 1360. In addition, Henry the eldest son of Richard, Duke of York, was born at Hatfield in 1441.  In the 15th century, Thomas Hatfield, who later became Bishop of Durham and Keeper of the Privy Seal, is also believed to have been born there.
Another son of Edward III who stayed at Hatfield was Prince Lionel, accompanied by his page or squire, who later became famous as an author ‑ Geoffrey Chaucer, who wrote "The Canterbury Tales."
A book called "The Life of Geoffrey Chaucer", written by Walter W Skeat in 1899, describes some of the household accounts of  Elizabeth, wife of Prince Lionel. Among these she authorised young Chaucer, who would only have been a teenager, to spend 2s 6d on necessary items for Christmas at Hatfield in 1357.
The book adds: "John of Gaunt, the Countess's brother-in-law, was a visitor at Hatfield at the same period; which indicates the probable origin of the interest in the poet's fortunes which that illustrious prince so frequently manifested, during a long period of years.
"Perhaps it was at Hatfield that Chaucer picked up some knowledge of the Northern dialect, as employed by him in the Reves Tale."
Chaucer stayed in Hatfield twice as a royal servant in 1357 to 1358.
The South Yorkshire Star printed the following article on January 28th, 2008:
Chaucer's Canterbury Tale from Doncaster
IT'S certainly changed a lot since the Middle Ages.
   But there's at least one building that English literary giant and Canterbury Tales author Geoffrey Chaucer would recognise in South Yorkshire. 
  That's because one of the county's best kept secrets is that the writer is among former residents of the Doncaster village of Hatfield – and that it may have influenced his famous body of work.
   Chaucer is acknowledged as one of the giants of English literature and his work has been revisited by TV bosses with versions of his stories set in the modern day, with stars including Billie Piper appearing.
  There are no monuments to the great man in the village, although St Lawrence's Church, where he would have worshipped, is still standing.
   His old home, the former royal hunting lodge, where he lived around 1358 as squire to Lionel, third son of Edward III, has long since vanished and on its site the town's Manor House now sits.
   But now the writer may be commemorated at last – Hatfield Town Council has voted to recommend to Doncaster Council that the name of a street in a new development off Thorne Road be named Chaucer Lane after their poet from the past.
  The Rev Paul Wilson, vicar of Hatfield's St Lawrence's church – which was built in the 12th century and where Chaucer would have attended services – would love to see the former parishioner recognised. He said: "It would be great to see this bit of Hatfield's history become more high profile."
Duncan Wright, clerk to the town council, added: "This is really one of Doncaster's forgotten secrets – even in Hatfield not a lot of people know about it.
   "It would be nice to think that it might bring a few tourists into the town, even a few Chaucer scholars – who knows?
   "At least it will hopefully lead to a few more visitors coming from Doncaster and elsewhere in South Yorkshire." Chaucer expert Professor Alcuin Blamires, Professor of Medieval Literature at Goldsmiths College, University of London, admitted little was known about the writer's time in South Yorkshire, but believes his stay here had an effect on his work. He said: "Chaucer is most often associated with London and Kent, but the very earliest record of his life shows him shuttling between Yorkshire and London. He was paid expenses as a youth serving at Hatfield near Doncaster in December 1357 in the entourage of Countess Elizabeth of Ulster and her husband Prince Lionel, son of King Edward III. "Chaucer's connection with John of Gaunt may have begun in this Hatfield residence, and his early poem The Book of the Duchess, commemorating Gaunt's wife, reinforces the Yorkshire link by referring to Richmond Castle.
"Chaucer's ear for accents he heard during these formative years contributed significantly to his imaginative world. Two distinctly northern students are given the role of sorting out an objectionable thieving Cambridge miller in The Reeve's Tale.
*  We don't know exactly what role the Wormleys played in the comings and goings of these visitors, but Hatfield was a very small village then and they must at least have met some of them and been involved in accommodating them. Royalty and nobles would have travelled with a considerable number of servants and courtiers, probably taking over the manor house and nearby buildings for the duration of their stay.
The house was a moated first-floor hall then, dating from the 12th century, with an attached tower and probably other separate buildings close by. As sub-tenants the Wormeleys may have had to confine themselves to just a part of the manor when hunting parties or special visitors were staying there, or perhaps temporarily move out into other accommodation.
* There is a hamlet called Wormley Hill of about eight houses and a couple of farms close to the modern course of the Don, five miles north of Hatfield. It is an interesting question how Wormley Hill came to have its name.
A document outlining the Wormley's Hatfield Manor lands in 1607 indicates that they probably owned this hamlet at that time. But  whether it existed in the middle ages is unknown.
We assume that Wormley Hill was probably named to distinguish it as an area of land owned by the Wormleys of Hatfield manor sometime after 1312. The place name Wormley and our family name Wormley occuring at the same location cannot be an unconnected coincidence. But we don't think it might have been the family's place of origin, because we are convinced they took their name from Womersley.
South Yorkshire has changed so much since medieval times that there are few clues to help us. There is no sign on the map that there was ever anything at Wormley Hill and the area is flat farmland, only 16ft above sea level, so the word hill possibly had an agricultural meaning. Other centuries-old field names in the area were Pighills, Sandhill and Amiable hills, suggesting mounds or heaps in the fields rather than real hills. The area was once marshy so perhaps Wormley Hill was just a few feet higher than surrounding ground and less prone to flooding.
An aerial view of Wormley Hill on Google Earth shows an obviously-unused, nearly-circular mound right next to the hamlet, in a corner of a field. This is in an area where all other land is intensively farmed and could well have been the site of a large medieval house or mill.
The second  John de Wormeley at Hatfield: Links with the legend of Robin Hood
Sir John and Margery de Wormele's son John was probably born at Hatfield around the 1320s. An Elisabethan family tree tells us he married Ellinor, Helen or Lelin Foliot. She was said to be the daughter of Sir John Foliot, Lord of Fenwick, and the Foliots became the Wormleys' relatives through this marriage which produced Ellinor and John's son Richard Wormeley.
"Sir John Foliot" was almost certainly baron Jordan Foliot, of Norton and Fenwick, who had married Margery de Newmarch, daughter of Adam de Newmarch. She was probably the first John de Wormele's aunt or great aunt.
However, this parentage would make Ellinor Foliot a generation or two older than her husband, which sounds very unlikely. More probably she was a younger daughter of Jordan's son Sir Richard Foliot, who was killed in battle in 1317, or a granddaughter of Jordan's brothers Edmund or William Foliot.
So John and Ellinor de Wormeley were probably cousins, but this fits with the usual close-knit marriage arrangements to be expected between medieval landholding neighbours.
Intermarriage with the Foliot family is a piece of good evidence that the first Wormleys were originally Newmarches. It is typical of the complex pattern of arranged marriages between land-owning families in those times. Such carefully-planned marriage bonds between neighbours would often be repeated for generations and were seen as vital to maintaining order and power. There was no question of marrying whoever you fancied.
The Foliots added another root to the Wormley family tree stretching back to France before the Norman conquest in 1066.
*Strong evidence that the Hatfield Wormeleys were a branch of the Womersley Newmarches is to be found in The Calendar of Papal Registers from 1355.
This recorded that an indulgence to choose a confessor was granted to a John, son of John de Wilmersley, layman, in the Diocese of York, on the 15th February.
And, in the same list on the same day, being granted the same indulgence, were Matilda de Newmarch of Yorkshire, and Elisabeth de Waterton of Lincolnshire. These were John's probable grandmother Maud, widow of Roger de Newmarch of Womersley, and their daughter Elisabeth, who was the second John de Wormeley's aunt.
This assured them plenary remission from temporal punishment in purgatory after death. In other words, they paid probably quite a large sum of money to the Church in exchange for not being punished for their sins on the way to heaven. Everybody believed the Church had God's authority to give them this assurance in medieval times and it was a serious matter to people who could afford it.
Wilmersley was a Latinised spelling of Womersley, which we know was also corrupted into "Wormley". As we had a John, son of John de Wormeley then, who would have been growing older and probably thinking about his after-life, it seems likely that they were the same man. Being on the same list with these Newmarch women must confirm their relationship – it would seem an incredible coincidence if they were unrelated.
* Further evidence of John's religious conviction comes from the record of a court case, held in 1365, which is preserved in the Borthwick Institute at York. A hearing before the Diocesan Court appears to have considered whether men from Thorne failed in their legal responsibilities to pay for some local church repairs. The first plaintiff listed accusing them was John de Wormeslay of Hatfield. Borthwick researchers have interpreted this surname as meaning Womersley, and there can be no doubt that he was our ancestor, also spelt Wormeley.
* The second  John de Wormeley served three generations of Womersley's overlords as an esquire. The first was Alice de Lacy, who inherited her lands when her father Henry de Lacy, Earl of Lincoln, died in 1311. She was about 30 then and had a very turbulent life. At a later date Alice "rewarded her loyal esquires, endowing John de Wormeleye with a pension of 20 shillings a year." (The word pension then meant a regular sum paid to ensure continued loyalty, not an income in old age).
Alice's lands became the property of her first husband, Thomas 2nd Earl of Lancaster, but when he was executed in 1322, the Lacy lands were inherited by his younger brother Henry, 3rd Duke of Lancaster (Alice's brother-in-law). He died in 1345.
The former Lacy lands then passed to Henry's son, called Henry of Grosmont, 4th Earl of Lancaster and he was created 1st Duke of Lancaster by Edward III in 1351.
Henry of Grosmont had no sons but two daughters. The youngest daughter Blanche married Edward III's younger son John of Gaunt, and so Gaunt inherited the Lacy lands and title of 2nd Duke of Lancaster.
A John de Neumarche served Henry of Grosmont and later John of Gaunt as an esquire. Although he was identified at different times by two different names, this continuity of service suggests Wormeley and Neumarche were one and the same man.
He was an esquire to Alice de Lacy prior to her death in 1348, and then later on to the inheritors of her estates – as well as also being an esquire to Gaunt's grandmother, Queen Isabella, in 1345. His "career" could have started in his 20s and spanned the rest of his life. He probably died in 1373. There are a number of references to this John de Neumarche in the Calendar of Patent Rolls and other medieval documents up to that date – and the fact that they then cease is further evidence for the case that he was also John de Wormeley of Hatfield, because references to John de Wormeley also end near that time. The first official record showing that his successor Richard Wormeley had taken over Hatfield Manor was dated 1373.
What jobs John actually did for these people is uncertain. The term esquire was very wide-ranging. It could mean menial work while training to be a knight to acting as a military commander. Or it might be administrative or legal duties, or some office of trust.
John de Wormeley/Neumarche seems to have done some of both, although this may not have been a full-time job; probably more a case of giving his services when required.
Records of John de Wormeley/Neumarche's activities tell us the following about him:
In 1345 he was a squire to the Queen Mother, Isabel, who lived a lavish life-style at Castle Rising in Norfolk. He was probably only about 19 or 20 then and presumably showed talents in various fields, also serving Alice de Lacy locally at home in this period.
In 1350 John had an arrangement with John de Moubray, granting him 10 marks of rent a year from the manor of Epworth in the Isle of Axholme. This may have been payment of a retainer fee for his services. He had a similar arrangement in 1354 with Henry Duke of Lancaster, being paid £14 a year "of rent issuing out of the manor of Criddling Stubbs", next to Womersley.
John de Neumarche was granted protection in May 1356, until Michaelmas (29th of September), along with the Mowbrays, who he was closely connected with, before going to Brittany in the Retinue of Henry de Grosmont, Earl of Lancaster.
Grosmont was Edward III's commander in Brittany and his expeditionary force was involved in fighting there from June-July 1356. A famous English victory followed at the Battle of Poitiers in September, but Grosmont's army was pre-occupied further north. On October 3rd, Henry laid siege to the town of Rennes. This siege lasted until the following July, when he was reluctantly forced to stop because a peace treaty had been signed.
John de Neumarch/Wormeley was very probably involved in this siege, but we don't know what role he might have played.
In 1358 he testified on behalf of a man who was accused of murder, stating that it had been self-defence. The defendant was pardoned because of his good service to the king and Henry Duke of Lancaster while "in Brittany in the company of John Neumarche". This wording sounds like he had been there in a military role under John's command.
Henry Duke of Lancaster made John de Neumarche one of his executors when he wrote his will in April 1361. Henry died of the plague in that year and John de Wormeley/Neumarche was one of the administrators of his castle, manors and debts, eventually passing them on to John of Gaunt.
In 1362 John was involved in settling a court dispute about ownership of Mowbray manors in Bedfordshire and Buckinghamshire. And a year later he had an arrangement with John de Moubray granting him the revenues of the manor of Wrot for life, again, presumably as payment for his services.
In 1368 "John de Neumarche, esquire of John Duke of Lancaster", was to be paid 80 marks of rent a year out of the manor of Transhelf, in Yorkshire, in return for his duties.
In that year too John was one of several men commissioned by the king to investigate a complaint of robbery at Parlyngton, Yorks (probably Pollington). This was often done, as there was no police force then.
John de Neofmarche was one of a number of men given a commission of walliis et fossatis in 1366 and 1367. This was an instruction by the king to sort out flooding, blocked channels and drainage problems in "parts of Balne and Mersland, the lordship of Haitfeld, co. York, and the Island of Axiholme and the Soke of Crull, co. Lincoln."
The same commission had been sent to his grandfather, Roger de Newmarch, in 1328. The name next to John's on the list of commissioners was Robert de Morton. He was an important official for the crown at Hatfield and he occurs in slightly later Hatfield documents with Richard de Wormeley, presumably John's son. This association is another little clue that John de Wormeley and John de Neumarche were one and the same.
A John de Wormele and his wife were among the original founder members of a religious guild in Hull in 1369, that over the centuries developed into the famous Trinity House organisation of today, responsible for Britain's lighthouses. We do not know if if this John de Wormele was a member of our family. It is possible that he was the second John of Hatfield manor, but nothing is known connecting him with Hull. On the other hand, Hull was only about 30 miles from Hatfield and would have been easy to get to by boat as the Don was an important trading river, so a family connection cannot be ruled out. The Newmarches were appointed by the king to keep this river navigable and preserve navigability in the local ports and coastline, so it was a subject the family had an interest in.
The Gascon Rolls stated in May 1370 that John Neumarche was going to Aquitaine in the king's service with John of Gaunt.
Gaunt  arrived there in the summer  with a small army to reinforce his ailing elder brother, the Black Prince and his younger brother Edmund Langley. They laid siege to Limoges in September and stormed the city with great violence.
John de Neumarche/Wormeley probably took part in this and may have stayed in the duchy under Gaunt's command  throughout the following year, attempting to stave off French invasion of this English-owned territory.
*Coming back to John de Wormeley's wife Elinor Foliot and her ancestry:-
Jordan, Edmund and William Foliot's father was an earlier Richard, of Norton, born between 1214 and 1222, and who died only two months before his son, in March 1299. This Richard married Margery de Stuteville, another prestigious match in the upper classes of that time.
Richard and Jordan Foliot both witnessed a Newmarch charter in the second half of the 1200s, along with a Domino Robert de Wilmersley, indicating both families were related in the 1270s or 80s.
The Foliots' pre-Conquest home was the castle of Omonville-la-Foliot in La Manche, northern France. They held Fenwick and other lands in Yorkshire from at least the time of Henry I.
Feint indications of the Foliot mansion house at Fenwick can still be seen from the air.
The family split into several branches in Norman times – in Yorkshire, Devon, Worcestershire, Norfolk and Oxfordshire. The earliest known common ancestor is thought to be Rainald Foliot, born about 1033 in Contenin, Normandy.
The Yorkshire Foliots' family tree is roughly as follows:
First certain generation: William Foliot, who died before 1166. Children by his first wife were Jordan I, Henry, Paganus and Richard. Children by his second wife, Agnes de Arches: William and Hugh.
Agnes d'Arches, founded Nun Keeling Priory (actually a convent) in Holderness, Yorkshire, in 1152. Other Yorkshire convents were founded by her brother, William, and her daughter, Alice de Quintin, at Nun Appleton (coincidentally about five miles from Riccall, where generations of Wormleys lived five to six centuries later).
Agnes d'Arches was probably born about 1092 to 1095 at Catfoss in Yorkshire, and her ancestors can be traced to Normandy in the 900s.
Second generation: Jordan I, who died after 1175. In a charter dated 26th December, 1159, 'Jordanus Folioth'  gave the West Mill of Norton to the monks of Pontefract, on condition that the monks paid half a mark every year to the chapel of Norton.
Jordan's wife was called Beatrice. Their children were the second Jordan, Henry (died after 1175) and Richard (died before 1206).
Third generation: Jordan II married a Margery.
Descent continued through Jordan's brother Richard Foliot, who died before 25 July, 1206. He married Beatrice Bardolf, one of five sisters and coheiresses of Robert Bardolf. Her inheritance included Grimston, in Nottinghamshire, and one-fifth of a knight's fee in Hoo, Kent. She died by 1225.
Fourth generation:  Jordan Foliot III, who died by 5 March, 1235. His wife was probably called Joan,  who later remarried Ranulph de Cunte. They had a daughter called Beatrice and a son Richard.
Fifth generation: Sir Richard Foliot (born between 1214 and 1222, died in 1299).
Richard inherited the Foliot estates in 1236. He was a royal household knight in the 1250s, rebelled against the crown in 1261–63, becoming a baronial sheriff, before once again becoming a trusted supporter of the king in December 1263. He went to Amiens as an ambassador of Henry III early in 1264. He benefited from the distribution of rebel lands after the battle of Evesham, being given Adam de Newmarch's land in neighbouring Womersley and Campsall until Newmarch got it back three years later.
Sir Richard survived an episode in 1272 when his 'castle' at Fenwick was confiscated because he had harboured outlaws. He died in late March 1299. His coat of arms was gules with a bend argent ( a red shield with a diagonal silver band across it).
His wife was Margery de Stuteville, who was the daughter of Sir William de Stuteville and Margaret de Say. She inherited from her brother Sir Robert de Stuteville the manors of Gressenhall, Elsing, East Lexham and Weasenham in Norfolk, and Cowesby, Stillingfleet, Newsham and East Ness, in Yorkshire. Margery died before 2 October, 1275. Her children were Sir Jordan Foliot, Sir Edmund Foliot, of Handsworth, near Sheffield, and Sir William Foliot, of Tilney and Ilsington, Norfolk .
Sir Edmund lived in Sheffield and was an important knight who fought in Scotland in 1302. Edmund's son Richard was mentioned in the Calendar of Patent Rolls in 1315, when he was accused of violently attacking the parson of Handsworthe, imprisoning his servants, stealing his horse and chasing his sheep with dogs so that many of them died. The first parson of Handsworth was a Simon Foliot, so maybe this was a family argument…
Edmund Foliot was born around 1250 and married Sarah, daughter of Thomas de Furnival. She had a sister named Eleanor. And another Eleanor de Furnival, in the next generation, married a Peter de Mauley. So we could guess that, just perhaps, Edmund Foliot's son Richard might have had a daughter around 1300 and named her, like his aunt and cousin, ELEANOR Foliot….
Sixth generation: Sir Jordan Foliot, 1249 to 1299, succeeded his father Richard briefly before his own death five weeks later at the age of fifty.
Sir Jordan, first baron Foliot, lent 20 marcs (£13.66p) to Adam de Newmarch in 1273 and was married to his daughter Margery de Newmarch. Their children were Sir Richard Foliot, Joan who married Sir Alphonse de Vere.
*Ellinor Foliot's older relatives, Jordan and Richard Foliot, have been closely associated with the legend of Robin Hood.
A medieval ballad called The Penurious Knyght, which helped create the legend of Robin, Marion and their merry men, may have been partly based on the exploits of a real-life outlaw living in Sherwood Forest with a band of supporters called Roger Godberd. Sir Richard Foliot senior sheltered him from the Sheriff of Yorkshire's men in Fenwick moated and fortified manor, because they were related, and so played an important part in inspiring the myths.
A book called "Robin Hood and the Lords of Wellow", by Tony Molyneux-Smith, 1998, claims that several generations of Foliots, including Richard and Jordan, were the real Robin Hood, living a sort of Scarlet Pimpernel double life. Wellow is a village in Nottinghamshire next to Sherwood Forest where Richard fortified a manor house in the mid 1200s, naming it Jordan Castle to please his son.
The book's Foliot family tree appears to be inaccurate and in our opinion its theory is ridiculous, but it would have been nice if Ellinor could have been mentioned too….
The first Richard de Wormeley at Hatfield: He paid the poll tax that caused the Peasants' Revolt
John and Ellinor Wormley's son Richard was tenant of the manor in Hatfield by 1373. We  know this from a side-note in Latin that was shown in Flower's Visitation of Yorkshire in 1585. It reads: "Cartae Rici. Wormeley de Hattefeld, dat ao 46 E.III. S. Ricdi de Wormeley – Gules on a chief indented argent, three lions rampant azure, an annulet for difference".
This refers to a written item that Richard put his seal to in the 46th year of the reign of Edward III, ie 1373. (Note the "annulet for difference" on his coat of arms. This was a small heraldic addition to differentiate him from earlier knights in the family).
He is believed to have married a daughter of Thomas Cresacre of Barnburgh, near Conisbrough. Her name was Katherine.
Richard de Wormeley witnessed two documents legally recording the transfer of some land in Hatfield, Stainforth and Fishlake in 1375 and 1376. These ancient deeds are stored in The Yarburgh Muniments at York University's Borthwick Library and are headed: Feoffment, for life  YM/D/FISH/1 5 October 1375 and YM/D/HAT/1  20 April 1376.
Robert de Morton received all land held in these villages by Francis Curson. Morton was the chief bailiff of the manor and lordship of Hatfield, appointed to this post for life by the overlord of Hatfield at that time, Edmund Langley, Duke of York.
Three years later, in 1379, Richard de Wormelay witnessed another charter, recorded in Latin on a sheet of vellum, at Kirk Sandall, two miles west of Hatfield. This legally confirmed a grant of an acre of meadow from John Smyth of Little Sandal to John de Mountfore of Kilnehirst (now part of Swinton, west of Conisborough).
His fellow witnesses were: Robert de Barneby, Alexander de Rokeby, Roger Petipas chaplain of Barnby, Hugh Foulwod of Steristhorp, John son of Robert of Kirksandal, and John Saunderman of the same. Steristhorp was Streetthorpe, a hamlet next to Kirk Sandal.
The Subsidy Roll for Yorkshire listing Poll Tax paid by residents of Hatfield over the age of 16 in 1379, included Ricardus de Wormelay – like everybody else in the village paying 4d. This was the same man as referred to in the legal document above, but no wife was shown on the tax list, which is strange, because he was definitely married to Katherine in 1380 and it seems likely his children were born before then. We can only guess that Katherine was missed off the list by mistake, or perhaps Richard had been married to a previous wife who died, and he did not remarry until the following year….
This Poll Tax led to the Peasants' Revolt two years later, with Wat Tyler leading the great rising on London.
Various other people named in the 1379 Poll Tax list might have been related to or their families were subsequently connected with the Wormley family (google Genuki Yorkshire Poll Tax 1379). They include:
John de Cresacre and his wife Isabella at Barnburgh, paid 20s (ie £1, presumably because of their wealth?).
Thomas de London, a souter (cobbler) at Barnburgh, paid 6d.
John de London, Doncaster, paid 4d.
Richard Folyot and his wife Lucia, Rotherham, paid 6d.
John Mountney, armiger (a landholder with a coat of arms), at Whiston, paid 11d. (He also held land at Bolton upon Dearne and Swinton). Also his mother, Joanna, baroness widow of Lord Thomas de Furnival, at Whiston, paid 11s (55p).
John Mountney and his wife Elizabeth, a smith, at Ecclesfield, paid 6d. Their son John and servant Isabella both paid 4d.
John Pollington and his wife Joanna at Doncaster, paid 4d.
William de Kellum, at Woodsetts (9 miles south of Doncaster) paid 4d. Henry and Agnes Killholme, Margaret de Kilholme and Matilda de Kelholme, all paid 4d at Cantley near Doncaster. William Chillam at High Melton, paid 4d.
Agnes Wormely of Barnburgh.
It seems likely this was Agnes, daughter of William Fitzwilliam of Elmley and Sprotborough, who married Adam, son of Roger de Novo Mercarto at Womersley. If so she was the first John de Wormele's sister-in-law. After she was widowed quite young in the late 1340s  perhaps she went back to live in the area where she had grown up. The Newmarch family were tenants at Barnburgh and she probably had relatives living nearby.
John de Warmelay and his wife Magota, a smith, paid 6d at Maltby, four miles south of Conisbrough. They had a servant called William who paid 4d.
Most people paid 4d but those with a skilled trade paid 6d. Blacksmiths were respected as important people, with similar status as we nowadays give to middle class professionals like lawyers, doctors or bank managers. In an age before factories they made all the metal tools used in the country for war and peace. So this John de Warmelay could have been a member of the Hatfield Wormeley family and should not be thought of as too lowly through being a blacksmith.
No other Wormeleys were listed in south Yorkshire.
* The court list for Conisbrough Manorial Court records that Richard de Wyrmley and his wife Katherine attended a court hearing on 12th December, 1380. The case was a civil dispute between them and Richard de Cusseworth (Cusworth, a hamlet near Conisbrough).
Wrmeley versus de Cusseworth first appeared on the court roll on Wednesday October 17th, with Cusseworth accused of failing to repay a debt to the Wrmeleys.
The case was adjourned and a damaged name a little further down the scroll might explain why.
"(Missing bit but probably Wr)meley did not come (fined) 12d", was written immediately under the names of the 12 jurors who sat at the tourn (sheriff's court). This appears to tell us that Richard de Wrmeley was supposed to be one of the jury on that day but did not attend and he was fined a shilling, about a week's wages for most people, for non-attendance.
The list does give 12 jurors' names, but the court would have had to have found an instant replacement because all juries were 12 good men and true.
Presumably Richard Wrmeley wouldn't have been a juror on his own case, as that came under bailiff's proceedings (civil disputes) and the jury was there for criminal matters.
The case was adjourned again at the bailiff's court on Wednesday 21st November. On this occasion de Cusseworth "did not come" and he was distrained, meaning the court ordered that some of his goods or perhaps livestock, maybe a horse for example, were to be seized and impounded to force him to attend the next court.
The debt was finally agreed (settled) and the court fined de Cusseworth 2d (a day's wages for poor people), on Wednesday December 12th.
Interestingly, two of Richard de Wormeley's fellow witnesses from the Kirk Sandal charter signing of 1379, also appeared in the Conisborough court on the first day of the hearing, October 17th. Alexander de Rokeby and Hugh de Fulwode, were both fined 12d for brewing their own beer (instead of buying it from their overlord). This despite the fact that Hugh de Fulwode was the constable for Kirk Sandall and had brought others to court to be prosecuted for the same offence!
* There is a further historical reference to Katherine Wrmeley in 1386, after Richard's death.
She was mentioned in a collection of ancient deeds and estate papers of the Foljambe family of Osberton, held in the Nottinghamshire Archives.
See website www.nationalarchives.gov.uk and do a names search.
Item DD/FJ/1/226/1 describes a legal document translated from Latin, dated 2nd September 1386.
This records a grant by Katherine, widow of Richard de Wormelay of Hatfield, to John Vavasur of Denyngby, William de Swinton and William Wayt, chaplain, of 4 marks per annum, from the manor of Richard de Wormelay in Hetefeld, Staynforth and Thorne, for Katherine's lifetime. Witnessed by William Wormlay, chaplain, Thomas Fornes, John le Qwythfeld etc at Hetefeld, Sunday of Decollation St John the Baptist.
It isn't explained why Katherine agreed to pay 4 marks a year for the rest of her life, but as two chaplains were involved in the legal process it might have had something to do with the Church, perhaps a donation to a chantry to protect her late husband's soul. A mark was 13s 4d (two thirds of a pound, or 67p).
The William Wormlay, chaplain, who witnessed this agreement, was probably Richard Wormley's brother, and so Katherine's brother-in-law.
William was also mentioned in the Conisbrough Manorial Court list on Wednesday 19th June, 1381, a few months after Richard and Katherine's victory there, and also in a dispute about a debt. This case was between John Bele of Doncaster and William de Wyrmley, chaplain. William is shown as being attached, a legal phrase meaning the court seized property of his to cover the debt.
William was recorded in a further legal document some years later. In 1396, the will of a Robert de Morton of Bawtry, a small town south of Doncaster, included a gift to the hospital at Bawtry. It was given to the hospital chaplain, William Wormley ("domino Willielmo Wurmeley capellano" ‑ master William Wormley, chaplain. Published by the Surtees Society).
This Robert de Morton is the same man who was mentioned in the land transfer document at Hatfield in 1376, witnessed by Richard de Wormeley, that you have just read about at the beginning of this chapter.
The last mention we have of William was in the York Sede Vacante Register of 1405 to 1408. This recorded that he had been an accolyte, sub-deacon, deacon and finally priest at Roche Abbey, four miles south of Conisbrough and close to the small town of Maltby.
It is also possible that as a young man William went to fight or be an army chaplain in France, in 1374-75. Records show that in that year a William de Wormele was enlisted to serve in the war against France under the command of John Montfort, Duke of Brittany. John of Gaunt had just led an invasion and in 1375 the Treaty of Bruges confirmed England's rule over Calais, parts of Gascony and four forts in Brittany.
A John Killom and a John de Polyngton also went on campaign with Edmund Langley, who was the overlord of the Conisbrough area, to France in 1375. They may have been ancestors of slightly later Wormley wives.
Maybe this soldier was William de Wormeslay, who lived at a village called Brampton, and with his wife Ellen sold land and properties at Beverley for 200 silver marks in 1380 (recorded in the Yorkshire Feet of Fines).
This Brampton might have been the village of that name next to Wath on Dearne, a little west of Conisbrough, where the Newmarches probably held property. More likely, though, it was a village now called Branton, next to Cantley, on the SE fringe of Doncaster.
Still called Brampton on the 1842 Ordnance Survey map, this place was definitely acquired by Robert de Newmarch, also known as de Robert de Wilmersley, in 1260, and it is only five miles from Hatfield. So the William de Wormeslay who lived there was probably a son or grandson of Sir John de Wormele, who fought in Scotland in 1335.
*  The Calendar of Patent Rolls from 1389, sealed by Richard II at Westminster, recorded that John Mowere and Katherine Stokwyth were co-executors of the will of Richard Wormele, who was himself the late executor of the will of Margaret Wether. Mowere, Stokwyth and her husband William were accused of failing to render goods and chattels to the value of 40s to Margaret's son John Wether, and the king ordered an inquiry.
Richard was probably in his 40s when he died.
The Cresacres ….our Crusader ancestor
The Cresacres are believed to have been medieval relatives of the Wormeleys through a daughter of Sir Thomas Cresacre, marrying the first Richard Wormeley of Hatfield in about the middle of the 14th century. Her name was Katherine.
Thomas Cresacre was possibly born about 1285 at Barnburgh and his father was a John Cresacre, born about 1260.  A document in the Nottinghamshire archives records the transfer of Dalton mill for 2d (rent) in the early 1300s, witnessed by John Cresaker, Margaret Cresacre's grandfather.
The Calendar of Patent Rolls makes four references, between 1311 and 1330, to Thomas Cressacre being Master of the Hospital of St Edmund in Doncaster. This suggests he was a hospitaller knight, of the order of St John – and a crusader. The hospitaller knights fought in battle, but also started a hospital in Jerusalem to care for poor, sick and injured pilgrims.
He seems to have fought in at least two campaigns for the Crown, as the king twice ordered him to be granted protection for a year.
Thomas Cresacre was granted the right by Edward II and Edward III to collect tolls from people crossing Doncaster bridge, next to the hospital, and use the money to mend the king's high road. The charges were 1d for every cart with iron tyres laden with goods for sale, a halfpenny for every millstone, and a farthing for every horse-load of goods for sale.
Sir Thomas is believed to be the knight carved in wood, lying on a tomb in the Cresacre's private chapel in Barnburgh church. Barnburgh, a village three miles from Sprotbrough and just north of Mexbrough, was their family seat.
There is an ancient legend about a monstrous cat that is the Cressacre equivalent to the hound of the Baskervilles. A couple of centuries later their descendents were closely involved with Sir Thomas More, Lord High Chancellor of England executed by Henry VIII because he refused to give up his Catholic faith. More's son was married to Anne Cresacre who lived from 1511 to 1577.
A local information website about Barnburgh says:
St Peter's is the church of the Cat and Man Legend. The porch, dating from 1330 is reputed to be the place where "The cat killed the man and the man killed the cat". Details of this fascinating local legend can be found at the church. St Peter's is home to the Cresacre Chapel, with its beautifully carved wooden screen (12th century). There is a magnificent 15th century stone tomb of Sir Percival Cresacre, featuring an oak effigy on the tomb that has been dated a century earlier and may be of Sir Thomas Cresacre. It is reputed to be one of the best 14th century wooden statues in England. There are also portraits of the Cresacre family.
Local historian J. Stanley Large wrote the following in his book 'A History of Barnburgh', published in 1952:
"The Cresacres were Norman Barons who came over with William of Normandy, but history is silent concerning the family from that time until about 1260 when we find John d'Eyville and John de Cresacre mentioned in a deed in which Cresacre became possessed of lands in Darfield and Wombwell.
The first written evidence of the Cresacres occupying the Manor of Barnburgh is to be found in the Harlean manuscripts in which a document is preserved which gives a John Cresacre as Lord of Barnburgh in 1281. Hunter must have missed this, for in his "Deanery of Doncaster" he states that the first notice he could find of the family was in 1316, when a John de Cresacre and Stephen de Bella Aqua were returned as joint Lords of Barnburgh.
From that time, the Cresacres can be traced without interruption, and in the reign of Henry the Sixth, we find Percival Cresacre as Lord. He married Alice, daughter of Thomas Mounteney, a family who were for a long period wealthy lords of a great part of Derbyshire. It is this Percival Cresacre around whom the most romance is cast and he it is who is named in connection with the famous " Cat and Man " legend.
Both Percival and Alice are buried in Barnburgh Church. The tomb of Sir Percival has a magnificent oak effigy (one of the finest in the land) set in a beautiful canopy of stone. No date appears among the many Latin inscrip­tions, but it makes up for this deficiency by the elaborateness of the canopy. In addition to the numerous inscriptions, the tomb contains the arms of several notable families to whom the Cresacres had been joined in marriage, including Bosville, Wombwell, Fitzwilliam, Wortley and others.
(This website editors' note: The shields that once decorated Sir Percival's tomb have long ago disappeared, so we don't know if one of the others was the Wormleys' arms. But there is evidence of a Wormley connection with Barnburgh in the Rev J Harvey Bloom's book "Heraldry of the Churches of the West Riding", published in 1892. He listed arms to be found in Barnburgh church as: Cresacre, Wormley, Furnival, Bella Aqua, Vincent and Griffith – all local landowners throughout the centuries. In this case the Wormley arms in St Peter's Church may be there through a marriage to Thomas Vincent of Barnburgh Grange in 1622).
The Legend
"In the fifteenth century there lived at Barnburgh Hall a worthy knight called Sir Percival Cresacre. He was returning home rather late at night from Doncaster after visiting friends or maybe transacting some business, and was ambling gently on his horse along the bridle way which is now the road from Doncaster through Sprotburgh and High Melton.
The district was at that time very heavily wooded, and as he came down the Ludwell Hill a wild cat (or lynx), which was far larger and stronger than the domesticated cat of to-day, sprang out of the branches of a tree and landed on the back of his horse.
So maddened was the horse by the tearing claws of the cat that it shied, sprang forward, threw its rider to the ground and ran away. The cat then turned upon the knight and there followed a long, deadly, running struggle between the two which continued all the way from Ludwell Hill to Barnburgh.
By this time the man had been terribly mauled by the fierce claws of the cat and was nearly exhausted. On reaching the church the knight made for the porch, thinking to get inside the Church and close the door on the animal. The fight had been so fierce, however, and had so told on the man that he fell dying in the porch, and in his last dying struggle, stretched out, and in so doing his feet crushed and killed the cat against the wall of the porch.
Thus the cat killed the man and the man killed the cat, and thus they were found some time later by the search party that went out after the knight's horse had returned home rider less
In support of all this, the more imaginative story teller will probably show you stones tinged with red in the floor of the porch, and the "cat" at the feet of the Cresacre effigy
Now, in most legends there is more than an element of truth, and so I believe it is in this case, but over the years a story like this which has been passed down by word of mouth through the generations is bound to become somewhat dis­torted.
Let us then consider the facts :—
First look at the red stones in the floor of the porch. Then look at the tower, particularly on the north side, and you will find quite a number of stones of exactly the same colour.
Next, examine closely the "cat" lying at the feet of the knight of the effigy and you will see that it is a lion. Furthermore, as we have seen in previous notes, the effigy is at least one hundred years earlier than Sir Percival Cresacre, and in any case the fact that an animal lies at the feet of the figure can be completely ignored as there are numerous instances in England where an effigy has an animal at its feet. Indeed, it is said to be symbolic of a Crusader (although this is open to question) and in some versions of the story the knight is described as a Knight Templar returned from the Holy Wars.
If this was so it could not have been Sir Percival Cresacre, as the eighth and last Crusade took place in 1270-1271 and the Knights Templar were disbanded in England in 1308.
In support of the legend, however, it must be stated that at one time the woods around here abounded in wild cats.
In the year 1205 a Gerard Canville was granted a licence to hunt the wild cat. In 1237 one of the Earls Warren of Conisburgh had leave to hunt many wild animals including the wild cat. And other licences of a similar nature were granted in 1274 and 1337.
Of the ferociousness of the creatures there can be no question, and as it invariably inhabited the woods, it had to be hunted there. One can imagine the danger there would be if the hunter caught one at bay.
There is, however, evidence to show that wild cats had been exterminated a long time before Sir Percival died, and although I am more than prepared to believe that a knight of the Cresacre line died at the hands of a wild cat in some such manner as that described in the legend, I say un­hesitatingly that it must have been a Cresacre who lived long before the time of Sir Percival, quite possibly a Crusader.
The oaken effigy represents a knight in the military costume of the 11th century, lying on his back with his head inclined to the right. His hands are clasped together in an attitude of humility and supplication, and the head rests on a kind of cushion which appears to have been folded. The legs are crossed and there is a lion at the feet. It has been said that this latter feature commemorates a Crusader, but there seems to be little justification for this belief.
As to costume, the effigy has a slightly conical helmet which connects with chain mail (the Camail) which completely covers the chin, neck and shoulders. The arms are protected with plate armour, the left arm supporting a shield. Plate armour also covers the body, terminating in semi-circular form just above the knees. From there to the feet the protection again is plate armour. A sword is worn, although the lower half is missing, and spurs complete the outfit.
There has been much controversy over the age of this effigy, and a study of the costumes worn in those times will show that the armour of this figure is at least one hundred years earlier than the period of Sir Percival. For instance, the Camail, which is of chain (or ring) mail had gone entirely out of use in favour of complete plate mail long before the days of the knight in question. It has been suggested by learned authorities that this is another instance (amongst scores) where the effigy of some earlier knight (in this case probably Sir Thomas Cresacre, circa 1348) has been appropriated at a later date. In support of this theory it will be noted that the effigy has been cut down, apparently to fit the canopy. Moreover, it will be observed that not one of the inscriptions is on the effigy, all being on the canopy. Further it is more than likely that a canopy or shroud of oak would have been provided had the work been all of one period, or vice versa, the effigy would have been of stone.
It is a curious thing that amongst all the inscriptions on the tomb not one gives the date of the death of Sir Percival, (probably 1477).
After having examined the elaborate tomb of Sir Percival it is a surprise to find that Alice, his wife, had to be content with a single slab let into the floor by the side of her husband's tomb. Cut into the stone of this slab are nine rows of holes about the size of a pea, so designed as to represent a cross of beads—an emblem used by the Cresacres. Round the edge is the following inscription :
"Alicia uxor Parcivalli Cresacre obiit a'D'mi M'CCCC'L'
"Our bonys in stonys lye full still," "Our saulys in wandyr at Godys will."
That part of the epitaph written in English may be found on several other tombs in England.
The family of Cresacres is reputed to have had more than one member taking part in the Crusades and it was a common custom when a knight died in the Holy Land to bring back his heart which was then blessed and placed in a box, or hole similar to that at Barnburgh, to be preserved for all time. Often valuable articles of gold or precious stones were placed with them. At the Reformation, however, these reliquaries were completely destroyed and their contents scattered.
On the wall of the Cresacre chapel there are three boards which record the charities of the Parish but they are almost un­readable. Behind one of the boards, the oaken door by which the Cresacres made their entrance can be seen, still hung, the walling up of the doorway having been done on the outside only.
The chapel was in the possession of the Cresacre family for several centuries."
* A book called Genealogical and Heraldic History of the Commoners of Great Britain, by John Burke in 1836, gives a family line for the Cresacres starting from John, who is known to have been lord of the manor of Barnburgh in 1281 and in 1316.
* There is a possibility that in Elizabethan times or earlier, somebody recording the Wormley family lineage might have got confused between the Cresacres of Barnburgh and the Cressy family of nearby Melton on the Hill.
The Tudor Wormley pedigree reproduced by the Rev Hunter in his History of the Deanery of Doncaster showed Richard Wormeley marrying the daughter of Thomas Cresacre of Melton on the Hill or High Melton. We know this Thomas Cresacre was alive at that time, but he lived in Barnburgh, the next village along the road.
It was the Cressys who lived at High Melton, but there is no record of a Thomas Cressy living there in those years, so we have assumed that the name of the place was an error, rather than the name of the bride's father. The two villages are only a mile or so apart and it would be an understandable mix-up. In any case, Thomas Cresacre also sold some land in Sprotborough, on the southern side of High Melton in 1335, which might have added to any confusion.
There is a stained glass window in Melton church showing the arms of Vincent quartering Wormley, but this commemorates the marriage of a later Thomas Wormley's daughter, Susan, to Thomas Vincent in 1622.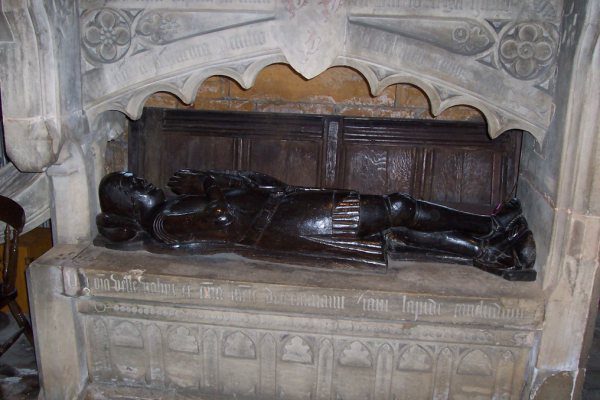 The tomb of Sir Percival Cresacre – the carved knight is believed to have actually been our ancestor, Thomas Cresacre.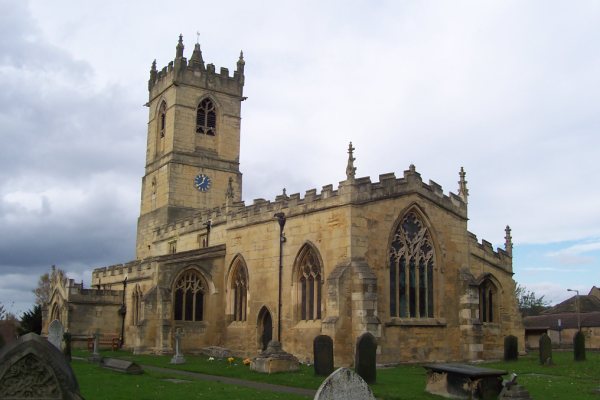 Barnburgh Church, near Conisbrough.
The later Middle Ages: the second Richard Wormeley
The second Richard Wormeley at Hatfield – Richard and presumably Katherine Cresacre's son – was born in the mid 14th century. His mother was not shown in the 1379 Poll Tax list, so she might have been a previous wife who had died by then, and Richard's father remarried in 1380, or perhaps Katherine was just missed off for some reason.
Richard junior became head of the family when his father died in 1386.
The second Richard gave information about landholdings at the Inquest into Edmund Duke of York, in 1402. ("Full Text of Inquisitions Post Mortem Relating to Yorkshire, Henry IV and Henry V", pages 35 and 36).
We know that he was still alive in December 1416, when Richard Wormlay of Hatfield witnessed an agreement renting out two houses at Fishlake for 5d (2p) a year.
Like Sir Percival Cresacre, this Richard is also believed to have married a daughter of a Thomas Mountney,  possibly the same Thomas or maybe his father.
There were several Sir Thomas Mountneys during the Middle Ages, when the family were lords of the manors of Shirecliffe and Cowley on the northern edge of Sheffield, and of Swinton near Conisbrough. Unfortunately the record does not show one who fits perfectly in time with Richard's wife as his daughter.
The Mountney main-line family tree is roughly as follows:
Arnold de Mountney married the daughter of Gerard de Furnival and Maud de Lovetot. Gerard was a crusader who fought with Richard the Lionheart at Acre in Palestine in the 1180s. Maud's great great grandfather built Sheffield Castle.
Arnold's son Sir Robert de Mountney married Margaret de Reneville in 1266. Through her he acquired the manor of Cowley, which had belonged to her father Jordan de Reneville and his father Adam de Reneville, Vetus (war veteran).
Robert's son was Thomas de Mountney who married Isabella. Both were living and probably married in 1287. Thomas is known to have been the tenant at Boulton Upon Dearne and Swinton (both close to Barnburgh) in the late 1200s to early 1300s.
Thomas's son was the next Sir Thomas Mountney who died in about 1325 and could have been our Mountney-Wormley's grandfather. He was lord of Swinton, Shirecliffe, Cowley and Scholes (another village to the north of Sheffield).   He married the daughter and heir of Hugh de Goldington and through her acquired Riston (Whiston).
Sir Thomas's daughter and heir was Joan de Mountney, 1322 to 1396. She married Thomas Lord Furnival "The Hasty", who fought at the Battle of Cressy in 1341 and died without issue in 1366. However, Joan previously had a son by somebody else in 1356. This son was Sir John de Mountney, (his surname was given to him by his mother. The reason for this is unclear).
Joan is not thought have had any other children, but perhaps John de Mountney had a cousin called Thomas?
The timing of Sir Percival Cresacre's life proves there must have been another Thomas Mountney living in south Yorkshire in the late 14th century, to have fathered his wife, Alice. So quite possibly Richard Wormeley's wife could have been her sister, although they look about one generation apart.
The ancient main seat of the Mountney family was at Shirecliffe Hall and the manor of Cowley was added to their possessions through marriage. Cowley was described as having "great woods, an abundance of deer and a stately, castle-like, moated house", later demolished. However, Hunter says there was also a branch of the Mountneys at Ecclesfield, north of Sheffield, who moved to Wheatley, Doncaster, before 1615, so maybe our Thomas Mountney was one of these?
The next John: His tomb is in Hatfield Church
Richard's son John Wormeley, who we are told married Sir Thomas Pollington's daughter, was presumably born around the end of the 14th century, and died about 1450. We believe he is buried in St Lawrence's Church, Hatfield, where an ancient altar tomb bears the arms of the Wormley family.  A scholarly and expert article published in The Archaeological Journal Volume 21, by the Royal Archaeological Institute in 1964, attributed the slab cross head to John Wormeley c.1450. Provided this date is accurate then it must mean Richard Wormeley's son, although if the date is 20 years or more too early then it might be the next John Wormeley, who we know was still living in 1469.
Apart from this slim evidence we know nothing else about the early 15th century John and have to take him on trust from Brack's Wormley family pedigree written in the early 1700s. This is also the only source for his wife being the daughter of a Sir Thomas Pollington, and we aren't totally confident that it is reliable.
There is a village called Pollington a few miles north of Hatfield and it could be where John's wife was born or her family originated. At least one Sir Thomas Pollington was lord of the manor of Pollington in earlier medieval times, although by this stage it looks as though the manor was in the hands of the Metham family. We have seen no evidence of a Sir Thomas Pollington alive in the late 14th or early 15th centuries.
A John Pollington and his wife Joanna were recorded living at Doncaster, about six or seven miles from Hatfield, in the Poll Tax record of 1379. This may be the John de Polyngton who went to fight in France in 1375, and quite possibly a relative of John Wormeley's wife.
The last medieval John: Monks wrote to him in 1469
The next John Wormeley is shown to have been a significant landowner at Hatfield by a Yorkshire court case from 1465, recording that a Thomas Wormeley sued John Wormeley of Haytfeld, franklin, for a debt.
No other details are given in the English index summary of the case in the National Archives. Here is a photograph of part of the original document, 547 years old, but as you can see it was hand-written in Latin in medieval script, and we have only been able to decipher the words Thomas and John Wormeley, de Haytfeld and frankleyn.  However, Haytfeld was an old spelling of Hatfield, and a franklin was a freeholder, owning extensive property in the 14th and 15th centuries. Franklins were "middle class" and generally farmers, but some were just about minor gentry and even knights.

(You should be able to view the whole document by clicking on it. Then return to this page by clicking the outward-facing arrow in the top left corner of your screen. Alternatively, enlarge or reduce this page by holding down the ctrl key in the bottom left corner of your keyboard and scolling back or forth with the wheel in the centre of your mouse. This works with photos elsewhere in the website too).
John Wormeley married Cecilia, shown in the Wormley's Tudor pedigree as the daughter of Thomas Kellam of Rotherham, in the mid 1400s.
The Kellams were an important family in Yorkshire, with their own coat of arms. The first Kellam is said to have fought at the Battle of Hastings in 1066 and their name comes from a village called Kelham near Newark, about 30 miles south of Hatfield in Nottinghamshire. A Thomas Kellum was recorded there in 1403, which is the right period for him to have been Cecilia's father. His grandson, Andrew Kellum, became lord of Hickleton manor, near Conisbrough and Barnburgh, by marrying into the Preston family of Hickleton, so Kellums were present in south Yorkshire during the late Middle ages and in Tudor times.
In the 1379 Poll Tax register, people with this name were recorded in High Melton, next to Barnburgh, and also at Cantley on the edge of Doncaster. Actually, this fact may suggest the simplest family origin for Cecilia.
The Yorkshire Feet of Fines record that a William de Wormeslay lived at Brampton, now called Branton, which is next door to Cantley, in 1380. There is a Kilham Lane and a Kilham Farm at Branton. A family living there may have spread six miles north to Stainforth, where the Kilhams were a major farming family for hundreds of years. Ancient gravestones in Hatfield churchyard inscribed with the name Kilham attest to their local importance, and it is very feasible that John Wormley in the 15th century may have married a daughter of his gentleman-farmer neighbours.
Dugdale's Visitation recorded part of their family tree in 1666, mostly still living between Pontefract and Rotherham. Dugdale said that the Kellums, also variously spelt Kellom, Kellam, Killam and Kyllom, lived at Pontefract, Cudworth to the east of Barnsley, and Hickleton, where there was once a castle owned by the Newmarches.
In 1558, a later Andrew Kellum was one of the Regarders of Hatfield Chase, so he would have undoubtedly known John and Cecilia Wormeley's great grandson John. And the name Kellam occurs in a Wormeley will of the mid 1500s, also implying a continuing relationship between the two families over several generations.
One of the four John Wormeleys at Hatfield in the Middle Ages left a legacy of one acre and three roods of land in his will to Hatfield Church. His gift was valued at 3 shillings by Henry VIII's Chantry Commissioners, which paid for a priest or friar to pray for his soul and sing masses.
We can be pretty sure this was the last John because of evidence in (Full Text of) "Archaeologia aeliana, or Miscellaneous Tracts Relating to Antiquity" (1822). Page 146 reprints in full a Letter of Fraternity from the Friars Minor (Franciscan monks, also then called the grey friars) to Johannes (John) Wormlay and his wife Cecilia. The letter was dated 1469. The book says it was a standard format letter, hand-written in advance in a batch, in medieval Latin, and names and dates would simply be inserted later.
We have roughly translated it to be a letter of thanks for a gift of land or money to a chantry, and an assurance that the monks would do all required for John and Cecilia before and after their deaths, to aid their swift passage through purgatory to heaven.
The document came from Sheffield and was donated to The Surtees Society in 1822. The book states that this is a reference to the Wormleys of Hatfield.
John Wormeley probably died before 1484, because a legal document dated that year records his son Robert controlling land matters on their Hatfield estate.
* A John de Wormeley served in the army in France in 1441, defending the English possession of Normandy against French attempts at reunification. The muster roll for 1441 shows that he was an archer on foot, serving under the command of Richard Plantaganet, Duke of York, who was the over-lord of Hatfield. His captain was John Vere, the Earl of Oxford.
It is likely that this John was our ancestor who was later thanked by the monks. He would have been a young man then, and many archers were franklins or were supplied by franklin landowners to give military service, so he could well have been a franklin's son. In this period just after the English victory at Agincourt guns were still in their infancy, and archers were hero figures in the public mind. Most of the infantry in an English army then were archers, usually out-numbering knights three to one.
Another archer called William de Wormeley served in the same campaign in 1440, in the personal retinue (an elite formation) of the field commander, John, Lord Talbot. His captain was Foulkes Eyton.
Talbot and Eyton were both famous soldiers in the 100 Years War. Talbot, the Earl of Shrewsbury, was the "Valiant Lord Talbot" in Shakespeare's Henry VI Part I. Noted for his daring and aggressive attacks, he re-took Harfleur in 1440 and in 1441 he pursued the French army four times in an unavailing attempt to bring it to battle.
Eyton was a ruthless commander. A French chronicler called him "an abominable Englishman and a ferocious brigand, whose men were not his inferior in wickedness".
Again, this William was probably a member of our family, but we have no further identification for these archers to confirm a connection. They may have  been our ancestors, cousins or perhaps unrelated men from Wormley in Hertfordshire or Herefordshire. However, the use of de before a surname had died out in the south by about 1400, and even though it had become rather old fashioned in Yorkshire by 1440, the fact that both men were called DE Wormeley in the muster roll strongly suggests they came from a countryside area in the north that lagged behind the change in fashion.
* A record held in the Foljambe family of Osberton archives:
  DD/FJ/211/127, written in Latin on August 26th, 1443, recorded that Thomas Wormley and his wife Johanna transfered/sold a messuage (house, any outbuildings and land) in St George's Gate, Doncaster, to John Brownstell and John Wythenwyck. This was witnessed by the mayor of Doncaster, William Bonsour, and others.
Nine days later on the 4th September, deed 128 approved  a defeasance of this grant on payment of 73s 4d in two instalments. This was signed in Doncaster and stamped with two seals. A defeasance meant rendering the earlier business null and void on payment of a sum of money, so it looks as though Thomas and Johanna were being evicted or forced to give up their property to pay off a debt, but at the last minute came up with the money.
Another document, DD/FJ/1/221/130, shows that on the same day Thomas Wormley paid £2 to Thomas Pylkington, probably also paying off money owed, as Pylkington seemed to be collecting money from several people in other legal arrangements.
Further payments of 40s were made by Thomas Wormley to Thomas Pylkington on August 16th the following year and 33s.4d. on September 15th, 1444.
This Thomas wasn't a direct ancestor, but he must have been a member of the family. Maybe he was the same Thomas who took John Wormeley to court in 1465.
* A medieval document kept at the Borthwick Institute, York University, shows that a widow called Alice Wormley made her will in March 1465. The will itself has not survived, but the probate register records that it was proved two months later on May 12. This official paperwork gives the place as St Mary, Castlegate, York, but we are uncertain whether that was where she lived or just where probate was legally granted. Nowhere other than York is mentioned in the Latin record of court business, but it is very likely that this Alice Wormley was a member of our family.
THE TUDOR AND STUART WORMELEYS
Robert Wormeley: Exchanged property with his neighbours
Robert, son of John and Cecilia Wormeley, bridged the end of the Middle Ages into early Tudor times. He was probably born in the mid 1400s,  and he died in 1526. ("Dugdale's Visitation With Additions", by J W Clay, 1899, says he died on February 20th, 1495, but this looks like a mistranslation of his inquest post mortem which was written in Latin in Tudor script. The Rev Joseph Hunter's History of the Deanery of Doncaster, 1830, and Dr. John Sykes, a local Victorian antiquarian and genealogist, both translated it as stating the 17th year of Henry VIII – which was 1526. We aren't able to read it properly, but we can make out some words in the relevant sentence as February…regni….Henrici….regis…septimi decimo. Meaning February…reign…Henry…King..17th. It looks as though Clay misunderstood this to mean the tenth year of Henry 7th, as the 17th in Latin was written seven plus ten).
Robert Wormeley was clearly lord of the manor of Hatfield in 1484, because an ancient document in the Borthwick Library, York, records him swapping bits of land with his neighbours in May of that year. The deed says:
Feoffment  YM/D/HAT/2  28 May 1484 Contents:
Robert Wormelay of Hatfield; John Hunter of Hatfield and Alice his wife. 3 tofts in west field of Hatfield, with lands of Hunter and his wife to west, land of Wormelay to east, with a headland above the gate of Hunter and his wife to south (unum caput super portam), lands of John Hill to north. The tofts granted in exchange for 2 acres 1 rood of meadow lying at Spargeyng, which Hunter and his wife held of the king by court roll. Witnesses: Richard Grayne of Hatfield, Robert Novell of the same, John Stones of the same, John Ingrame of the same, Robert Wilson of the same, and others. Seal.
A Yorkshire will, in medieval Latin and dated 1471, left five marks (£3/8s/4d, or in today's money £3.42p) to an Elizabet Wormlay. This was the will of Thomas Olyver, the king's yeoman usher ­ a servant of the crown. The same post still exists in a modified form today as the deputy of Black Rod, Sergeant of Arms in the House of Lords.
Elizabet was his granddaughter, or possibly his neice (the Latin wording nepti suae could mean either). She must have been a member of our family as the will was registered in York and the executor was a Richard Fitzwilliam. The Fitzwilliam family had their main seat at Sprotbrough, next to Conisbrough, and this Richard Fitzwilliam was born there about 1442. Two of the witnesses to the will were Richard and Thomas Cressy ‑ another local name as the Cressy family held the neighbouring village of Melton on the Hill. The parson of Barnburgh was involved in Sir Richard's execution of the will during the following year.
Elizabet is likely to have been related to Robert Wormeley. She could have been his wife at a young age, or maybe his sister.
There is evidence that a John Oliver may have been a reasonably important landowner in Hatfield in 1431, so possibly Thomas and Elizabet Oliver were members of his family.
A Richard Olyver lived at Drax, a few miles to the north, in 1405, when he gave evidence in an inquest post mortem, and perhaps he was Thomas Olyver's father. There were also Olivers at Houghton Pagnell in 1379.
An Inquest post mortem report into the financial affairs of Robert Wormley. This document was written in 1550, 25 years after he died.With a little faith, you should be able to decipher the names Robertus, Carolus (Charles) and John Wormeley, as well as "Hatfield, Fishlake and Thorne".
(You should be able to view the whole document by clicking on it. Then return to this page by clicking the outward-facing arrow in the top left corner of your screen. Alternatively, enlarge or reduce this page by holding down the ctrl key in the bottom left corner of your keyboard and scolling back or forth with the wheel in the centre of your mouse. This works with photos elsewhere in the website too).
The will of Thomas Wormeley of Hatfield, 1524
In the name of God, Amen. The xxviij daye of Maye,
1524, I, Thomas Wormeley, of Hatefeld, makes my will.
First I bequeath my sail to God Almyghtie, my bodie to be
beried in the churcheyarde of Armethorpe Also I bequeathe
for my mortuary after the costome of the centre. Also to
the hie altar vd.; to John Wormeley, all suche goodes as
he haith of myne, to have hit, excepte a cowe and a calf;
also a Utile bowse with a yerde the terme of his lyfe, and
than to return to the right heires ; also to Agnes Rawe v s.
or a whye stirke of v s. price. Also I will that my wif have
the howse with al therto belongyng as long as she kepeth
hir unmaried, and she to have hir thirde of the moveable
goodes according to her right. I will that Thomas, my
sone, to have a bond wajne. The residue I give to my
thre sones, whome I make my executors, to do for me and
paye dettes, and then to divide the residue equaly betwixt
them and their susters by evyn porcons. Thies supervisors,
Charles Wormeley, John Hunt, and they to have iij s. iiij d.
with theire costes. Thies wittenes. Sir John Banastre, Sir
Charles Laurent and Charles Wormeley.
[Proved 16 Jan. 1527.]
This is the will of Thomas Wormeley, younger son of our ancestor John Wormeley who we believe married Cecilia Kellam.
This Thomas Wormeley was probably born in the mid 1400s and died three years after writing his will in the reign of Henry VIII. His elder brother Robert took over the lordship of the manor of Hatfield when their father John died, but Robert himself died probably soon before Thomas in 1526. Robert's son Charles Wormeley became the next lord of the manor and is the Charles who witnessed this will. His Uncle Thomas left him and a John Hunt 3s.4d. (17p) to cover their costs in ensuring the will was followed correctly.
Thomas bequeaths his soul to God almighty and the customary amount to pay for his funeral and donate something to the church where he is to be buried. He then officially leaves goods that have already been given in practice to a John Wormeley, except a cow and a calf, and he also leaves him a useful house (work building?) with a yard for the rest of his life. The John Wormeley who later became lord of the manor of Hatfield was at this time his three-year-old nephew, so probably Thomas had a son of his own called John. Records in the Borthwick library at York show that there was another John Wormeley living then, who was buried in Hatfield in 1556.
Thomas leaves the cow to Agnes Rowe (vs is an abbreviation of Latin vide supra meaning see above). Whye stirke was old north eastern dialect meaning it was the one with a white face or white marked.
His wife gets their house and its contents, providing she doesn't remarry, although he accepts she has a right to a third of the moveable contents regardless of this condition. (This clause was probably intended to ensure his sons inherited his house, rather than letting it pass to a new husband of his widow and so out of the family, as would have happened in those days).
The bond waine that Thomas left to his son Thomas was a farm cart. A waine was an open wagon, as in Constable's painting "The Hay Waine," and the word bond meant bound; in other words its wooden wheels had an iron strip or rim bound around the outside edge to reduce wear.
Charles Wormeley: He probably met Henry VIII
Charles Wormeley, son of Robert and nephew of Thomas, was born in the late 1400s and lived in the time of Henry VII and VIII. He was married before 1521.
The Rev Joseph Hunter's South Yorkshire (A History of the Deanery of Doncaster), published in 1829, has a section on the inclosure of Hatfield Chase. It says that in 1539 an official perambulation was made around the boundaries of the chase (the largest in England, containing 180,000 acres) by the regarders of the chase, who claimed the right to follow the deer. It lists the 24 names of these regarders, first on the list being Charles Wormeley.
Detailed evidence of the boundaries was presented at a Swanimote, a court held in Hatfield on matters of the forest, with the verderers as judges. The court was held by order of Henry VIII's highest minister, Sir Thomas Cromwell.
Charles was probably in his 40s or 50s when he did this walk in 1539, but he was obviously fit enough to walk a good few miles. However, he died in  1545.
Some years later, in 1558, his son John Wormeley gave evidence at a similar swanimote court in the first year of Elizabeth I.
Charles' death was mentioned in an inquest post mortem into the financial affairs of his father Robert Wormeley, recorded in 1550-51. We don't know why this was held 25 years after Robert's death. We have a photocopy of the original document, obtained from the National Archives, but are largely baffled by the combination of Latin written in Tudor script.
Another book called "History and Antiquities of Hatfield", written by the vicar of Hatfield, Abraham de la Pryme in 1698, tells us that two years after Charles' boundary walk, in 1541, Henry VIII made his only visit to Yorkshire. From August 17 to 23 the royal court was at Hatfield. The king enjoyed some hunting while he stayed there. Although we aren't told, Charles and his family very probably met Henry VIII, as he presumably took over their manor house.
The Yorkshire Chantry certificates of 1546 also show that Charles Wormeley was of local importance in Hatfield.
Charles and his grandfather John were mentioned in a survey of chantries carried out on the orders of Henry VIII in that year. Chantries weren't buildings; they were private arrangements like trusts with monastries or parish priests to regularly say prayers and sing masses for the benefit of dead people's souls. Those who could afford to left money or land to the Church in their wills to pay for this personal service. There was a general belief that it would encourage God to speed your passage through purgatory to heaven.
Henry VIII had a study made of these arrangements and the bequests itemised. He then abolished them and 'nationalised' their assets to pay for wars against France and Scotland.
Charles Wormeley, as a local landowner, appears to have granted the Stainforth Chapel chantry some free rent, prior to its abolition. The priest at this chapel was paid to pray for aged and impotent (probably meaning disabled) people.
The chantry survey also recorded that a William Warmleye had given half an acre of land and a William Wormlay gave rent money to chantries in the parish church at Tickhill, a small town south of Doncaster with a castle in those days. They might both be the same man, possibly the William who was chaplain at Bawtry Hospital, four miles from Tickhill, but we have no dates to confirm this.
* The Elizabethan and early Stuart Wormeleys were 'special magistrates' who held the jurisdiction of at least a part of the Peculiar of Snaith. The peculiar was an area covering much of south Yorkshire and a bit of Lincolnshire. As lord of the manor in this area the Wormeleys had the power to hold a court and judge people in ecclesiastical matters. It means nothing today but the Church had great power then, so this was important in its time.
* A Tudor will records that Michael Wilbore, of Arksey and Bentley, left 15s (75p) to Amy Wormlay in his will in 1551. This was a fair bit of money then, but he was clearly very wealthy and she is named among many others, after his own servants. Arksey and Bentley are villages just north of Doncaster and Wilbores were important landowners there for a long time. Early parish records show that there were Wormley families living in Arksey and another village south of Doncaster, Tickhill, during the 1500s. They were probably related to the Hatfield Wormleys, although might have branched off several generations earlier.
John Wormeley: Protector of Hatfield Chase
In 1558, the first year of the reign of Elizabeth I, Charles' son John Wormeley gave evidence confirming in great detail the boundaries of Hatfield Chase, at a swannymete court, held in Hatfield. This was presided over by the Earl of Shrewsbury and three other commissioners, who set out rules and regulations to protect the swans, fowl and fish stocks for royal eating. To this day most swans in Britain still legally belong to the crown.
John was born at Hatfield in 1521 and married Margaret or Margery Hutchins, daughter of Thomas Hutchins. She had five children and died at Hatfield in 1601.
As a young man, John and his father-in-law Thomas "Huchyn" had a dispute with the executors of a William Huchyn about a piece of land at Carlton in Snaith. This is recorded in the Court of Chancery records dated 1538 to 1544.
In 1560, John Wormeley was left some money in the will of Thomas Simkinson, Alderman of Doncaster.  The following year, in 1561, John was a witness and agreed to be supervisor of a will made by Thomas Bradford of Arksey, near Doncaster. Thomas Bradford, who had a brother in Fishlake, also left an oxe calf to Frances Wormeley. This was presumably John's son Francis.
John is believed to have died late in 1567, aged 46, just after being mentioned in a court record that still exists. John Wormeley of Hatfield, gentleman, and John Park claimed against Richard Fenton, gentleman at Awkley, in the Chantry Courts in the ninth year of Elizabeth I, ie November 17 1567 to Nov 1568. The case seems to have been a dispute over ownership of a farm, including one messuage (house), 30 acres of (cultivated) land, ten acres of meadow and 40 acres of pasture. Wormeley and Park called to warrant (meaning as their witness) Thomas Fairfax, lord of the manor of Finningley. Awkley and Finningley were villages a few miles south of Hatfield. Probably the case was still on the court books, awaiting an outcome, at the time John died.
John's will was proved at York on the 18th December, 1567. It read as follows:
John Wormeley of Hatfield, Yorks. To Symon Wormeley, my son, my signet of gold and sundry heirlooms. To Christopher, Francis and Thomas. 40 marks each (younger sons). To every of my brother Lawrence's children, 3/4d. My wife, being with child, be it man or woman if it live £40. Residue to my wife Margaret, executrix. To Symon as well my purchased land as my land of inheritance, except the parcel which I late purchased of William Cook of Thorne, which I give to Margaret my wife for life. Symon to pay each of my younger sons £6/13/4d at 24.
   (At the time of writing the will he had three younger sons so that sum each would have added up to £20).
Shocking Elizabethan sex scandals fought out in the courts
John's eldest son Simon Wormeley entered St John's College, Cambridge, in 1556, aged only about 14 or 15, and was later admitted to Lincoln's Inn as a law student on 1st February, 1561. He was probably the first Wormeley to train as a lawyer at London's Inns of Court, which became a family tradition over the next century. Four hundred and fifty four years later, all would-be barristers still have to attend a set number of dinners at the Inns of Court before they are allowed to qualify for the bar. We don't know if he ever practised law, as his status was given in various documents simply as "gentleman".
Simon clung to the old Roman Catholic faith and resisted the new protestant Church of England created by the Reformation. He was cited in the early Elizabethan Diocesan Returns of Recrusants "for obstinat refusinge to receave ye Comunyon". There were legal and social penalties for people who refused to attend Church of England services, including imprisonment, but we do not know if he was punished for his religious beliefs. Records show that he was "reconciled", presumably meaning he eventually accepted the C of E.
He married Ann Claxton of Burn Hall, close to Durham. Probably through this marriage, he was recorded in 1580 as paying £5 a year rent to Durham Cathedral for some land at Cold Heseldon, near Seaham on the coast of Durham. The couple were certainly married by 1577, when they jointly bought some meadow land in Hatfield from a Bryan Stringer.
The Claxtons had cousins at Hurworth on the the Yorkshire-Durham border, where a branch of the Wormley family lived, and it seems likely that this may have brought about Simon and Ann's introduction. The Claxtons and the Hurworth Wormeleys were both related to a Durham family called Conyers. The Hurworth Wormeleys and Conyers both had property confiscated for being recrusants, so possibly their shared Catholic sympathies were a common bond.
However, Simon and Anne's marriage was a shocking and turbulent disaster. This is very evident from a scandalous court case heard in the Diocesan Courts of the Archbishopric of York on January 20th and 21st, 1589.
Anne Wormeley appealed to the Court of the High Commission for restitution of her conjugal rights after a matrimonial breakdown. She was the plaintiff in the case and her husband Simon was joint defendant with his mistress, a woman called Elizabeth Swallow, who also lived in Hatfield.
The archbishop's  "moral watchdog" office issued a libel action on Anne's  behalf, in which she stated that she was lawfully married to Simon and had brought goods of value to the marriage. Anne alleged that Simon had behaved cruelly and violently towards her, and had beaten and assaulted her and threatened to kill her. She further accused Simon and Elizabeth of committing adultery and fornication together, and claimed that Elizabeth had borne Simon a child.
Simon Wormeley answered that he had never done more than reasonably chastise Anne for her manners and behaviour. He admitted to hitting her but claimed he had never hurt her. Simon and Elizabeth both denied that they had ever committed fornication or adultery together.
No sentence is recorded, but it looks as though the court accepted that Simon had defamed his wife.
Simon's will was proved in 1591. It read:
Symon Wormeley of Hatfield, Yorks, gentleman. To be buried at Hatfield. To the poor of Hatfield and Thorne £1/6/8d and 13/4d respectively. The key to my study and all my books in the same to my brother Thomas Wormeley, executor. Witnesses Edward Tailer, John Tailer of Newland, Francis Burre of Thorne, Richard Awstewicke, Thomas Wilson of Wickersley and Francis Deareman.
Probably Symon's land and money had already been dealt with in gifts made while he was alive. This was often done in those days.
The witness to his will Edward Tailer (Taylor), mentioned above, was related to the Wormeleys in some way. He is notable in our family history because he had previously fought Simon's younger brother Thomas Wormeley, in another shocking and scandalous court case, eight years earlier.
Thomas  Wormeley sued Edward Taylor for defamation of character (sexual slander) in the Consistory Court in 1581. This case took up three separate hearings over several months.
Records from the full-blooded Tudor age, preserved at the Borthwick Library in York, show that in September 1581, Thomas claimed Edward had publically called him ribald (presumably meaning grossly indecent in an offensive, not humorous way).
Taylor declared  to people that Thomas Wormeley had many times tried by unreasonable means to be "naughty" with Edward's wife Margaret Taylor and had carried her away. (Again, the word naughty presumably had a more serious meaning in those days than now).
Thomas said this was a lie and confronted Edward about it, but Edward stood by what he said and also blamed Thomas for he and his wife now having parted.
The court was told that Margaret Taylor had never said that Thomas tried to commit adultery with her. But her husband had attempted to persuade her to say that he had, and had beaten her and threatened her with further violence when she refused.
Thomas Wormeley further claimed that he and Edward Taylor had always been friends, but Edward had taken offence when his brother had come off worse in an affray he instigated with Thomas.
Taylor denied that he had defamed Thomas Wormeley and a number of local witnesses in the Hatfield, Thorne and Fishlake area supported his claims in court that something had occurred between Wormeley and Margaret.
At  the second stage of the trial, on the 2nd December, Edward criticised the integrity of Thomas's witnesses and argued that his behaviour demonstrated that ribald was a fitting name. More local witnesses testified in support of Edward's claims against Thomas.
The third stage of the hearing was in February 1581, and further witnesses gave evidence, including a butcher from Doncaster, a fishmonger from Thorne, a labourer from Fishlake, and various other men and women from the Hatfield area, among them several yeomen, a tanner, a fisherman and a gentleman.
The court decided that there was no slander, and therefore presumably concluded that Edward Taylor's accusations against Thomas Wormeley had been true and so legally justifiable.
*Symon and Thomas's sister-in-law, Elizabeth Hogg, who married our direct ancestor Christopher Wormley of Hull, was also involved in some sort of public morals scandal in the Consistory Court, in 1574. This was summarised in court records as a matrimonial case (validity of marriage).
Elizabeth was the defendant and won her libel case against the plaintiff John Haldenby.
Unfortunately we cannot read the faded script to understand the details, but it sounds like the court decided she was justified in some accusation she might have made about the legality of Haldenby's marriage.
Wormley shield is preserved in a castle window: Heraldry hints at other marriages
The Wormley arms appear impaled by the arms of Fairfax in one of the finest surviving painted glass windows from Tudor times. This is the bay window of the great chamber at Gilling Castle in Yorkshire, created for Sir William Fairfax in 1585, to portray his family's heraldry. Linking the two shields together in this way indicated that the Wormeley and Fairfax families were related through marriage.
The only known marriage between these two families is the wedding of Edward Wormley and Dorothy Fairfax in 1666. However, as the glass in this panel is believed by experts to be original, it suggests there was an earlier Wormeley-Fairfax marriage, sometime before 1585. Perhaps Robert or Charles Wormeley had a daughter who married a Fairfax?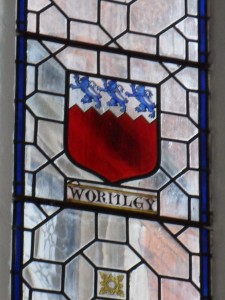 In the same way, the Wormley coat of arms is displayed in a stained glass window at Heslington Hall, a big house that is now the administration centre of York University. This shield was crafted in 1855 in the bay window of the main hall. It was commissioned by the Yarburgh family, former owners of the hall, because of a family link through the marriage of Thomas Wormeley's daughter to a Yarburgh in the early 17th century.
Another family connection indicated by heraldry is between the Wormley and Simpson families of Fishlake and Riccall. The Rev Joseph Hunter's History of South Yorkshire, written in the early 19th century, mentioned that the arms of Wormley impaled by Simpson could be seen on an old house in Fishlake.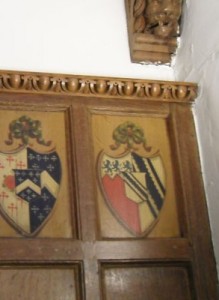 The house is still there and you can still see the joint coat of arms in carved stonework over the front door. The heraldic term "impaled by" means that a Wormeley girl married a Simpson and the monument almost certainly celebrated the joining of the two families by the marriage of Mary Wormeley to Simon  Simpson of Fishlake, in 1672. Mary was the granddaughter of Henry, the first Wormeley to become lord of the manor of Riccall in 1612. She was born at Fishlake in 1646.
Top: The Wormley arms in stained glass in part of the bay window at Heslington Hall, York. Above: The Wormley shield is also depicted on wood panelling inside Heslington Hall, to record a marriage with the Yarburgh family. We are grateful to Kevin George Wormley of Leicestershire for these photos.
The Simpsons were an important family in Yorkshire from the 1400s onwards, with branches in Fishlake and Thorne.
"The History and Antiquities of Thorne", published by S Whalley, 1829, refers to a rental document for Thorne Hall dated 1683. This records that in past times the hall had been rented to the Wormleys, Smiths, Probeys and Sympsons. One tenant was probably Thomas Wormeley (mentioned above), before he became the last Wormley lord of the manor of Hatfield in 1608, as we do know he was then living in Thorne.
Christopher Wormeley: Chamberlain of Kingston-upon-Hull…and privateer ship owner
John and Margaret's son Symon inherited Hatfield manor, but he died without children to succeed him in 1591, so it passed to the sons of his younger brother Christopher Wormeley.
Christopher was a prominent merchant living in Hull and probably a sea-going entrepreneur who was at the centre of an international diplomatic incident.
An American book called Ex Libris, published in 1898, says that in Elizabethan times  Christopher Wormeley "was one of those nautical adventurers who endeavoured to open up trade with Russia by a voyage up the Baltic. But the ships of the Hanseatic League, jealous of any free trade intrusions on their claims, captured him and his vessel and much angry correspondence (now in the British Museum), ensued".
Today this "angry correspondence" is kept in the British Library, where it is part of the Cottoman Galba, D.I. Codex chartaceus.
This is a collection of official letters and information between various ministers and government/court officials such as the Earl of Leicester and Sir Francis Walsingham, some of them addressed to Queen Elizabeth I. They were mostly written in 1587 (the year before the Armada) and concern foreign affairs such as developments in the Spanish Netherlands etc.
Item 85 is summarised as "A brief narrative of the taking of John Wormley by some marauders, pretended Spaniards; his confinement at Munster, and his release. (Latin). July 2, 1587."
Apart from the name John Wormley, this fits with the Ex Libris item. Munster is a city in north east Germany, close to the Dutch border, which was a leading member of the Hanseatic League in the middle ages. Belgium and Luxembourg were under Spanish control at that time so "pretended Spaniards" could have been in charge of shipping off the coast of the Netherlands. Hull was the main English port for Russian and Hanseatic trade.
We do know that Christopher Wormeley was a wealthy merchant who owned a ship. This is evident from a book called "Names and History: People, Places and Things", by George Redmonds (2007). This book describes shipping in Tudor times and says on page 185: "….The 'pink' was another boat used on the rivers, although an early entry in the Trinity House records of Hull establishes that some were sea-going. In 1575, John Adams was fined 10s for refusing to pay duties on a voyage from Hamburg in Christopher Wormley's pink."
The 19th century historian Elizabeth Wormeley-Latimer examined the original Elizabethan document about a John Wormeley in the British Museum. She thought it might have been Christopher's father John, but as he died in 1567 this could only be possible if there is a misunderstanding about the date. Maybe Christopher had a cousin called John who worked for him as the ship's captain in 1587?
Either way, she viewed him as a government-authorised pirate.
In her book "Recollections of Ralph Randolph Wormeley" (1858) she wrote: "John…appears to have been engaged in the less laudable business of privateering; but then, to be sure, so was Drake, and in those days they called it glory. In some adventure on the high seas he was captured by a Spanish man-of-war, which led to a correspondence on the part of Her Majesty's Government and that of Spain, prior to the attempt of the Armada. The poor gentleman suffered imprisonment in some city of the Baltic, and on his return to England compiled two narratives of his misfortunes, one in English, the other in Latin, both in the British Museum. The English narrative is written in an unreadable, engrossing hand."
It is even possible that Christopher Wormeley's ship might have fought the Spanish Armada a year later. In 1588, 226 English vessels, some quite small, were mustered to face the Armada as it sailed through the English Channel and on up the North Sea. But only 34 were Queen Elizabeth's ships in the royal navy. The rest belonged to her subjects and were commandeered, many of them joining Drake's fleet along the way.
In the 1580s over half of merchant ships were armed or made ready to fight, either in self defence or to attack other vessels in acts of piracy, privateering or war. Most ships lasted ten to 20 years, so Christopher's ship was probably still seaworthy in 1588. As an important man perhaps he had more than one ship?
His pink was probably called the "Little Mathewe". This can be gleaned from "Early Judgements of Trinity House", published by the Yorkshire Archaeological Society in Miscellanea Vol 116, in 1951. These summarised records show that a 10s (50p) fine was imposed on John Adams on September 25th, 1575, for refusing to pay primage on a voyage from Hamburg in Christopher Wormeley's pink. Then, three weeks later on October 16th, Adams was fined 2s for not coming to Trinity House when summoned, and 10s for not paying primage on the Little Mathewe before he set out on a new voyage.
This could imply that he had failed to attend the September hearing and was fined in his absence, the judgement being repeated at the October session in his presence. At any rate, unless he was the skipper of more than one boat within a short space of time, then Captain Adams was the master of the pink and of the Little Mathewe, so it is a reasonable deduction that they were one and the same vessel.
As an alternative guess, two ships based in Hull in 1588 were called the Christofer and the Cristofer ‑ it is just possible that Christopher Wormeley might have given his ship his own name and one of these was his vessel….
Christopher Wormeley was certainly one of the most important men in Hull in the middle of the reign of Elizabeth I. "Gent's History of Hull (Annales Regioduni Hullini)", by Thomas Gent, 1735, shows that he was one of the two Chamberlains of Hull for the year 1578. This made him third in importance among the city's civic chiefs, behind the Mayor, James Clarkson, and the Sheriff, Edward Wakefield.
An equivalent post today could be "City Finance Director." As chamberlain he was in charge of the city's finances and managing its accounts. He was probably also in charge of ceremonial matters and protocol as Hull was a major port with frequent important visitors.
Christopher Wormeley bought a house in Kyngston upon Hull in the autumn of 1584 from Thomas Hogge, who was a cousin of his wife Elizabeth Hogg.
Elizabeth was born between 1551 and 1557, and died in 1595.  She was the daughter of Richard Hogg of Marfleet, near Hull, who married an Elizabeth Thorpe and he died in 1602. Elizabeth senior was the daughter of William Thorpe of Welwick.
Elizabeth Hogg's grandparents were Stephen Hogg, who died in 1551 and his first wife, who is unidentified. We do know, though, that Stephen Hogg remarried, his second wife being a widow called Margaret, formerly Walker nee Harrison, who died in 1557.
Elizabeth Hogg's great grandfather was a Robert Hogg, who died in 1509.
*Like her brothers-in-law Symon and Thomas Wormley, Elizabeth was involved in some sort of public morals scandal in the Consistory Court, in 1574. This was summarised in court records as a matrimonial case (validity of marriage).
Elizabeth Hogg was the defendant and won her libel case against the plaintiff John Haldenby.
Unfortunately we cannot read the faded script to understand the details, but it sounds like the court decided she was justified in some accusation she might have made about the legality of Haldenby's marriage.
Witnesses in the court included her grandfather, William Thorp, aged 64 of Beverley, armiger (meaning lord of a manor or from a family with a coat of arms); two servants, a haberdasher from Hull, and John's brother Philip Haldenby, 32, gentleman, from Foston on the Wolds near Bridlington.
Christopher and Elizabeth Wormeley are known to have had six children. They were: Jane, born before 1583 and due to marry John Langton of Winterton, Lincs, in 1602, but it appears that she died before the wedding; Edward, baptised on the 14th of April, 1583, and buried 28th October 1662; Henry, baptised 27th December 1584; Thomas, baptised and buried as a baby on 29th March 1586; Mary, baptised 28th September 1587 and married Richard Newsome; and Christopher, baptised on the Ides of March 1589, eight months after his father had died.
Christopher Wormeley senior was buried at St Mary's Church, Hull, on 27th July 1588, and his will reads:
Christopher Wormeley of Kingston-upon-Hull, Merchant, 20/- to the poor of Hull. To the poor of Hatfield, where I was born, 13/4d to be delivered to my brother Symon Wormeley and my brother Thomas to be distributed by them. To the poor of Marfleet 6/8d, to be paid to my father-in-law and my wife to be distributed as they think fit. 12d to every godchild. To William Pinder towards a signet in remembrance of me 20/-. My wife to have the house wherein I now dwell for her life and the contents. To my eldest son Edward Wormeley a number of heirlooms.
   The house wherein at present William Osgerby dwells after my decease, for that it did belong to my cousin Thomas Hogg, and certain other lands of the old yearly rent of 27/4d, in Sutcotes, given him amongst others his brethren by deed of gift by Robert Hogg of Marfleet, his father deceased, whereof my father-in-law Richard Hogg, brother to the said Robert Hogg, is one and chief of the feoffees of trust. This house aforesaid was, by agreement of Mr Daker Perry, Commissary, put into the custody of Mr Fawkes, who was then Advocate and Registrar in the Commissary Court in York, and is, at present, in the custody of him that hath married Mr Fawkes' wife since his decease.  All these lands given to my cousin Thomas Hogg by his father or by his uncle Thomas Hogg dec'd.  He sold and is acquitted by us of all except £10 which is by the will of Thomas Hogg, his uncle to be paid to his brother Christopher Hogg, when he is of age. Christopher Hogg agreed to apprentice himself to me to learn my trade and business.  The aforesaid house to my younger son Henry Wormeley.  All my house and yarding in Chapel Lane which I purchased of Mrs Wardell and her son, Cuthbert, if it please God my wife be with child and it be a son, to him and his heirs forever.  But if it be a daughter, then to my son Edward, paying  thereout £5 yearly to my own mother for life and to Mr Robert Thorpe of Woodhall £10.  To Jane Wormeley, my daughter, £40. To my brother Symon, my brother Mosley and my brother Thomas 20/- each, supervisors.  My wife, my son Edward and my son Henry, executors. Witnesses:  Thomas Hogg, William Pinder.
Twenty shillings was £1, a charitable donation to poor people in Hull. In those days a pound was divided into three marks, so 13 shillings and fourpence was two marks and six shillings and eightpence was one mark. Twelvepence was one shilling (5p).
Christopher's son Edward was only six when his father died, so future arrangements for his inheritance, listing Christopher's property and money, were the subject of a separate Inquest Post Mortem and other legal documents.
The rambling part about William Osgerby's residence being passed through various members of the Hogg family is rather confusing, but mention of the name MR FAWKES makes it interesting. This was Edward Fawkes, who died in 1579, so the legal business being described must have happened before that date.
In 1570, Edward Fawkes became the father of a baby that was named Guy. Sixteen years after Christopher Wormeley's will was proved, Guy Fawkes was caught in the act of attempting to blow up the Houses of Parliament and everyone inside the building. This event has been remembered throughout Britain every year ever since as an act of infamy on Bonfire Night, November 5th.
So, Hull merchant Christopher Wormeley wrote in his will that Guy Fawkes' father had been involved in legal business concerning one of his properties. It is quite possible that Christopher Wormeley might have met Guy Fawkes' father while transacting this business in the 1570s.
William Osgerby is mentioned elsewhere in connection with Christopher Wormeley, in the Hull Bench Book of 1579. At a meeting of the mayor and aldermen of Hull, on December 23rd, they and three other men were asked to pay back money they owed to the town by January 8th, 1580, or interest would have to be charged. Details of the debt are not given.
Christopher's widow Elizabeth, nee Hogg, remarried a Michael Beasby in about 1590 to 1592.
Christopher was himself never the lord of Hatfield. Ownership of the Hatfield estate passed from his brother Symon to Christopher's sons Edward, Henry and Christopher and subsequently they sold it to their uncle, Thomas Wormeley, in 1608, for £575.
Christopher's sons moved from Hull to York sometime between his death in 1589 and 1608.
Through Henry our ancestors went on to live at another manor in Yorkshire, Riccall, just south of York.
* The records of the Merchant Adventurers of York mention Fraunces Wormelye being made a surety to cover a merchant's debts in 1580. This was Christopher's younger brother Francis, who also went to live in Hull and he too was involved with sea-going merchants and commerce between York, Hull and Hamburg. He married a Margaret Wakefield there in September 1580, but died 11 years later.
Their sister Jane had also moved to York, marrying Alderman Thomas Moseley (1539 – 1624). He was another merchant who was an agent of the York Merchant Adventurers in Hamburg by 1584 and rose to be the company's governor three times, as well as being the Sheriff of York in 1583 and the Lord Mayor of the city in 1590 and in 1602. Moseley stood for Parliament three times, just being defeated, but even though not an MP he was appointed to sit on seven Parliamentary committees.
The late Stanton Wormley of Washington DC included a Richard Wormeley, who died at Hatfield in 1577, as another brother of Christopher Wormeley of Hull. We think, however, that Richard was more probably his cousin.
Thomas Wormley: Founder of a grammar school
Several ancient documents  at the Borthwick Library, York, record business dealings of Thomas Wormeley, who after his youthful escapade with another man's wife settled down to become the last Wormeley to be lord of the manor at Hatfield. For example: * Bargain and sale, with feoffment  YM/D/HAT/7  20 January 1589/90 The whole document very faded Contents:
John Greene, of Lincoln; Thomas Wormeley of Thorne. Close of 4 acres called Wakefield Croft, at Hatfield. 100 marks.
MODERN NOTES:   This document shows Thomas Wormeley buying four acres of land in Hatfield for £67 in 1590.
* YM/D/HAT/8/a  28 April 1596 – January 1608/9 Contents:
Record of Court baron held at Fishlake by George Rookbye, gentleman, on behalf of Edward Wormley, a minor, William Graunt being seneschal. William Wormeley son of Robert Wormeley granted tenure of 1 acre land with building thereon to west of Fishlake, and ½ acres land in east of Fishlake, surrendered by Michael Wells for the use of William Wormeley following the death of Robert. Memorandum by Thomas Wormeley that Robert Wormeley, after making that surrender, had sold the ½ acres to William Allott, who had married his daughter, the sale being with the consent of William Wormeley, the cost being 'to one in the yle 20s', to Thomas Wormeley 19s., and the debts of the said William Wormeley. The payment to Thomas Wormeley still outstanding, January 1608. Note that Allott gave ½ acres to his younger son, or to his wife, who later married William Trymingham and occupies the land. The debt of 19s. ought to be paid. Also questions who has right to the ½ acres, things standing as they are, and who will best pay the money.
MODERN NOTES:  This document is a minor Wormley land dealing within the family, but we are not sure who William and Robert Wormeley were. Probably cousins of the main family living in Barnby Don, a village close to Hatfield. Edward Wormeley was lord of the manor, but did not conduct the proceedings because he was still only a teenager. As this was Hatfield manor court he would presumably have been the "judge" or "chairman" from the age of 21.
* Abstract of bargain and sale  YM/D/HAT/8/b  2 February 1607/8 Contents:
Edward, Henry and Christopher Wormeley, of York; Thomas Wormeley, of Thorne, gent. [Abstract drawn up by G.B. and F.P., 2 of the witnesses] £575: of which £75 at Pentecost next, thereafter £125 at Martinmas and Pentecost until Pentecost 1610.
MODERN NOTES:  This document is a follow-up to an earlier sale of the manor of Hatfield by brothers Edward, Henry and Christopher Wormeley to their uncle Thomas for £575 in 1608. This one sets out how and when the money is to be paid: installments at the end of May and in early February.
* Enfeoffment  YM/D/HAT/9  1 January 1625/6 Contents:
Thomas Wormeley, of Cusworth, gent., to trustees. Lands to be held in trust for the endowment of Hatfield Grammar School.
MODERN NOTES:   This document is further detail about Thomas Wormeley setting up the Hatfield Grammar School in 1625.
Thomas Wormley married Thomasin Waller in 1584 but had no sons to pass on his family name. Through their daughter Sarah, Thomas's estate passed into the Yarborough family.
Our family line moved to Riccall Manor House near York in 1612 and Wormleys at Hatfield manor appear to have come to an end in the 17th century.
Thomas Wormley's will of 1627
Thomas, the last Wormley to be lord of the manor of Hatfield, left land and houses in his will to found a free grammar school in Hatfield and £10 a year to pay a school master, to be appointed by his trustees. He also left 30s (£1.50) a year to the poor of Hatfield.
Details of this Thomas Wormley's will can be read in a Surtees Society article called "The History of the Priory and Peculiar of Snaith", written in Victorian times.
The article starts off by giving details of his first wife Thomasin, their children and their descendents through daughters Susan and Sarah. It then mentions his second wife Margaret Wray, before describing what he left to people:
"Thomasine; who was baptized at Fishlake, 23rd January, 1563-4; married there on 8th September, 1584, Thomas Wormley, gentleman, and was buried at Hatfield on 29th January, 1612/13.
She had children Nicholas, baptized at Thorne, 10th June; buried there 31st July, 1585; Joseph, baptized 9th November, 1591, who died young; Sarah, later the wife of Edmund Yarburgh, and Susan, who was baptized at Thorne, 9th October, 1586, and was buried at Conisborough on 8th December, 1652.
Susan married first, Gervase Bosvile, Esq, of Warmsworth. One of her descendents included "that brilliant orator, and prince of debaters, and great statesman, Edward Geoffery, 14th Earl of Derby, Knight of the Garter."
Mrs Bosvile married secondly Thomas Vincent Esq of Barnborough, at Warmsworth, on 19th December, 1622. Thomas left her £2,000 in his will.
Thomas Wormley, of Hatfield, after the death of his wife Thomasine, who he mentions with great affection in his will, and beside whom he was eventually buried on 24th February, 1627-8, re-married Margaret, daughter of  Leonard Wray, of Cusworth, on 6th July, 1614, Margaret survived him.
Thomas was buried in the Wormeley family plot near his father, grandfather and other ancestors.
His will was dated 18th February, and was proved on the 10th March, 1627-8. He left property at Kirkhouse Green, in the parish of Bramwith, and in Campsall, to provide £10 a year through rents for the grammar school.
His lands in Hatfield, which previously belonged to his brother Symon Wormley, and Thomas bought from Edward Wormley, and also his manor house of Thorpe in Balne, purchased from Sir Thomas Wentworth, of Wentworth Woodhouse, were divided between his two daughters.
To his nephews Edward, Henry, and Christopher Wormley, and their sister Mary Newsome, he gave £50.
To Richard Ramsden, clerk, and preacher at Hatfield, he gave his best cloak.
To his sister Joan, widow of alderman Moseley, former Sheriff of York, he gave a gold angel, and 7s.6d. inside three prayer books for her two daughters, and his nephew Herbert Thorndike.
A licence had been granted allowing Thomas Wormley to eat meat during Lent, "on account of his sickness", by the Rector of Sprotborough, who was also the Dean of Doncaster. We don't know what ailment Thomas suffered from that justified permission for him to break the fasting rules of Lent.
Thomas's son-in-law and daughter, Edmund and Sarah Yarburgh, lived at Balne Hall, Snaith. Their grandson, Sir Thomas Yarburgh, born in 1639, was High Sheriff for Yorkshire in 1676 and MP for Pontefract).
Thomas Wormley had come into possession of Cusworth, just north of Sprotbrough, in 1556. This with his other land at Hatfield, Campsall, Balne, Thorne etc stretched for many miles within an arc to the north of Doncaster. Cusworth Hall was rebuilt in early Georgian times as an imposing English country mansion. It is now a museum and country park owned by Doncaster council.
THE WORMELEYS AT RICCALL
Henry and Christopher Wormeley: One was fined by Charles I; the other was the Governor of 'pirate island' and a Virginia colonist
Christopher Wormeley of Hull is shown in the second line of Sir William Dugdale's Wormley of Rickhall family tree, viewable on the Rotherhamweb website. This was compiled during Dugdale's official Visitation of Yorkshire in the 1660s.
Christopher was born at Hatfield but presumably moved to Hull because his elder brother Symon inherited the Hatfield House.
Christopher and his wife Elizabeth had several very successful sons, all born in Hull.
The eldest, Edward, was born in 1582 and went to live at Hatfield after his uncle Symon died without leaving any children.
The second son in this generation was Henry Wormeley, who was born in 1584 (baptised on the 27th of December) and was our direct ancestor. He was the first Wormley to live in Riccall, moving there when he became lord of the manor on marrying Margaret Consett in 1612.
Margaret's father Christopher Consett was the Sheriff of York in 1582, and twice Lord Mayor of York, in 1599 and 1609.
Henry, Margaret and their children lived at Riccall manor house, today known as the Old Rectory. Although partly re-built in Victorian times, one end of this impressive building is late-medieval/early Tudor, including a round brick tower that has been dated to 1480.
Henry was fined £15 in 1631 for failing to attend Charles I's coronation at Westminster Abbey, five years earlier, to be knighted there.
The king had major disputes with Parliament, and in 1629 he resolved never to call a Parliament again. For 11 years he ruled the country on his own, but as a result was seriously short of money. To raise revenue independently, Charles resurrected an all-but-forgotten medieval custom called the "Distraint of Knighthood", which required all men owning property worth more than £40 a year to receive knighthoods at the royal coronation.
This old statute had effectively been obsolete for more than a century, so Henry Wormeley probably did not even know he had been supposed to attend, and that he was liable to be fined if he failed to observe a legal technicality. Neither did several thousand other landowners. Fines in distraint of knighthood brought in over £100,000 for King Charles, but added greatly to his unpopularity.
This back-door tax ruse may have pushed Henry's sympathies towards the Roundhead cause in the Civil War that followed in the 1640s. After the war he seems to have acquired the full freehold of Riccall Manor, which had always previously been leased from York Cathedral, suggesting he was in favour with Cromwell's government. However, at the Restoration of the monarchy with the return of Charles II from exile, it was given back to the Prebend of York Minster and the Wormleys had to pay rent again.
A £15 fine would probably not have bothered Henry Wormeley much as he was clearly a wealthy man. In 1640 he lent or borrowed £1,000 to or from his son-in-law, Francis Wilkinson of Croft-upon-Tees, who had married Henry's daughter Margaret four years earlier. We are unclear on the details of this transaction, but £1,000 was a colossal sum in those days, certainly equal to a few million pounds today.
Paver's Marriage Licences of 1612 give us the names of Henry and Margaret Wormeley's children: Edward (christened 25th August 1613), Christopher (18th October 1614), John (3rd Sept 1622), Faith (died as an infant), Elisabeth, Jane, Timothy, Henry, Margaret and Mary.
Margaret's father Christopher Consett was twice lord mayor of York, but he had a reputation for absenting himself from council business and he was warned on a number of occasions about his attendance record. He was the son of William Consett of Cawton near Hovingham, Yorkshire. Christopher Consett lived in St Michael-le-Belfrey, York, with his wife Joanna. She was the daughter of Wilfred Brand,who first appears purchasing property in Norton, near Malton, in 1563.
Henry Wormeley snr died in 1657 and was buried in the chancel of Riccall parish church. His will shows that Henry owed his granddaughter Elizabeth Acclom a considerable sum of money received out of her lands, part of which had been farmed by his son John at Moreby. Therefore Henry appointed her sole executrix of his will, so as to satisfy her respecting her claim.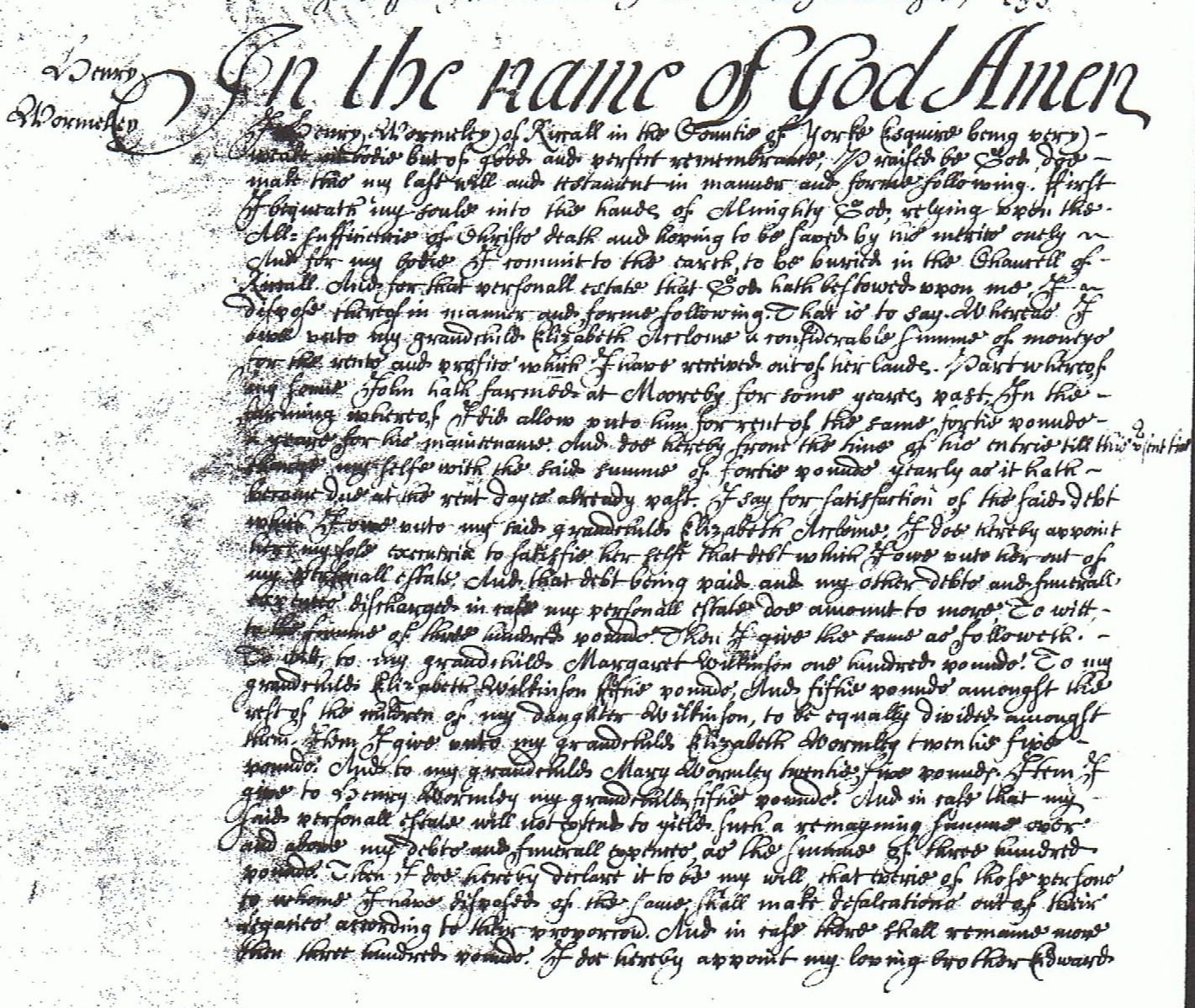 Henry Wormeley's will of 1657.
Henry actually had two granddaughters called Elizabeth. One was the daughter of his second son, Christopher, who married Margaret Newsome of Fishlake in 1642.
The one he made the executrix of his will was the daughter and heiress of John Acclom of Moreby, who had married Henry Wormeley's daughter called Elizabeth, and who died in 1643.
Elizabeth Acclom was born in January 1641, and in 1659 she married a Sir William Milbanke, who soon after this became a baronet.
Elizabeth was the last Acclom of Moreby Hall, where they had been lords of the manor since 1370.
Henry Wormeley certainly had some business involvement with his daughter and granddaughter Elizabeth Acclom that caused financial problems. In 1652 they were joint defendants in a dispute about money brought before the Court of Chancery by a Frances Grice.
Four years later the court heard another case with Henry Wormeley as the defendant, but this time the plaintiff claiming payment was a Thomas Acclom. This hearing was about property in several villages, including Moreby and Stillingfleet.
Thomas Acclom was mentioned in the inquest post mortem following John Acclom's death in 1644, which indicated there was a property dispute between John Acclom and Henry Wormeley's eldest son Edward.
Anyway, Elizabeth Acclom probably had plenty of land and money to rent or lend to the Wormeleys. She and her predecessors at Moreby Hall – her father John, grandfather William and great grandfather John Acclom – were all breeders of early thoroughbred race horses.
Marriages are recorded of three of Henry Wormeley's other daughters. Jane married a William Wintringham, Margaret married Francis Wilkinson in 1636, and Mary married William Binningley at Doncaster in April 1646.
Henry was our nine times great grandfather. His younger brother, Christopher Wormeley of Adwick, was also our nine greats grandfather, because Henry's son John married Christopher's daughter Jane. This was legal because they were first cousins.
Christopher, born in the winter of 1589, was Captain Wormeley, who was briefly the Governor of Tortuga Island. Tortuga is just off the north coast of Haiti, which is part of the second-largest island in the Caribbean. In the 17th century it was called Hispaniola.
Tortuga is about 20 miles long and four miles wide, partly forested hills and partly flatter cultivated land. It was named by Christopher Columbus on his famous voyage in 1492, la Tortuga being Spanish for the turtle, because of it's turtle-like shape when seen from the sea. It was colonised by a few hundred French and English people in 1625, trying to grow crops like tobacco, and briefly re-named Association Island in 1631.
Tortuga Island was notorious during the 17th century as one of the two main Caribbean centres of piracy, where pirates traded goods stolen from ships and towns.
The island has been featured in many books, films and video games about pirates. Movies partly set on Tortuga have included the swashbuckler Captain Blood, starring Errol Flynn in 1935, The Black Swan (1942), The Spanish Main (1945), Double Crossbones (1950), Abbott and Costello Meet Captain Kidd (1952), Pirates of Tortuga (1961) and more recently Pirates of the Caribbean, starring Johnny Depp.
Christopher Wormeley's role on Tortuga is unclear. One version is described in a book called The Buccaneers in the West Indies in the XVIIth Century, by Clarence Henry Haring, (published in 1910) and in the Calendar of State Papers, Colonial Series, 1574 to 1660.
The Providence Company sent a ship with cannons and amunition to reinforce the new colony in 1631. Captain Hilton was appointed governor, with Captain Christopher Wormeley as deputy governor to succeed him if he was absent or died.
A Robert Wormeley was also employed by the company, working as an ensign (junior officer) on its supply ship and as an agent for the Tortuga Island planters in 1631.
Robert Wormeley was mentioned in legal documents at Hatfield in 1608 and at Riccall in 1644. He may have been a cousin from Barnby Upon Don, a village very close to Hatfield, as we know that a Robert Wormley lived there and was about the same age as Christopher Wormeley. Robert's father was a William Wormeley, his daughters were born in 1613 and 1617, and he was buried in Barnby in 1648.
There was also a Robert Wormeley at that time living at Hurworth-Upon-Tees, a village just north of the Yorkshire border, on the Durham bank of the River Tees near Darlington. He too was the son of a William Wormeley, although they were probably a different branch of the family that moved further north several generations earlier and having the same Christian names is coincidental.
According to Clarence Haring, in December 1634, a Spanish force from nearby Hispaniola invaded Tortuga island, helped by a renegade Irishman, John Murphy, called "Don Juan Morf"  by the Spaniards.
Rui Fernandez de Fuemayor, in command of 250 Spanish soldiers, approached the island just before dawn, but through the pilot's ignorance their ships were grounded off-shore on a reef. Fernandez and 30 men succeeded in reaching the shore in canoes and seized the fort in a surprise attack. They then dispersed an English force, led by Captain Hilton, approaching to recover it.
According to the Spaniards' account, the English governor was the first to be killed in the fighting, stabbed by the treacherous Irishman Murphy who fought by the side of Fernandez.
Presumably at this moment Captain Wormeley became the new governor, but his time in charge was to be very short. After regaining the fort he decided he could not hold the island, as Fernandez had now been reinforced by 200 men who had escaped from their stranded vessels.
Wormeley's men spiked the six guns to make them unusable, loaded the stores onto several ships in the harbour and sailed away, leaving little to fall into the hands of the enemy.
Several hundred English settlers who were left on the island barred Fernandez' way to the settlement but 70 were taken prisoner and the Spaniards sacked their houses and burnt the tobacco plantations.
Back in England, minutes of the Providence Company recorded that on April 10th 1635, Captain Wormeley was formally deprived of his office as governor and banished from the colony "by reason of his cowardice and negligence in losing the island". But subsequently it seems to have been accepted that he had made a sensible strategic withdrawal and he was exonerated.
The Spanish occupation was very short, as a new English governor was in control of Tortuga by the following February.
Another old book called "The Colonising Activities of the English Puritans", by Professor Arthur Percival Newton, 1914, gives a slightly different version of events on Tortuga Island. It tells us that "Tortuga had been a rendezvous for the rovers of all nations since the time of Drake."
Professor Newton saw Tortuga's pirate infestation as the cause of the Spanish invasion and Captain Wormeley as being in league with the pirates.
The book says that Captain Hilton in fact died in 1634, some time before the fighting, and the planters elected Christopher Wormeley as governor to replace him. Captain Wormeley had been one of the original adventurers on the island before the Providence Company was invited to become involved there. "But he had little control over the settlers and devoted his attention to making what profit he could from the incoming rovers."
…."By 1634 the settlement was, without doubt, what the Spaniards called it; merely a pirate hold."
…. "The depredations committed on the shores of Cuba, San Domingo and Porto Rico by the rovers who gathered in Tortuga harbour were so frequent and so destructive that the Audencia of San Domingo (Spanish Caribbean court) had resolved in 1633 that Tortuga must be one of the first pirate strongholds to be cleared at any cost."
A report by a Dutch shipmaster later advised the Providence Company that although the fort was supposed to guard the settlement no proper watches were kept and no military discipline existed.
The Spaniards attacked without warning in January 1635. "According to the Spanish account. some 600 men, women and children had been found present in the settlement and in the ships in the harbour, but hardly a blow was struck in defence of their homes and the ordinance in the fort was found dismantled and unusable. Governor Wormeley displayed the most utter cowardice and took instant flight in a small bark for Virginia."
All the men on Tortuga were put to the sword.
This version might have been true, but the Spanish account was unlikely to have been impartial. Perhaps Christopher Wormeley was a crook and a coward. On the other hand he could be viewed as a likeable, seadog rogue, just as Drake's privateering against Spanish treasure galleons helped make him a national hero. Whether Christopher bore any resemblance in life to the mythical governor of Tortuga Island who gave Errol Flynn a licence to attack and capture enemy vessels in "Captain Blood", we will never know!
Although born in Hull, as a young man Christopher lived in and around York, certainly by 1608.
In 1618 one of Henry's documents at Riccall was witnessed by Christopher Wormeley of Ulleskelf. Ulleskelf is a small village five miles west of Riccall. Perhaps Christopher was staying there for a time at the home of his cousin John Moseley, the son of his aunt Jane, who had married Thomas Moseley, a merchant who was twice Lord Mayor of York.
The following year Christopher married Mary Adams at St Mary's Church, Bishophill, York, on the 5th of August, and he was recorded as living then in that part of York. Mary, baptised in January 1603, was the daughter of Phillip Adams of Owston and his wife Gertrude, nee Boswell (Bosville family of Warmsworth).
However, the couple appear to have moved to Riccall in 1622, where they would have been neighbours of Christopher's brother Henry for a couple of years. William Consett of Sandhutton sold a capital messuage (big house), garden, two crofts (small houses), an orchard and specified lands with numerous tenants in Riccall, on the 28th of February, to Christofer Wormeley, gentleman of York.
Christopher, is recorded leasing a house in Adwick, Yorkshire, in 1625. A lease in the national archives, dated October 19th that year, records that William Adams of Owston, Yorks, esq, sold a capital messuage and appurtances (house with all fittings and fixtures) in Adwick to Christopher Wormley of Adwick, gentleman, for a term of 21 years, rent 10s, consideration £750. This was a huge sum in those days, suggesting that it must have been a mansion with a lot of land.
William Adams who leased the house to Christopher was Christopher's brother-in-law. William was lord of the manor of Owston from 1622 to 1637.  William and Mary had another sister, Jane Adams, who married Thomas Young, the Archbishop of York's grandson, in 1624.
While living at Adwick, Christopher and Mary had these children: Mary (baptised 30th March 1624), Christopher (baptised 7th November  1626), Margaret (27th Nov 1628), Jane (22nd Dec 1629 – she married her cousin John Wormeley), Anne (17th April 1631 – married her cousin Edward Wormeley), John (23rd June 1635), and William (14th Sept 1636).
Probably the couple also had earlier children in the first four to five years of their marriage, but we haven't found any surviving records of them.
Further evidence that Christopher was a wealthy man in Yorkshire before going overseas is contained in another property deed from two years later, kept in the Sheffield Archives. This recorded that the same William Adams sold "closes, lands and grounds called The Riddings, Burgess Closes and Three Lands, in Bentley and Arksey, now in the tenure of Christopher Wormeley of Adwick-le-Street, gentleman, for £510", to Brian Cooke of Doncaster, gentleman.
Christopher also held a quarter share of a house and land in Burghwallis, another nearby south Yorkshire village, in 1638.
Soon after Christopher Wormeley's Tortuga Island adventure he became one of the most important land-owners in Virginia, where he and another relative, Ralph Wormeley, founded the American branch of the family. They owned many thousands of acres of tobacco plantations and were important landed gentry in what was still an English colony only a few decades old.
Ralph built or at least started the finest mansion in Virginia at the time, called Rosegill, and this became the family seat for nearly two centuries.  A coastal inlet near Rosegill was named Wormley Creek after the family.
Christopher was a justice of York County in Virginia from 1636 to April 1642. He was appointed to Charles I's Council of Virginia in January 1637, and the Calendar of State Papers for that year show Colonel (sic) Christopher Wormeley as being the military head of Middlesex County, Virginia. He was in command of Point Comfort Fort, near Jamestown, from 1637 to 1639. Subsequently in 1639 and 1640 he was Commander-in-Chief of Elizabeth City and Charles River (York) Counties.
Some of Christopher's children stayed in England and others went with him to Virginia. (It is possible that Christopher and Mary Wormeley had further children in Virginia, as she would have only been about 33 in 1636, but there are no surviving records of any more progeny).
His second known daughter, Elizabeth, was married three times: first to the Secretary of State and Governor of Virginia Richard Kemp, secondly to the notorious Sir Thomas Lunsford, member of the Virginia Council, and last to Major General Robert Smith. These marriages made her a Dame and one of the most important women then living in North America.
Some people have thought that Elizabeth was in fact a daughter of Christopher's brother Henry Wormeley of Riccall, but this is a mistake. Henry's daughter Elizabeth married Yorkshire neighbour John Acclom of Moorby Hall, so she could not have been the same woman as the Elizabeth in Virginia.
It is unclear who Ralph Wormeley was. Several old sources said he was Christopher and Henry's brother, but this looks unlikely. Much more probably he was Christopher's son (perhaps by an earlier marriage in York?). It is also possible, however, that just maybe he was their cousin from Hurworth-Upon-Tees.
No evidence has so far been found of him being born or living in England as a boy, although he must have done. Ralph first appears in official records as a justice (of the peace, ie magistrate) in the Virginia court in 1637. Presumably he must have been an adult then and so was probably born before 1616, although age rules might have been different from now. But if he was Christopher's brother then he would have had to have been born before 1589, when their father died, which creates a difficulty in that as far as we know Ralph didn't get married until 1645, when he would have been in his late 50s, and it means his heir wasn't born until he was in his 60s. This would be rather curious, as he was wealthy and no doubt eligible in his younger years.
We would also have hoped to have seen him included among the children of Christopher Wormeley of Hull in Sir William Dugdale's Wormeley family tree of 1666, but he wasn't, and neither does he seem to be among their christenings in the parish records at St Mary's Church, Hull, or in Christopher senior's will. Neither did Thomas Moseley mention Ralph in his will, which left bequests in 1624 to Christopher of Hull's children Edward, Christofer, Henrie and Marie (Moseley's nephews and neice). Nor did Thomas Wormley's will in 1627.
Dugdale did show him in his Eltonhead of Lancashire family tree, as the son of an earlier Ralph Wormeley of Yorkshire, but this could well have been a mistake by the head of the Eltonhead household who supplied the information. There is no other known evidence for any Ralph Wormeleys living in Britain in that time.
The main case for Ralph being Christopher's brother is a reference to him as "Uncle Ralph Wormeley" in Richard Kemp's will. We don't see any way that it would be possible for Ralph to have been Kemp's uncle, but he could have been an uncle of Kemp's wife, Elizabeth Wormeley. More probably, however, this may have been a misunderstanding, and Ralph was Kemp's daughter's uncle rather than his wife's uncle, also named Elizabeth. In that case, Ralph would be Captain Christopher's son….
This seems the most likely answer.
A third possibility is that "Uncle" was just a term of affection and that Ralph came from the Wormeley family at Hurworth-Upon-Tees. He might actually have been the Robert Wormeley who was with Christopher on their Tortuga Island venture, and maybe preferred to call himself Ralph, or perhaps he was Robert's brother. This Robert and Christopher were cousins although not close relatives.
Captain Hilton, senior governor of Tortuga, came from Hurworth too; and the Hurworth Wormeleys additionally owned a remote manor house near Shap, on the edge of the Lake District, called Rosgill or Rosegill Hall – the same spelling as the home Ralph built in America. These things couldn't be a coincidence. Perhaps Rosegill had been the name of his childhood home in Westmorland (nowadays Cumbria)? Rosegill Manor was confiscated from the Hurworth Wormeleys in the 1640s as a punishment for their Catholicism, so it might have been a natural reaction for Ralph to rebuild a bigger, finer Rosegill in the New World, away from persecution.
Ralph's first son born in Virginia was named William (died young), which might be connected with the fact that both Robert of Hurworth/Rosegill and Robert of Barnby-Upon-Don were the sons of William Wormeleys. If Ralph was actually one of these Roberts or their brother, did he name his eldest son after his own father, which was a common practice then?
One last idea is that Ralph might just possibly even have been the son of Francis Wormeley of Hull, which would would probably give him a seafaring background and make him Christopher Wormeley's first cousin.
Speculate as we might, Ralph remains an enigma….
Records held in the Parliamentary Archives include complaints from colonists to the English Parliament in London about Captain Wormeley and his son-in-law Richard Kemp in America. They read as follows:
   30 October 1641 – Petition of Anthony Panton, clerk, minister of God's word in Virginia, and agent for the church and clergy there. Complaineth of the conduct of Sir John Harvie, late Governor of the colony, of Mr Richard Kempe, the Secretary, of Captain Wormeley, late Commander, of Charles County, and others, at whose hands the colonists have suffered many arbitrary and illegal proceedings in judgement, tyranny, extortion, and most cruel oppressions, which have extended to unjust whippings, cutting of ears, fining and confiscation of honest men's goods, converting fines to their own profit and use, supporting Popery, and in many other ways.
   3 November 1641 – Counter Petition of Richard Kemp and Christopher Wormeley. In August last, upon the unjust complaint of Anthony Panton, petitioners were stayed when about to return to their families in Virginia. The House of Commons by an order allowed them to depart, but when on board the ship in the Downs, they were again stayed by order of their Lordships.
In the end Parliament seems to have washed its hands of this affair, which was largely caused by political rivalries, and passed it back to the colonists to sort out for themselves.
Christopher Wormeley was a member of the Virginia Council in 1642-43, but he returned to England to fight in the civil war, while Ralph took charge of their affairs in the New World, subsequently inheriting Christopher's land. Captain Ralph Wormeley joined the Council of Virginia in 1650 and his son, a second Ralph, became Secretary of State for the colony in 1693.
A book called "Virginia Carolorum: the colony under the rule of Charles I and II", by Edward Neil, 1886, says: "Christopher Wormeley does not appear to have returned to Virginia, while his son Ralph was a prominent planter".
This fits with other information that Christopher fought on the Royalist side in the British Civil War and died in combat.
A record in the Bodleian Library at Oxford shows that on 20th July 1643, Captain Christopher Wormeley was appointed a sergeant major in Sir Nicholas Crisp's Regiment of Horse. His warrant was signed by the king, Charles I. This rank was not the same as our modern understanding of an NCO sergeant major shouting across a regimental parade ground. In the 17th century it meant a field officer and eventually the word sergeant was dropped, leaving it as today's army rank of major. "Cavalry Major" Christopher Wormeley was therefore third in command of the regiment, behind its colonel, Sir Nicholas Crisp, and a lieutenant colonel.
An old book called Prestwich's Respublica, published in 1787, says Major Wormley was killed at Cirencester in 1643.
On page 141 it shows "The Loyalists' Bloody Roll; a list of the lords, baronets, knights, commanders and gentlemen (with their king and archbishop) that were slain in the late wars, in defence of their king and country."
Royalist forces under Prince Rupert and Hertford stormed the town of Cirencester in February 1643. They won the battle quickly and 300 people were killed.
As far as we know Christopher Wormeley didn't join Nicholas Crisp's Regiment of Horse until the following summer (when it was probably formed). But the regiment suffered a small number of casualties in a later skirmish at Cirencester in September, when Roundhead forces re-took the town. Nicholas Crisp's Regiment was quartered in Cirencester then and Major Wormley was probably killed in this brief fighting as the cavaliers were being driven out.
Ralph had definitely inherited (or perhaps bought?) Christopher Wormeley's property in Virginia by 1649. Christopher's eldest known son by Mary nee Adams, also named Christopher, died in that year aged 23, but we don't know if this was relevant to Ralph acquiring the estate or just a coincidence. In those days it was the usual practice to leave most or all of one's land to the eldest son, but Christopher junior would not have come of age at his father, Major Wormeley's death in 1643, so maybe he left the Virginia land initially to his widow Mary? Unfortunately there is no surviving will to clarify the situation, although Mary was described as the executrix of his estate in the William and Mary College Quarterly Historical Papers (1892).
The fact that the land went to Ralph strongly implies that he was Christopher's son, not his brother. This is supported by the further fact that despite being in Virginia as early as 1637, he did not become an important landowner there until after Christopher had died.
A year after Major Christopher Wormeley's death, his widow's slaves rose up against their treatment. In the autumn of 1644 the minutes of the General Court in Virginia noted that "Mrs Wormeley's slaves were involved in riotous and rebellious activities." We don't know any further details of this incident.
Mary Wormeley stayed in Virginia, where she remarried Captain William Brocas, who was also a member of the Virginia Council. She died by 1652 and William Brocas married again, this time to Eleanor Eltonhead, originally from Lancashire. Ralph Wormeley's wife was her sister, Agatha Eltonhead.
* All of the next section marked in italics, shows that our ancestors did not belong to the central line after 1657, when Henry, the first Wormley to be lord of the manor, died and his elder son, Edward, became the second lord of the manor. It has been included because it was an important part of the family history and puts our branch in context.
Dugdale's 1665 chart of the Wormeley family showed that Henry's son Edward Wormley married his cousin Anne Wormley, but they had no children.
Edward was aged 53 at the 20th of March 1665. On the same day his elder nephew Edward was aged 23 and his younger nephew, yet another Edward, was aged 18.
Anne Wormeley died but the elder Edward re-married Dorothy Fairfax, neice of Lord Fernando Fairfax of Denton and first cousin of Sir Thomas Fairfax, at Riccall on February 16th, 1665.
Dorothy was born in 1640 at Denton near Otley, the Fairfax family seat.
Her cousin Thomas Fairfax lived from 1612 to 1671, spending his last years in retirement as Lord Fairfax at his Yorkshire home, Nunappleton Hall, only five miles from Riccall, so he probably attended Edward and Dorothy's wedding and knew them well. Twenty years earlier during the English Civil War he had been the Commander in Chief of all Parliament's armies throughout Britain, leading the Roundheads in some of the most famous battles. Oliver Cromwell was his deputy. Fairfax today would have  been a field marshall and in his own time he was the equivalent of Montgomery or Patton.
The elder Edward bought Beckwith Hall in Riccall in 1654 and it apparently became the seat of the Wormleys. He died in 1678.
His brother Christopher, who was married to Margaret Newsome of Fishlake, had already died in 1659. So the title passed to Christopher's son, Edward, born in 1642. He was a captain in the king's guard, who married Elizabeth Wilkinson.  They also seem to have spent their married life in south Yorkshire, at Fishlake. He was buried there on 4th July 1680 at Fishlake aged only aged 37.
This Edward had a son called Christopher, who married Jane Hume, daughter of Colonel Hume, younger brother of Earl Hume of Hume Castle in Scotland. Jane's mother was the daughter of Sir Charles Howard of Northumberland, of the Suffolk family of the Howards. Christopher was buried in March 1693 at the age of 23 years.
Christopher and Jane in turn had a son called Robert, born at Riccall in 1689, who in turn only lived into his 20s.
Robert married Elizabeth, eldest daughter of Robert Ash of Cottingham, a gentleman, and they had three children: Edward, Christopher and Jane.
This Edward was born at Riccall on June 30th 1708 and became the lord of the manor after Robert died about 1711 or 1712. (We have a record of Robert's widow mortgaging the manor and estate for £700 soon afterwards to pay off his debts. But she seems to have survived the problems, later marrying Emmanuel Justice, who was Sheriff and Lord Mayor of York in 1706).
Edward married Mary Pulleyn (born 1703) in 1730. But she died a year later, although he lived to be 79.  So the last Wormley to be lord of the manor was Christopher's son, also called Christopher, who was born in 1736 and died in 1800.
Anyway, it was this Edward who rebuilt Beckwith Hall into a red brick mansion with 50 rooms and the Wormley arms sculptured above the front door, some time before 1776. (It was demolished in 1951/52). He died in 1787.
The last Christopher had a daughter, Jane, on 16th May 1793, christened at Riccall, but she died on 23rd December the same year. He was childless when he died and left the house to his widow, Jane nee Farrer or Farrow, who later remarried a Toft Richardson.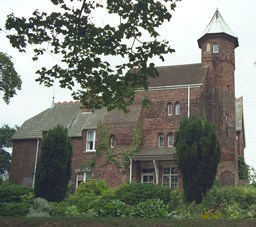 * Riccall manor house, later called the old rectory, was the home of Henry and Margaret Wormeley in 1612.
John and Henry Wormeley: Two generations of clergymen
While everyone on the previous page, in italics, was descended from cousins Edward and Anne Wormley, we are descended from Edward's youngest brother John, a clergyman, and his cousin Jane Wormley, who were married in 1641.
The Rev John and Jane Wormeley made their family home at Moreby, just north of Stillingfleet and about two miles from Riccall. John farmed land there that belonged to his sister Elizabeth and her husband John Acclom of Moreby Hall.
Before entering the Church of England, John trained first in law.
A book called "Biographical Register of Christ's College 1505 to 1905", by John Peile, says that John was the third son of Henry, first Wormeley to be lord of the manor at Riccall, and his wife Margaret Consett, whose father was the lord mayor of York.
John was born at Riccall and educated firstly at Doncaster under Mr Meares, then secondly in York under Mr Wallis. He was admitted to Christ's College, Cambridge, as a fee-paying student at the age of 16, on February 2, 1638. He just missed being a student there at the same time as the poet John Milton, who left about 10 years earlier.
John graduated from the university with a BA in 1642 and a Master of Arts degree in 1646, during the English Civil War. He was admitted at Gray's Inn on March 13, 1642. Gray's Inn is one of the four Inns of Court in London to which all student barristers must be enrolled, so perhaps his first degree was in law and his second in divinity?
John was in fact following in the footsteps of his elder brothers Edward, who became lord of the manor of Riccall, and Christopher. Edward had already been to Jesus College, Cambridge, starting on June 8th, 1631 and he was admitted to Grays Inn in August the same year. Christopher, was admitted to Gray's Inn in 1639.
John married his cousin, Jane, daughter of Captain Christopher Wormeley of Adwick-le-Street, near Doncaster, and Virginia.
The book tells us that John Wormeley, clerk, was instituted as Rector of Elvington, a village not far to the north of Riccall, on January 13th, 1662.  He was also Curate at Riccall in the last several years of his life.
John and Jane Wormeley had 11 children, but seven of them died as babies or in childhood. They were: Edward (born in 1647), Henry (born in 1649 but died young), Jane (born 1651 and died 1656), Mary (born and died 1654), Jane (born 1656, died 1663), Henry (born 1657), a daughter born 1658 but died young), another infant (born 1659, died young), Mary (born 1661), John (born and died 1663), Jane (born 1664). They moved from Moreby back to Riccall by 1660 and remained there until Jane's death in 1666, aged 37, and John's death in 1669.
John and Jane Wormeley's elder son, Edward, born in 1647, almost certainly married Anna Brice at Riccall Church on 18th July, 1669. The parish register leaves a question mark over this because there would have been three Edward Wormleys living in Riccall at the same time, one being lord of the manor and the other two his nephews. However, it looks as though John and Jane's Edward had a daughter Anna, born in 1670 (she died in 1673), and possibly Francis born in 1673 and Christopher born in 1675 were his sons. An Edward was buried at Riccall in 1681, but again it isn't clear which one.
Wormleys with all the same family Christian names, such as Edward, John, Thomas and Ann, were still living in Stillingfleet parish many years later in the 18th and 19th centuries. Gentleman farmers called William Wormley were living at Kellfield Grange almost until 1900. This is a mile and a half south of Stillingfleet and about the same distance from Riccall. In 1857 it was the residence of Mrs Charlotte Wormley and was described then as "a good farm house."
Our next ancestor was John and Jane's younger son Henry Wormeley, Christened at Stillingfleet in 1657. Henry gained a Bachelor of Arts degree at University College, Oxford, and followed his father into the Church. He was ordained as a deacon at Bishopthorpe Palace chapel, the official residence of the Archbishop of York, on 15th June, 1679. He went on to be  licensed as a curate in 1681 at Newbold, Chesterfield, and became Rector of St Dennis' Church in York. He was buried there on February 15th, 1699, leaving male issue living.
Henry married Elizabeth Tireman of York. She was born in 1669 at Felixkirk, a village to the north of the city, where her father the Rev John Tireman, was the Vicar.
Elizabeth was one of nine children, with brothers and sisters named John, Francis, Sarah, Leonard, Ursula, Henry, Christopher and Samuel.
Henry and Elizabeth Wormeley had daughters called Mary, christened in 1691, and Elizabeth, in October 1693. The girls were followed by two boys, John, christened at St Dennis' on July 22, 1695, and, Samuel, christened there on March 24, 1697, a year before their father's death.
John Wormley was made a freeman of York in 1709, when he became an apprentice joiner.
After Henry died Elizabeth lived in Acomb, York, for about six years. The parish registers show that she had an illegitimate son there called Charles Wormley in 1701, but he died about two weeks later and was buried in Acomb.
She re-married a Samuel Mowbray in Acomb in December 1705. They had a son, Thomas, who was baptised the following November in the Church of St Michael le belfry, York.
Samuel Mowbray and his two brothers John and Thomas, like their father Thomas, were all craftsmen and freemen of York, John as a hosier and Thomas and Samuel as pinners (pin makers).
Elizabeth was a joint defendant in a Chancery case in 1715, suggesting she was well off.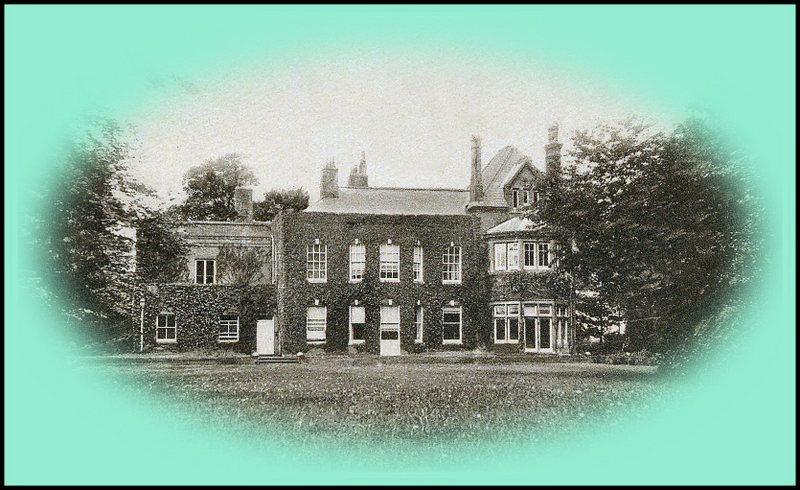 Riccall Hall. seat of the Wormleys until 1800.
THE 18th CENTURY ONWARDS
Samuel Wormley: the last gentleman
The Rev Henry Wormley's youngest son Samuel grew up and married Ann Smith at Holy Trinity Church, Goodramgate, York, on 8th June, 1722. But presumably Ann must have died soon afterwards because Samuel, who lived in Riccall,  also married Hannah Knowles, at Stillingfleet in 1724. The parish records from Riccall show that they were living in Riccall in 1725 when their first daughter Elizabeth was Christened there on November 25.
Their son Henry was born there on September 25, 1727. But Hannah died in childbirth and baby Henry also died two years later.
Samuel married again, at Riccall church on February 21, 1731, to Sarah Mills, who lived from 1707 to 1784. They had four children, all christened at Riccall: Edward on March 15, 1732, John on November 21 1736, Henry on February 21, 1739, and Mary on January 2, 1742. All four of these are family names from the previous generation at Stillingfleet. The fact that Samuel called a later son Henry after his first son called Henry died, indicates that it must have been important to him to keep the name Henry running out of respect for his late father the Rev Henry and family tradition. Repeating a child's name in this way was commonly done then.
Riccall parish registers several times give Samuel the title MR Samuel Wormley, showing that he was gentry. Most ordinary people weren't given the courtesy of a title. It shows the vicar was being respectful to him and suggests that Samuel had close ties with the Robert-Edward-lords of the manor line, who are called Esqr in the registers and were his cousins. As they moved to Beckwith Hall, later called Riccall Hall, in or some time after 1654, it is possible that Samuel and his family might have lived with them. Or perhaps Samuel's family continued living in the old 15th century manor house, part of which is still there (including three-storey tower from 1480). The Wormleys must have continued leasing it from York Cathedral until 1800, because that is how they retained the title lord of the manor.
Samuel Wormley died in 1762, but Sarah outlived him by more than 20 years. She died of the fever and was buried at Riccall on the 8th of March, 1784.
Our family line continues through Samuel and Sarah's third son, Henry, christened at Riccall Church on February 21, 1739. He married Ann Vaux and was a farmer at Riccall all his life. He died in 1807, aged 66, "of natural decay" and was buried in Riccall churchyard.
Henry had made his will 18 months earlier in November 1805 (exactly one month after the Battle of Trafalgar) and he obviously had some health problem then, as he described himself as weak in body but sound in mind. He left his farm land called Middle Dam Close, which included five acres of hay meadow, to his eldest son Thomas. His daughters, Hannah, Mary, Ann and Elisabeth, got £40 each, and the youngest son, Samuel, was left £60, with instructions that he should be apprenticed into a good trade.
Henry left his widow Ann their bed, enough household items as required to furnish a room, and a pension annuity of £8 a year.
Ann lived from 1750 to 1825. She was the daughter of William and Jane Vaux of Elvington, a village not far from Riccall where Samuel's great grandfather John Wormeley had been the Rector in the 1660s.
Ann had brothers and sisters called Richard, born in 1737, Elizabeth who died in 1737 and then a second Elizabeth, born in 1738 or 1742 and who died in 1744, Mary born 1744, William born 1748 and Thomas, who was born in 1753 and died in 1758.
Their father William Vaux had brothers and sisters (our Ann's uncles and aunt) called Thomas, Richard, Marmaduke, John and Elizabeth, all born between 1691 and 1700. William was the youngest, born in 1709 or 1713. He died in 1754 and his wife Jane (nee Weddell) died in 1757.
Ann's grandparents were Richard Vaux and Ann Bainton, who were married in Elvington in January 1689. Her grandfather Richard was buried there in 1737 and his wife in 1745.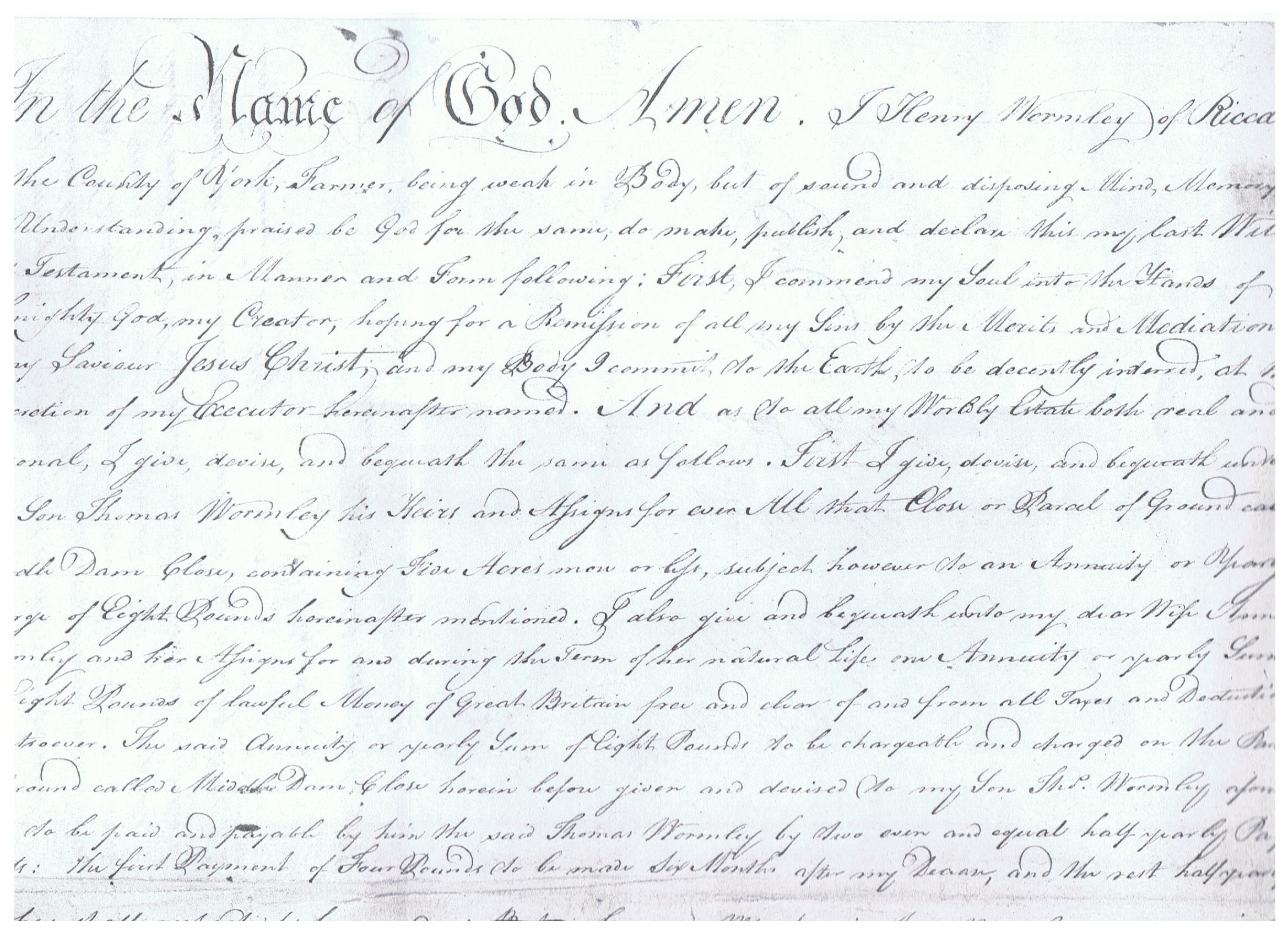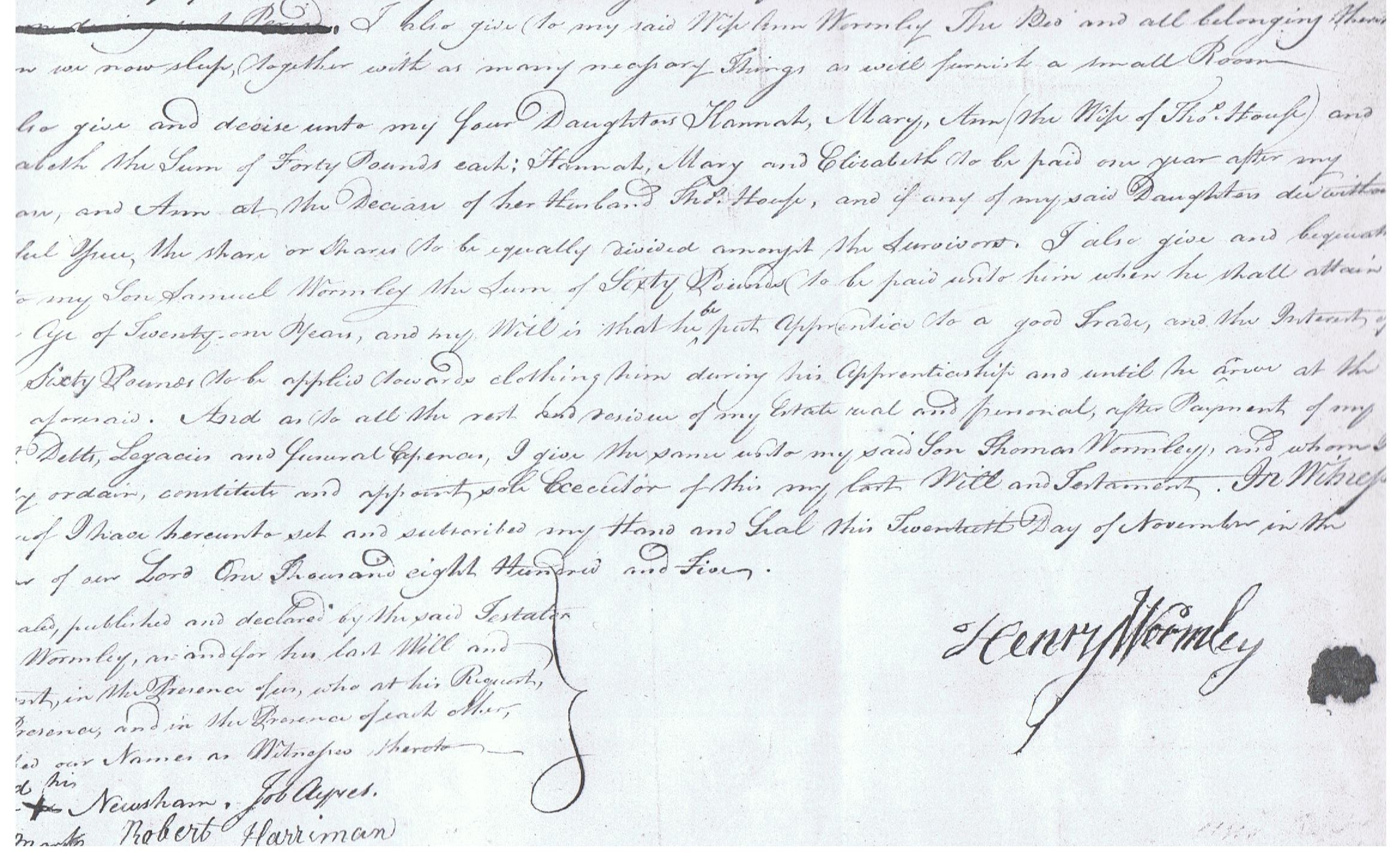 Part of Henry Wormley's will written in 1805.
(You should be able to view the whole document by clicking on it. Then return to this page by clicking the outward-facing arrow in the top left corner of your screen. Alternatively, enlarge or reduce this page by holding down the ctrl key in the bottom left corner of your keyboard and scolling back or forth with the wheel in the centre of your mouse. This works with photos elsewhere in the website too).
Henry and Ann Wormley had nine children, including two sets of twins, and three of them died as babies.
The youngest, another Samuel, was our next ancestor. He was born on January 7, 1793, and christened in Riccall church the next day. He married Esther Driver, who was born in York in 1796, daughter of Thomas and Mary Driver.  Their wedding was at Cawood, near Riccall, on January 9, 1815 (with Esther nearly six months pregnant).
Samuel and Esther Wormley had ten children in 15 years, but half of them died as babies. They were: Henry, born 1815; Ann, born and died in 1816; Mary, born and died 1817; a second Ann, born and died 1818; a third Ann, born in 1819 but who must have died in childhood; Sarah, born 1821/22; Elisabeth, born about 1823; Mary, born 1826; William, born and died in 1829; and finally a fourth Ann born in 1830.
The repetition of four Anns might seem unimaginably tasteless today, but in the stark reality of a time when there was no birth control and infant mortality was "normal" , people saw life differently. Probably Samuel was anxious to pass on his mother's name as a gesture of his love for her.
The eldest of his children, the next Henry, was our great great great grandfather. This Henry was born at Riccall on April 23, 1815, and christened there on June 27. He was the last Wormley in our direct family to have been born in the village. His uncle Thomas, born in 1784, still owned a freehold field in Riccall in 1834 and, as a landowner, qualified to vote in elections. Other people named Wormley still live in the Riccall area to this day.
We don't know where Samuel or his brothers and sisters lived exactly, but it might be that some Wormleys were living at the manor house (old Rectory), even after the last Wormley lord of the manor died in 1800, and were using it as a farmhouse. This is just a guess.
Samuel was a farmer when he died in 1830, aged 37, although parish records show he had been a miller when he became a father in 1815.
After being widowed so young, Esther Wormley moved to York. There, in 1834, she was remarried to a farmer called Thomas Daniel, who was 35 years older than her. It was perhaps a marriage of mutual convenience. According to the records, they had a son called Thomas the next year and he was six when his father died at the age of 85 in Riccall. Two of Esther's earlier children, Elizabeth and Mary Wormley, were still living with her and their stepfather at the 1841 census.
Esther continued living in Riccall and died in 1879, aged 82 or 83.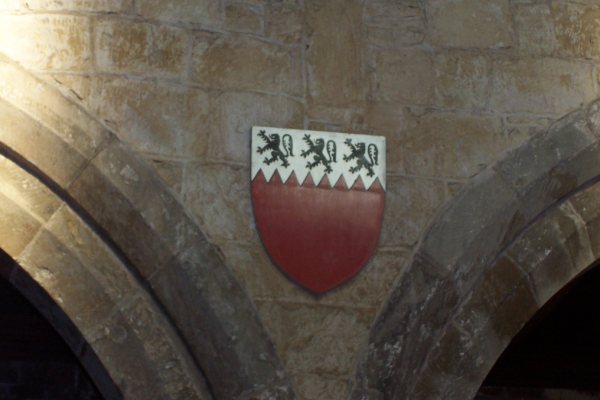 The Wormley family arms on a wall inside Riccall church.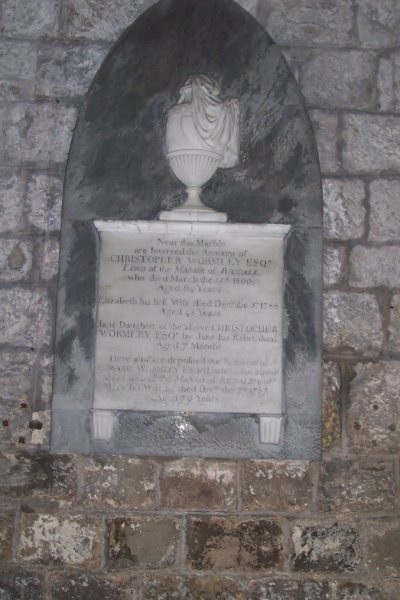 A family monument in Riccall church.
Wealthy farmer Wormley
A farmer called Wormley built a big house in the small town of Thorne, near to Hatfield, called Thorne Hall.
It is one of the things to look for on a town history trail devised by Thorne Town Council. Thorne Hall was built in 1818 or the 1820s. It was later used by various businessmen and for a time was a girls' boarding school. It was shown on a Thorne trade directory as an academy taking boarders in 1837 under an Edward Barber. It once stood in extensive grounds, including what is now the town park. To the rear of the hall was a further 15 acres of grounds and a large walled kitchen garden. A website called www.thorne-moorends.gov.uk/history/history_notes.html calls the building an "imposing mansion" but does not identify the "wealthy farmer called Wormley" further.
He might have been Thomas born at Riccall in 1784 (who could also be the same Thomas married at Stillingfleet in 1808, although not necessarily). Thomas still owned a field in Riccall in 1834, which qualified him to vote in elections because he was a landowner.  Alternatively it might have been one of our family's cousins from the Stillingfleet branch, or most probably a descendant of others who lived on in the Hatfield/Doncaster area after 1612. We know that a George Wormley was married in Hatfield church in 1644. They would all have descended from the first Wormleys at Hatfield in the middle ages but became increasingly distant relations to us as time went on.
The hall (not to be confused with Thorne Old Hall, which was demolished in the 1860s) is now used as offices by Doncaster Borough Council.
At some time in earlier history, probably before the 17th century, Wormleys had been tenants at the old hall in Thorne. "The History and Antiquities of Thorne", by S Whalley, 1829, refers to a rental document for Thorne Hall, dated 1683 and showing that the "capital messuage" (main house of an estate) had formerly been rented by families called Wormley, Smith, Probey and Sympson. It may have been Thomas Wormley's home before he became the last of our family to be lord of the manor of Hatfield in 1608.
The book says the original hall was probably built by the Newmarches in the 1200s and it points out that the Wormleys claimed descent from Adam de Newmarch, making them heirs to some of the Yorkshire Newmarch lands.
COACH BUILDERS IN YORK
Henry Wormley started the Victorian family business
The Wormleys ran their own family coach building business in York right through Victorian times. It was started by coachsmith Henry Wormley, born at Riccall in 1815, who moved to York in about 1830 when he was 15. His father had died young and his mother took her children back to her home city.
Henry married Annie Marie Quarton, at St Mary's Church in Hull, on the 7th December 1837.
Annie Marie was born in Selby between 1813 and 1816, second daughter of John and Susanna Quarton.
Her father John Quarton was born in Hemingborough, close to Selby, in 1783. Her mother's maiden name was probably Thompson and they were married at Selby in 1811. There were a great many Thompsons living there at that time.
It appears that Anne Marie was christened in October 1813 at Selby (although this at odds with the  date on her gravestone which implies she was born in 1815 or 1816).
John and Susanna Quarton had an elder daughter Elizabeth born in Selby, then they  moved to Hull, because other children followed as John, born 1816 in Sutton, Sculcoates district of Hull, Thompson Quarton, christened in Hull 1817, and Susannah, born 1819 in Hull.
Henry Wormley and Anne Marie were living in York at their coach building business when the first national census was taken in 1841. But in Hull her parents had endured a very Dickensian problem.
An item in the London Gazette, 1830, reported a list of prisoners in the debtors' gaol due to appear at Kingston Upon Hull court house at 10am on July 3rd, for their cases to be heard at the Court for the Relief of Insolvent Debtors. One of them was John Quarton, late of Myton Gate and of Patrick's Ground Lane, in Hull, corn miller and dealer in fruit and corn.
He must have got his business solvent again because the 1840 Directory of Hull traders showed a John Quarton at 68 Myton Gate, a corn and flour dealer.
But the 1841 census implies he separated from his wife, because it looks as though John Quarton, miller, was lodging with Jane Adinall, publican, aged 65, and her daughter, aged 30, in Walmgate, York – very close to his daughter Annie Marie's married home.
Meanwhile, the 1841 census had Susanna Quarton, age 45, flour seller, living in Hull with her daughter, another Susanna, aged 20. However, all the census tells us for certain is that John and Susanna were in different towns on that night.
A Susannah Quarton died in Selby in 1849, and this might have been Anne Marie's mother, gone back to her old home town for some reason.
The 1861 census shows John Quarton, aged 78, ie born 1783, miller and widower, living in Walker St, Hull, with his daughter Susannah Headman, 34, born in Hull, and her husband, Richard Headman, 40, customs and door officer, plus their daughter Lavinia, aged 3, ie born 1858. John Quarton's birthplace was shown as Hemingborough (next to Selby).
*Henry Wormley was clearly a respected and trusted member of the community, as he was an overseer of the poor in the parish of St Dennis, Walmgate, up to April 1857. This meant he helped to collect the poor rates from residents and passed the money on to the York Union to pay for running the local workhouse. In 1858 he appeared in court as a character witness on behalf of a fellow overseer who had been accused of forgery.
Henry and Annie Wormley had eight children named: Amelia born 1841, Jesse 1842, William 1844, Emily 1846, Elizabeth 1848, Henry 1851, Samuel 1852, Edward 1854.
Henry died after a brief illness, aged 65, and was buried at York cemetery on 9th April, 1880. His death notice in The York Herald described him as a carriage builder of Foss Bridge, York, and only son of the late Samuel Wormley of Riccall.
Annie Wormley continued to run their firm in York after this. The 1891 census recorded that she was still head of the carriage building concern at the age of 75, living at the site of the business in Black Horse Yard, Walmgate, York, with her 37-year-old daughter Emily and son Henry, aged 35. Henry junior was a carriage trimmer, while his brother Samuel was a carriage painter. Annie died in 1898.
Henry and Annie's third child, William, was born in Walton's Yard, York, in January 1844 and was our great great grandfather. He was a master coach builder in the family firm, although at one stage during his life appears to have worked on railway coaches.
William married Hannah Dobson, born in York in 1843.
Her family were living at 157 Friargate, York, in the 1851 census. The record shows:
John Dobson, aged 29, labourer.
Mary Dobson, his wife, aged 30.
Hannah Dobson, 7 (ie born 1843), scholar.
Ellen Dobson, aged 2.
Elizabeth, 3 months.
Ten years later in the 1861 census, they were living in Melrose Yard, Walmgate:
John Dobson, 41, coal porter.
Mary Dobson, 40, wife.
Daughters and sons - Hannah aged 18, house servant.
Ellen 12.
Ronnie John 8.
Reuben 5.
(Elizabeth must have died).
The 1871 census, still in Melrose Yard:
John Dobson 51, unemployed labourer.
Mary 50.
Rueben, 15, labourer at iron works.
Solomon, 9.
granddaughter Rachel 1.
All of the Dobson family were born in York, but they no longer seem to have been there by 1881. That year's  census did record a Mary Dobson living in Waggetts Court, Leeds, a widow aged 61, born in York, receiving poor relief. It is possible this was Hannah's mum.  The 1891 census showed a Mary Dobson, widow, 72, retired charwoman, inmate in the York workhouse, and a Mary Dobson of about the right age died in York in 1898.
Hannah Dobson and William Wormley were married in York in 1864 and so she was shown in the Wormley household in the census of 1871.
They had 11 children between 1865 and 1884. Hannah died giving birth to the last child, also named Hannah, and it is believed a twin boy. They lived with their children at Shaftoes Yard House, York, in 1881.
The children were named Alice born 1865, Edward 1867, Arthur 1869, Walter 1870, Elizabeth 1871, Jonas 1874, John Henry 1876, Fred 1878, William Hardwick 1880, Ernest 1883 and Hannah 1884.
The two eldest sons, Edward and Arthur, would probably have disappointed their upstanding grandfather.
On November 15th 1887, The York Herald reported that Arthur Wormley, 18, of James Street, York, was sentenced to two months in prison for stealing from the home of his former employer, Mr Hood, a surgeon, of Castle Gate.
Arthur (who was our Dad's great uncle) pleaded guilty to stealing a silver Geneva watch, property of Sarah Henderson, and 5/- from a drawer in a bedroom, property of Annie Andrews. He tried to pawn the watch for 18/- at Mr Sharp's, pawnbrokers, in Fossgate, York. But the shop had received a notice of the watch having been stolen from the police and detained him while an officer was sent for. PC Mason took him into custody when the prisoner admitted stealing the watch and the money.
Subsequently Arthur got married, moved to Holborn in London and later emigrated.
The following year Edward Wormley was also a defendant in court, but we will come to that in the next chapter.
*In 1891 William Wormley, now a widower, was living at 28 James Street, York, and his occupation was given in the national census of that year as a coach and carriage smith. He died on August 10th, 1910.
His brother Samuel was born in 1852, and was our great, great, great uncle. He married local girl Jane Ethel in May 1874 at St Saviour's Church, York, and they had children Robert, who became a carter, Annie, Ethel, Kathleen and Herbert.
Jane died in 1904 and Samuel in 1928. Their addresses over the years were as follows:
Between 1871 and 1881, 1 Red Lion Yard, Walmgate,York.
1891, Black Horse Yard, Walmgate. This house was next door to the business premises where his mother, brother and sister lived.
1900, Malt Shovel Yard, Walmgate.
March 1901, 6 Slaters Passage, Walmgate.
1904, 1 Ancroft Street, York.
Samuel was buried in Fulford Cemetery,York. He was still shown as a carriage painter, wheelright and coach builder in 1901, when Kelly's Directory of York businesses recorded E Wormley in charge. Probably Emily inherited the business as she was the eldest. This is the last we know of it, so it must have gone early in the 20th century, maybe taken over by carriage-makers Morley and Son, who shared the same address.
By the 1911 census, Emily was described only as a housekeeper, living with her also unmarried brother Henry at 8 Matteson Court, Alne Terrace, York, although Henry was still working as a coach trimmer. He died in 1916 and Emily lived on to 1926.
A headstone marking the grave of our great great great grandparents Henry and Annie Marie Wormley can still be seen in York Cemetery, stating that he was a "coach builder of this city."
Buried in the same cemetery are their children Henry (buried 1916), Edward (buried 1911 aged 57), and William (buried 1910, aged 66) who was our great great grandfather. Also there is William's wife Hannah (buried in 1883 aged 40), our great great grandmother.
Two of William and Hannah's children are buried in the York Cemetery: Walter (in 1879, aged 9), and William Hardwick (buried 1949, aged 68).
A number of other Wormleys were buried there too, presumably all members of our family, descended from the Wormleys of Riccall.
The are: Emma (buried 1873, aged six months), William Henry (buried 1889 aged two), Jane (buried 1904, aged 49),  Herbert Pratt, (1904, aged 11 weeks), Cyril (1905, aged 1 year 9 months), Maria (1906, aged 26), Jane Elizabeth (1910, aged 52), Edward (1911, aged 57), Joseph (1911, aged 1), Alice Maud (1915, aged 1 year 11 months), Kathleen (five days later in 1915, aged 10 months), Leslie (1918, aged 12), Robert (1919, aged 73), Joseph Edward (1929, aged 50), Clara Annie (1932, aged 63), Edith (1960, aged 72), Lilian (1972, aged 84) and Robert (1992, aged 90).
Joseph Edward, buried in 1929, was the son of our Great Great Uncle Edward and he served in the Imperial Yeomanry during the Boer War of 1899 to 1901.
Walmgate was a rough area close to the centre of York, notorious for crime and prostitution in Victorian times, so much of it has been pulled down and re-developed. However, most of the Georgian buildings fronting the main street still stand and you can still see the buildings that were once The Black Horse and possibly the carriage works to the rear. A road has been put through Black Horse Yard, and James Street is now a modern industrial estate, but the street scene as you walk from The Red Lion across Walmgate bridge and towards York Minster ahead of you would still be very recognisable to the Wormleys who must have walked this way countless times in the 19th and 20th century.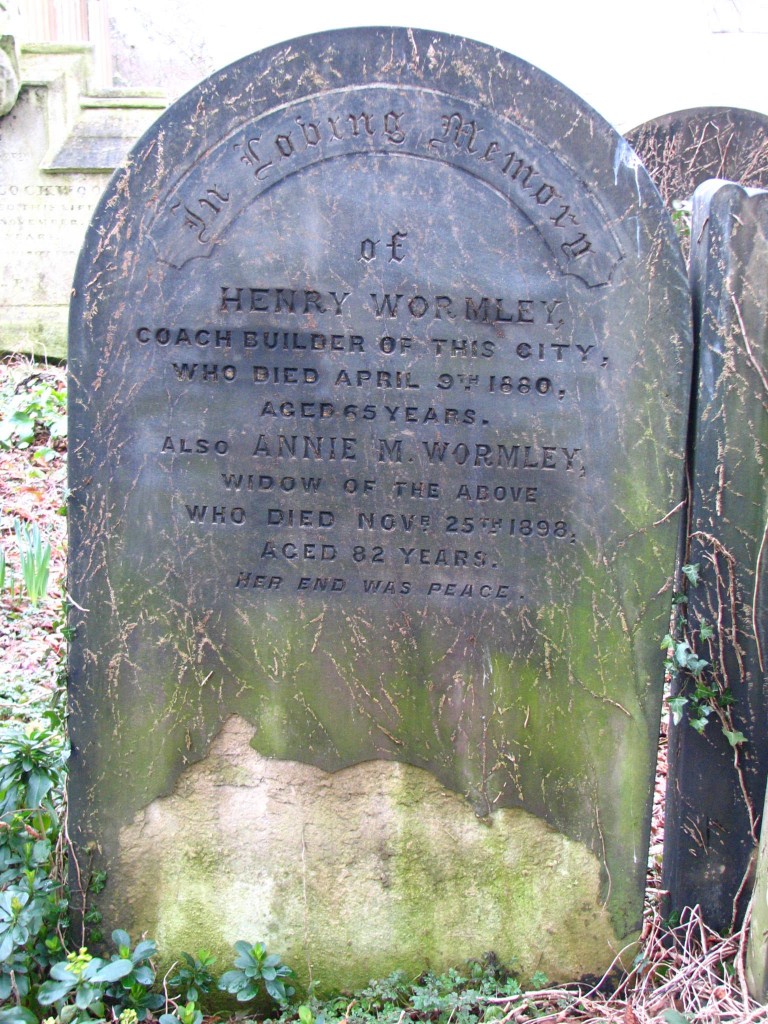 *The grave of Henry and Annie Wormley in York cemetery.
CONISBROUGH AND THE 20th CENTURY
Coal miners in a tough and dangerous job
William and Hannah Wormley's seventh child, John Henry, was our great grandfather. He was christened on April 4, 1876, at St Denis' Church, York (where his own great great great great grandfather had been the Rector 180 years earlier), and died in 1961. When he was 15, the 1891 Census recorded that he was an apprentice bone comb maker.
St Denis's Church still stands in Walmgate and looks much the same as it must have done then.
John Henry married Jessie Lewis (1878 to 1958) and they lived at Conisbrough, where he was a coal miner.
Jessie's father Thomas Lewis had been born in 1848 and married Mary Hobson at Levitt Hagg, Yorks, in 1870. Jessie's mother was born at Wombwell in 1849 and died in Conisbrough in 1932, aged 83. Thomas Lewis was killed by a stone fall in a local quarry in 1904.
John Henry Wormley was himself caught up and buried in a tunnel collapse in the mines. He survived but others did not.
* John-Henry's eldest brother Edward Wormley had moved to Conisborough several years before he did, to get work as a miner.
The evidence for this is that in May, 1888, The Sheffield and Rotherham Independent reported that three Conisborough men, including Edward Wormley, were each fined 5s, plus 11s 4d costs, by the Doncaster police court, for playing pitch and toss at Conisborough.
Pitch and toss was a gambling game of tossing coins, often for very high stakes, that was popular with miners. Because it was gambling for money it was illegal (until probably at least the 1960s) and police often raided miners' gambling schools, particularly after the pubs had kicked out on a Sunday afternoon.
John-Henry's brother Edward was 21 then. He was shown in the 1891 census as a widower, aged 24, born in York and now living in Back Hill, Conisborough. He had changed jobs and was working as a glassblower. Soon after this he remarried and moved to Swinton, four miles away, where he worked as a labourer at a forge. He and his wife Ellen had children Charles, Alice, Edith, Martha, Dorothy and Jonas.
Another brother, Frederick Wormley, was shown to also have been living in Back Hill, Conisborough, as a boarder, ten years later in the 1901 census. He was single, aged 23, and working as a labourer at the glassworks.
Altogether four sons and a daughter of William and Hannah Wormley moved from York south to Conisborough around the end of the 19th century. Fred, Jonas and Hannah Wormley were recorded sharing a house in nearby Mexborough in the 1911 census.
Fred had married but was a widower by the young age of only 34. He was a surface labourer at the local colliery. And he died soon afterwards in that year.  We don't know the details to explain why.
Jonas was a fitter of railway wagon wheels. Hannah was a housekeeper, aged 29. Both were single.
Jonas was a labourer after leaving school but he joined the army at the age of 15, enlisting with the 4th Battalion of the West Yorkshire Regiment in November 1889. He rejoined the army in August 1914, a week after the start of the First World War, but was medically discharged in November 1917. He married in 1927, aged 53, and died in Leeds aged 65 in September 1939, the month the Second World War started.
Hannah also died in Leeds, but not until she was nearly 90 in 1971.
*John Henry and Jessie Wormley had seven children, the third being our grandfather Thomas William, born at Conisbrough in December 1902. He left school at 13, in the First World War, and started work down the coal mines on his 14th birthday, which prompted him to be a volunteer first aider.
A list of accidents causing injury or death at Yorkshire Main Colliery, Doncaster (previously called Edlington Main), includes one of his brothers, our great uncle, another John Henry, who was born in 1914. It records that on 19th January, 1932, J H Wormley, a clipper aged 19, was standing next to trucks on a rail line. One of the tubs sided over onto him, but it doesn't say what his injuries were.  He died in 1992 aged 78 or 79, but Dad said he was slightly crippled by it.
Thomas Wormley left the mines and moved to London. He worked and lived at the Finsbury Savings Bank in Sekforde Street, EC1, where he was chief cashier, with our grandmother, nee Alice Fox. She and her younger sisters Annie and Edie were the daughters of John and Mary Ann Fox. They also had a slightly older brother, David, born in 1902.
The national census of 1911 showed the Fox family living at 76 North Cliff Road, Conisborough, but they came from the Black Country in the Midlands. This was another industrialised area of coal mines and grim factories.
John Fox was a miner (hewer) born at Walsall Wood, just south of Brownhills in Staffordshire, and his wife Mary Ann was from Lye, in Worcestershire, just west of Birmingham near Halesowen. Both were born in 1880.
John was probably the youngest of seven or more children of Joseph and Julie Fox, who were also born in Walsall Wood, in 1835 and 1840 respectively. In the 1861 census, Joseph was shown as a boatman aged 25, living with his young wife in her parents' house in Hall Lane, Walsall Wood, with their daughters Mary and Elizabeth aged 2 and 1. Julie's brother and his family were also living there, adding up to 11 occupants altogether. Her parents were John and Sarah Fletcher, born in 1805 and 1806.
Ten years later Joseph Fox was a labourer and three more children had come along, Caroline, Eliza and Benjamin. But Joseph and Julie both died in 1885, aged only 50 and 45 respectively. The tragedy must have separated the family, because by the 1891 census schoolboy John, 11, was living with his brother William in the home of their elder and now married sister Eliza in High Heath, Walsall Wood.
Although only 13 William was then a brickyard labourer, but by the next census in 1901 he was a 23-year-old coal miner with a baby daughter. John Fox, himself now a labourer at the brickworks aged 21, was lodging with his young wife Mary at William's house in High Heath.
John and Mary's daughter Alice Wormley was born in Walsall Wood in 1903, but soon afterwards the family moved north to Denaby, just outside Conisborough, probably for the father, John Fox, to find work. His elder brother Benjamin also moved from Staffordshire to Conisborough to work there as a hewer in the mines, but it was a decision they must have deeply regretted.
During 100 years of coal mining 426 men and boys died in accidents and disasters in the pits around Conisbrough. In July 1912, on the day that King George V and Queen Mary visited Conisbrough Castle, two horrific gas explosions killed 91 miners and rescuers in Cadeby Pit, on the northern edge of the town.  Many had taken the day off work to see the royal visit; but on any other day the death toll would have been even higher.
Among the miners killed in the disaster was Benjamin's son Joseph – Alice's first cousin. He was a 24-year-old pony driver, of Earnshaw Lane, Conisborough. The funeral was one of many held on the same day at Conisborough cemetery and altogether countless thousands of people attended. Among the mourners were Alice's parents, John and Mary Fox.
You can read a detailed and moving account of the catastrophe and its consequences at:  https://sites.google.com/site/conisbroughlocalhistory/denaby-and-cadeby-collieries/1912-cadeby-colliery-disaster
Two of Joseph's younger brothers also worked in the coalmines, as another pony driver and as a lamp carrier.
Our grandmother Alice Wormley died aged 44 at Swiss Cottage, London, in 1947, and is buried at Conisbrough. Thomas Wormley died in retirement at Weston Super Mare in 1970.
They had two sons, Dennis John and Brian, Dennis being our father, born at Conisbrough in 1931. He worked as a planning engineer for Rolls Royce aircraft division.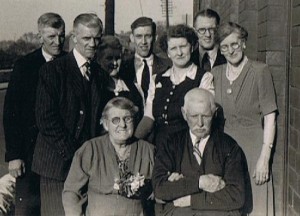 At the time of writing, Dennis and our mum Patricia (nee Darcy) were living in Buckinghamshire. Brian, born 1938, and his wife Catherine lived in London, having two daughters, Carol and Wendy. Very sadly, Catherine died in 2010.
Dennis and Patricia's eldest son Nicholas (born Luton and Dunstable Hospital 1955) lived in Heath and Reach, Bedfordshire, and was the Editor of the Leighton Buzzard Observer, now working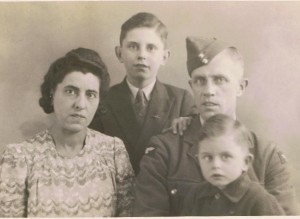 for a garden centre; their second son Adrian (born at Kings Langley 1960) lived very nearby in Buckinghamshire, and worked in electronics; and youngest son Kevin (born Kings Langley 1963) lived in Oxfordshire, and was a lorry driver.
Pictured top: John Henry and Jessie Wormley at Conisbrough with their grown-up children in about 1950. Above: Thomas and Alice Wormley with their sons Dennis and Brian in the Second World War.
The youngest generation of Wormleys in our line of descent at the present time are the sons of Kevin and his wife Marion (nee Saunders, born Amersham in 1968) – Luke, born at High Wycombe in November 1991, and Keiran, born at Stoke Mandeville Hospital in 1995.
Below is an autobiographical article that was written by Thomas Wormley, probably in the 1940s or 50s, describing his youthful experiences in the coal mines. It could be thought of as a real-life Yorkshire version of "How Green Was My Valley" (a famous old novel and Hollywood film from the early 1940s, set in the Welsh mining valleys):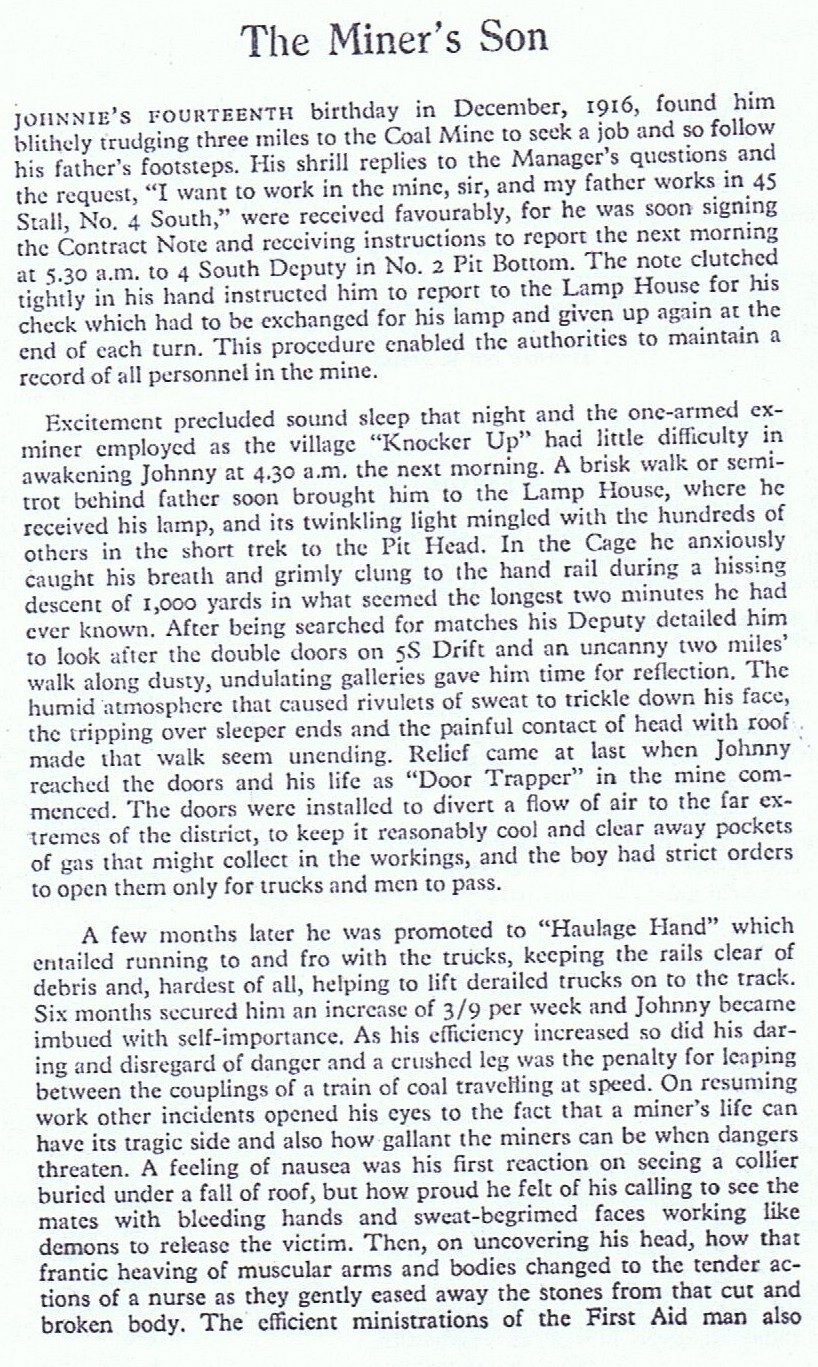 Other branches of the Wormley family
Dennis and Brian Wormley have at least five cousins on their father's side who share all of this family tree and history, except for the last two or three generations. They can substitute their own family details within the past few decades to turn the family tree into their personal direct line of descent. It would be too complicated to show all these variations here, but the following notes, kindly supplied by Anthony Wormley of Warmsworth, near Doncaster, outlines some of the relationships that we know of. Tony is the son of John Henry Wormley (jnr. born 1914).
The following people mentioned are all the sons and daughters of John Henry (senior) and Jessie Wormley of Conisbrough, and their children and grandchildren.
"I (Tony Wormley) was born 25th July 1944 in Mexborough and after living in Edlington up to 1966, I married Janice, a local lass, and moved to Warmsworth. We have two daughters Nicola, the oldest, born in 1971 and Claire, born in 1975. Nicola now lives at Westwoodside east of Doncaster and Claire lives in Dronfield Woodhouse, south of Sheffield. Our first born son was Andrew, who we lost after 6 weeks, born in 1969.
"I followed dad into the mining industry at Yorkshire Main Colliery as a Chartered Minerals Surveyor and have worked all my life with either the National Coal Board or British Coal and have worked at many mines in areas associated with our history eg Hatfield, Thorne, Askern, Stillingfleet, Riccall etc. I retired in 1996 and have since given my services to the community, which apart from keeping the grey cells active also gives me the satisfaction of helping and supporting the village.
"I have a brother Peter born 1st June 1948 in Edlington. He is now living in Hemel Hempstead, and is retired after serving in the Army and susequently in the Post Office. He is married to Jennifer and they have two children, Sarah the oldest and Simon. Sarah has a daughter, Amelia.  Peter was a twin with our sister called June who died shortly after birth in November 1948.
"Dad's younger brother Uncle Harold, again a miner, married Helen and they had three children, David, born 1943, Christine, born 1945 and Margaret born ? They are all still alive with David and Christine living in Doncaster. Margaret moved to the Castleford area and I have not seen her for many years. David has a son, Ian, and Christine has two children Karen and Martin.
"Uncle Lewis worked on a farm in Old Edlington and has one son Lewis. I'm sorry  I have no details of them at all.
"Aunt Jessie married "Ted" Wilkinson and had two sons, Alan and Brian. Brian was tragically killed at 13 when he rode his bicycle onto a main road and was hit by a car.
"Alan died about three years ago and he left a wife Shirley and a daughter called Andrea. Both families have lived their whole lives in Conisborough.
"As far as Aunts Eva and Elsie are concerned, I only have limited information I can give. I recall  Aunt Elsie moved up to Redcar in the northeast and I can remember visiting them close to the racecourse. I cannot remember the names of her children or her husband.
"Aunt Eva moved to York and I think her married name was Cottam. I can remember the name of only one child, Gerald, and I have no knowledge of his current whereabouts.
"As you would expect all the brothers and sisters are now dead with my dad being the last to die in 1992 and my mum Edna who died in 1996. Other than the information above I don't know the demise of any of the other relatives.
"I hope this information helps, it certainly has concentrated my mind on our family and I have enjoyed the recall."
* We were also contacted in September 2012 by another Kevin Wormley, after he came across this website history on his computer. This is Kevin George Wormley of Leicestershire, whose grandfather, William Hardwick Wormley, was the brother of our great grandfather John Henry. This means he was our great great uncle and so Kevin is our third cousin.
Kevin kindly sent us the following details about his branch of the family:
"I am Kevin George Wormley, grandson of William Hardwick Wormley who was born in 1880, the younger brother to John Henry Wormley born 1876. 
"I have been researching my family history intermittently for a number of years and was amazed when I discovered the family history site by Kevin and Nick.
"My grandfather was only three when his mother Hannah died so would be raised by older sister Alice. 
"In 1891 the family home was in James Street, York, which is in the area just outside Walmgate Bar.  They had left the courts and yards of Walmgate where half a dozen homes (1 up, 1 down) shared a single water pump and toilet.  It would seem that he left the family home as soon as he was able to work, possibly because his father William was, by 1901, living in Willow Street, York, with a Mrs Brown and her children.  Willow Street has now disappeared but I believe it was at the lower end of Walmgate, just inside the city walls (further research required). 
"William Hardwick was shown in the 1901 and 1911 census records as employed as a general labourer and living in lodgings, first in St George's Terrace in the Walmgate area and then Norman Street, which was out along Lawrence Street/Hull Road further from the centre and at that time right on the edge of countryside.  The 1911 census was taken on the 2nd of April. 
"Very shortly afterwards (2nd quarter 1911) William Hardwick married Edith Walsh.  Edith was born in York in 1890 and at the time of the 1911 census at the age of 21 was recorded as cook to a small private girl's school on Monkgate, York.  My mother's comment is that she can't have been a very good cook!
"William H. and Edith had their first child in the 4th quarter of 1911.  This was my uncle William.  He married Flo shortly after the end of World War II.  She had a daughter and they adopted a boy.  They emigrated to Australia as £10 Poms in 1952 and although they returned to the UK when William retired they eventually went back to Australia.  Both are deceased and I have no further information.
"William H and Edith then had two daughters, Alice Maud born in 1913 and Kathleen in 1915.  Both died shortly after the birth of Kathleen in 1915.  I believe that after the marriage they had returned to the courts and yards of the Walmgate slums where disease was rife and infant death all too common.
"My own father Wilfred Wormley was born in September 1916 (died 1985).  He once recounted to me the abysmal accommodation of his childhood in the yards of Walmgate. 
"My father worked at various jobs including Rowntrees chocolate factory, a bakery and then as a gardener at The Mount, a private girls boarding School in York where he met my mother Eileen. 
"My mother was born and brought up in Spennymoor, County Durham.  She left school at 14 and went into service as housemaid for a great aunt.  At 17 she moved to York  to live in at The Mount School as a maid and met my father.  After WW2 my father could not stand working indoors and became first a dustman and eventually an inspector for the cleansing department of York Corporation.
"William H and Edith had one further son George Edmund, born in 1922.  He was killed in the Second World War on 17th February 1945, and is buried in the Commonwealth War Graves Commission cemetery at Milsbeek on the Dutch/German border. He was single and left no descendants.
"My parents Wilfred and Eileen had first my sister Sheila Ann, born 1944, and then myself Kevin George, born 1946.  I went to school in York and joined the North Eastern Electricity Board as a student apprentice.  Under their sponsorship I went to Loughborough University where  I met my future wife Val.  We married in 1970 and had our first son Matthew James in 1971, followed by Phillip Andrew in 1973, both born in York. 
"Following a number of moves Val and I have now lived in Leicestershire for 27 years.  I have worked as an electrical engineer in electricity distribution, nuclear research facilities, railway tunnelling, nuclear fuel reprocessing and water supply and treatment.  I am now thankfully retired.  "No more Monday mornings".
"Matthew is married with three daughters: Jessica 14, Sophie 11 and Beth 9.  The family live in Abu Dhabi.
"Phillip is married with  one son Samuel James, aged three months.  His family live in Surrey.
"In researching my own family history I became diverted to the war service of the men of the family.  My mother's father served in France, having been conscripted in 1916.  He was wounded on 1st November 1918 and was evacuated back to hospital in Blighty just as the war ended.  Although before the war he had been a brewery drayman, on his return he went down the pit. 
"William Hardwick must have also been conscripted in 1916 as the country ran out of volunteers and he was 35 by then.  I believe he was at Salonika in the eastern Mediteranean but there are no online records available, probably due to the destruction of records during the blitz in WW2.
"Following the war William Hardwick did not have regular work, if at all, being supported by Edith with cleaning work. My father was conscripted early in WW2 being called up in February 1940.  He was placed in the RAMC as a medical orderly, but did not see active service until July 23, 1944, when he landed with 43rd Wessex in Normandy.  From then until May 1945 he was in the thick of it from the taking of Caen, the crossing of the Seine, rescue of 2 Airborne at Arnhem, and the drive into Germany, including the medical support at the release of Belsen concentration camp.  The only event he ever mentioned to me, however, was the rescue at Arnhem of which he was very proud and the fact that he had helped deliver a baby in Holland. Everything else was probably too traumatic to recount. 
"I never knew my uncle George, and I knew that no-one from the family had ever visited his grave in Holland, so in 2008 Val and I had a long weekend in Arnhem and Nijmegen to visit his grave.  We also went to see the spot where my father was waiting with the 130 Field Ambulance to give assistance to the injured of the airborne troops who had escaped across the river.  It was the night of 25/26 September 1944, his 28th birthday!"
William Hardwick Wormley.
* We would like to thank Neil Roche of West Yorkshire for kindly supplying us with much useful and very thoroughly-researched information about Wormley family members and their relationships in the 16th to 18th centuries.
Neil is descended from the lords of the manor of Riccall during that period, but our last ancestor in common was Henry Wormeley, who married the lord mayor of York's daughter in 1612 and died in 1657.
Neil's link with the Wormleys is through Edward who built Riccall Hall and was widowed when his wife Mary died in childbirth only a year after their wedding. He tells us: "Edward didn't re-marry, but, thankfully, didn't sit at home an embittered and chaste widower.  Instead, he fathered a son William – who is my ancestor.  The mother was a Martha Loadsman – who is seen in some documents described as housekeeper, and she is acknowledged as the mother in various places.  William seems to have been born ca. 1744-45, but I haven't found any trace of his birth/baptism so far.  As a young man, he was known as William Gibson and the alias is referred to in his father's will.  At his own marriage, however, in his father's lifetime, he already called himself Wormley.
"It is from the illegitimate William that I am descended. He married a Mary Smith (after having already fathered an illegitimate child on her) in 1777 at Skipwith which is just east of Riccall. One of his children was Ann Wormley (born May-1783), who subsequently married at Riccall in 1804 to William Copley (from another Skipwith family).  Their daughter Martha Copley was born at Bolton Percy in 1824, and she married William Stones of Tadcaster in 1845.  One of their sons was Robert Edwin Stones who was born in Filey in 1851.
"Robert married Rebecca Horner in 1882 at Tadcaster and their daughter Hannah Rosaline Stones was born in 1888 in Tadcaster and was my grandmother.  She married William Kimberley in 1910 in Tadcaster; he was born in Coventry.
"Their daughter, Phyllis Ethel Kimberley was born in Wetherby in 1911, and married my father Patrick Roche in Normanton (near Wakefield) in 1941.  I was born there in 1943."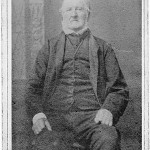 Right: William Wormley who was born at Riccall in 1793 and died at Acomb York in 1879.
* We were also contacted in the winter of 2013 by Robert Willie, who like Mr Roche is also a descendant of William 'Gibson' Wormley.
Mr Willie grew up in York and told us: "I am descended from the Wormleys of Riccall through my paternal grandmother Annie Francis Wormley, who married my grandfather William Willie. They  lived at Stanley House in York, which today is a guest house.
"Annie's parents were William Wormley born at Strensall Yorks in 1853 and Hannah  Elizabeth (nee Hick) Wormley. Her father was the son of a previous William Wormley born at Riccall in 1793, who was himself the son of William Wormley (Gibson) and Mary Smith born 1744.
"Before being married my grandmother Annie Frances Wormley lived in Mountsorrel with her sisters Fanny Elizabeth, Lilian Beatrice and  Mary Alice (Floss) and also with their brother William Glaize Wormley.
*We would also like to thank Charles Ortel of New York, USA, who gave us several useful leads to follow up.
Notes on the American Wormleys: Wealthy landowners and slaves
A number of books, internet websites, publications by the Virginia Historical Society and the Stantons Wormley material in "Wormeley-Wormley c 1160 to 1990" cover this in great detail if you are interested.  Several websites show various oil painting portraits of 18th Century Wormleys in Virginia and describe their importance among the landed gentry of those days. "Genealogies of Virginia Families", from Tyler's Quarterly and Historical Magazine, and "A Free Man of Color and his Hotel", a book by Carol Gelderman that can be read on the internet, may be of interest to you.
Our ancestor Captain Christopher Wormeley was the founder of the first Wormeley family in north America, in 1636. His land in Virginia was inherited by his brother, or more likely son or cousin, Ralph Wormeley, about ten years later.
They must have had a large number of black slaves.
Ralph Wormeley's great great grandson, also named Ralph, was called a friend of the independence cause by George Washington, in a letter from the first President of the United States to Henry Knox, a leading general in the American Revolution. Writing on May 22, 1799, Washington vouched for Wormeley's good character and requested that his friend be given any necessary assistance in the journey to Boston to enrol his son at Harvard University.
The late Professor Stanton Wormley of Howard University, Washington, mistakenly proposed that this same Ralph had another son by an unidentified "colored" woman in about 1780. Her baby, named Lynch Wormley, received his emancipation papers in 1821, legally proving that in that year he was a free man and not a slave. A black Wormley line followed and they became "a prominent African American family," in Washington DC.
Lynch's probable son James Wormley also knew a famous President. He was an eminent hotel owner in Washington and was present beside Abraham Lincoln's death bed after Lincoln's assassination by a gunman at the end of the American Civil War.
Black people with the surname Wormley in the USA may encounter difficulties in tracing back their family trees into the 18th century, but they should almost certainly discount Stanton Wormley's belief, widely repeated on internet websites as fact, that they are partially descended from the original white Wormeley colonists of Rosegill in Virginia. There is no  evidence of this from historical records. Also, in the sad age of slavery, many black slaves were known by the surnames of their "owners". Additionally, it is documented that when at least two Wormleys freed their slaves decades before the American civil war, some of these people took the Wormley name out of love or respect for their emancipators.
In 2014 Nick Wormley of England took a Y-DNA test at the request of Mr Wallace Wormley, a cousin of Stanton Wormley's family. The results showed that they did not share a male common ancestor in the past several thousand years, which pretty much confirms that Lynch Wormley could not have been a son of slave-owner Ralph Wormley of Virginia.
If you are in this situation we are sorry we cannot help you, but wish you good luck in your research. We know that diligent work is being done in America to solve the mystery. A Wormley surname board currently on Ancestry.com at the time of writing this in 2014 may help you – http://boards.ancestry.co.uk/surnames.wormley/53.2.1/mb.ashx .
Yet another Ralph, also descended from our Tudor ancestors, was born in Virginia in 1785. Brought to England as a child, Ralph Randolph Wormeley became a Rear Admiral in the British Royal Navy. Reminiscent of a famous Yorkshire family, the Brontes, his three daughters Elizabeth, Katherine and Ariana were acclaimed novelists, historical authors and translators in the late 19th century. They jointly wrote his memoirs. Mary Elizabeth Wormeley used the early history of our own family as the basis for a ficticious family in her novel "My Cousin Veronica", in 1855. You can see on page 36 of the novel that it is basically the same family origin, with the names changed.
Further Wormleys emigrated from Britain to north America in the 19th and early 20th centuries. Today there are quite a number of Wormley families in the United States and many of their members have achieved distinction in science, writing and other fields.
Connections with William Wilberforce: Wormley helped get famous anti-slavery MP into Parliament
In the late 18th century the Yorkshire Wormleys played a very small part in ending slavery.
A letter among deeds and documents now held by the East Riding and Yorkshire Archives and Records Service was sent to Edward Wormley of Cawood by the great anti-slavery campaigner William Wilberforce.
The letter was dated September 16th 1780, and thanks Mr Wormley for supporting young Wilberforce, who at the age of 21 had just been elected as Member of Parliament for his home town of Hull. The letter's contents were summarised by a clerk or secretary at the time: "Mr Wilberforce has been returned for Hull and thanks Wormley for his help. Has mentioned the man from Cawood to his committee and hopes he will be satisfied for his time and expenses."
Wilberforce went on to become a deeply religious MP and social reformer. He regularly introduced bills in Parliament to abolish the slave trade and was finally successful in 1807.
He was also active in improving factory conditions in the industrial revolution, supporting the new RSPCA, and in promoting Sunday schools, The Society for the Suppression of Vice, and sending missionaries to China.
He continued campaigning for the end of slavery itself throughout the British empire, just living to see this achieved in 1833. A few weeks later he was buried in Westminster Abbey near his old friend, Prime Minister William Pitt the Younger.
Cawood is a village near Riccall and Edward was farmer Henry's cousin.
*  A website about the history of Pocklington, a small town east of York, includes an item about cock fighting at The Black Bull inn. It  shows a famous late 18th century Hogarth painting of a somewhat drunken and debauched audience around a cock pit, no doubt similar to the one described in this article.
The site quotes the York Courant, May 27, 1746: "A main of cocks to be fought at Mr James Bagley's new pitt in Pocklington, for 10 guineas a battle and 100 guineas on the main, betwixt Henry Yarburgh esq of Heslington, and Edward Wormley esq of Riccall, to shew 31 cocks on each side for the main, and 12 on each side for bye-battles. To weigh on Tuesday 24 June, and fight on Wednesday, Thursday and Friday".
This shows that Edward Wormeley wagered 100 guineas (a guinea was 21/-  ie £1.05p) on how his cocks fought at this big sporting event at Pocklington. A typical working man then would earn about £20 a year so 100 guineas was roughly five years' wages for most people.
Thirty four years later in 1780, William Wilberforce, one of the most famous Pocklingtonians,  wrote his letter of thanks to Christopher Wormley of Cawood.
Wilberforce was one of the founders of the RSPCA in 1824 and he campaigned for cock fighting to be banned. With changing attitudes to cruel sports it became unpopular in the early 19th century and was completely banned by law in 1849. The Victorian people of Yorkshire turned their traditional riotous annual fairs into very civilized agricultural and poultry shows.
*  In 1807, Edward Wormley, yeoman (farmer), was a freeholder at Riccall, owning land worth £1 a year. This entitled him to vote in the poll for Knights of the Shire. He seems to have been one of only two freeholders in Riccall with a vote, which was held in public because secret voting would have been regarded as cowardly and unmanly in those days. No doubt being a man of pride, he stood up to be counted. He voted for the Hon Charles Wentworth, Viscount Milton.
The other candidates were William Wilberforce and the Hon Henry Lascelles.
Lord Milton and Wilberforce were elected.
Some final thoughts on our medieval research
We are pleased to have found contemporary evidence from historical records to back up and prove most of the family tree as shown by Stanton Wormley, the Rev Joseph Hunter and others. But there are several things we would have liked to have confirmed ourselves and been unable to. Two of these in particular are:
(1) The date 1312 for Sir John de Wormele first acquiring land in Hatfield, Yorkshire.
(2) The maiden names of the medieval Wormeley's wives, in particular de London, Foliot, Cresacre, Mountney, Pollington and Kelham.
We do have really good evidence for Womersley being the Wormley family's original home. But we have not been able to find a medieval historical document mentioning John de Wormele inheriting land at Hatfield in 1312 or his holding being confirmed by King Edward II in that year.
This date seems to come down to us from 19th century American sources, such as the memoirs of Admiral Ralph Randolph Wormeley and the Virginia Historical Society, repeated in 1990 by the Stantons Wormley. It wasn't mentioned in the Visitations of Yorkshire in the 16th and 17th centuries, which started the family tree with Robert and Charles Wormeley, or in Hunter's History of the Deanery of Doncaster, or by William Brack.
Hunter and Brack both included Sir John de Wormele and his wife Margaret de London, but they didn't give the date 1312. However, they didn't know everything we know today.
Unless we make a future discovery we can only take the American information on trust. They were precise about this date, so it doesn't sound like an invention.
The earliest date we have been able to confirm for John and Margaret owning land in Hatfield is 1331. The good thing is that this is in the Calendar of Patent Rolls, official records of the court business of Edward III, which is absolute, undoubtable proof ‑ the medieval equivalent of Hansard.
Wormley marriages to the de Londons, Foliots, Cresacres, Mountneys, Pollingtons and Kellams, also have to be taken on trust. Marriages with de London, Foliot and Cresacre are given to us by Hunter, who was one of the most important and meticulous British historians in the first half of the 19th century. But he took them from a late Elizabethan pedigree and he could say nothing one way or the other about how accurate it was. Hunter called it "a collection of Yorkshire genealogies, made in the latter part of the reign of Elizabeth, and valuable for containing many notices from inquisitions and other facts not to be found in the Visitations or in Hopkinson".
We haven't seen that family tree and attached references, if it still exists, but Hunter obviously read it and we can trust him to have repeated it accurately. We can also trust other information that it supplied, for example that the second John at Hatfield had four sons called Richard, Thomas, John and William. We have found independent proof of all of these men from several completely separate medieval documents, which encourages us to trust the rest of it. Wormeley with Foliot and Cresacre marriages would certainly have been very likely, particularly because of their close connections with the Newmarch family.
Later maiden names Mountney, Pollington and Kellam appear to have come down to us through Brack and the Virginians, which is not sound proof. They may have been made up to fill in a 100-year gap in knowledge, as historical evidence of the Wormleys is very sparse throughout the 15th century. It is known that some Elizabethan families falsely embellished their family trees to impress people.
However, once again we have confirmed a couple of other details of this grey area in the 1400s, from other independent medieval documents, which also encourages us to trust the source. We have no doubts about the Wormley men from that period; only some hesitation about their wives.
A bequest was made 90 years later in a Wormley will to a Kyllom, which was an alternative spelling of Kellum in past centuries and supports there being a link between these families. We know there was an important and probably long-established land-owning family called Kellum living in the Hatfield area in the 1500s because Hunter wrote that Andrew Kellum was a Regarder of Hatfield Chase in 1558, along with John Wormeley.
Mountney, Pollington and Kellam were local families of the appropriate class for Wormeleys to marry, so the family tree we have is perfectly reasonable and likely.
The late Elizabethan pedigree that Hunter referred to would probably have been written down in the 1580s or 90s. This was only 200 years after Richard Wormley (third Hatfield generation) died in 1386, so it would be the equivalent of us looking back to 1813 for a firm date in our family history with solid material, but then knowing almost nothing about Victorian times.
Thought of this way, it was not far beyond living memory of the oldest generation at that time. An elderly person in 1580 might remember their grandparents telling them in the 1520s or 30s about things they remembered from their own childhood in the late 1400s. And as the Wormeleys were an important local family there could have been local written records in existence then that no longer survive today. Who knows what was destroyed during the Reformation? Their local importance at that time makes it more likely that their family details would have been recorded or remembered.
In the end, though, the marriages shown in the Elizabethan pedigree aren't proved or disproved. This is a pity, because we risk falling into the same trap as antiquarian clergymen who confidently set out on archaeological expeditions 200 years ago to find the remains of Noah's Ark on Mount Ararat. They knew it was there, of course, because the Bible said so. All they had to do was pinpoint the exact spot. But starting with preconceived answers and then seeking the facts to confirm them isn't good research practice.
Anyway, even if one or more early Wormley wives did happen to be wrongly identified, this would not alter or affect in any significant way the overall male lineage back to the early 14th century.
We have done our absolute best to be as accurate and meticulous as possible in researching our family history, but because it has at times been like trawling the seabed for new finds, no doubt there are some errors in it somewhere. Hopefully these are small details, but we would welcome any corrections from anyone who knows more than us.
As a final thought, it has to be accepted that during the course of 800 years, somebody in the family may have committed a marital indiscretion, so that the true line of descent was not really as we believe. This is actually very unlikely though.
If any of the Wormley men had children out of wedlock, these children would not have been given the name Wormley, and none of them would affect our family line of descent.
The only way that could happen would be for one of the Wormley wives to have had a son as the result of an infidelity and pretended it was her husband's. Moreover, to alter our lineage, this would have to have been the exact son from whom our next generation descended. No illegitimate brothers or sisters would be relevant.
As most of the wives in past centuries had anything up to 12 children, (and probably had little time or opportunity for an affair!) this "reduces the odds" substantially. While Y-DNA testing cannot confirm the names and wives in each generation down the centuries, it has shown scientifically that we are directly descended from Norman knights living in the area of Womersley.
We hope you have found this interesting.
Nick and Kevin Wormley.
(Revised edition,  July 2015).
Appendix 1 – the case for our earliest ancestors being the Crispins of Normandy
The following very detailed notes are Michael Stanhope's view on the origin of Robert de Armentieres and so of his descendants, the Yorkshire Newmarch and Wormley families.
     Mr Stanhope is a well-respected medieval families historian and in this remarkable piece of research and assessment he indicates why he believes that Robert de Armentieres was probably a son of William Crispin I and thus a grandson of Gilbert Crispin I. The Crispins, of Tillieres, were one of the most powerful families in Normandy in the 11
th
century.
   We have taken the liberty of copying Mr Stanhope's notes from the crispincousins website and hope he does not mind us re-producing them here.
We have been able to compare Nick Wormley's DNA test results with those of another man who has strong evidence that he too is directly descended from the Crispin family in 11th century Normandy. Our STR numbers were almost identical. Such a close genetical match confirms that the Wormley's ancestors must have originated from the village of Armentieres near Verneuil, to the west of Paris, as Mr Stanhope proposes.
Michael Stanhope's notes:
People look at names in Virginia land deeds and do not see connections, which are self-confirmatory – the continual alignments of certain families cannot be accounted for in any other way. This is how relationships of English families would be adduced….
One method that may suggest the origin of early Norman families is that of 'continuation of association', or 'foedus inter consobinos heredes' - inheritance passing down non-consanguineous lines of cousins, or kinfolk. At the time of the Conquest, marriages between those of close blood were disallowed. The later Middle Ages witnessed a complete reversal of this policy, and marriages between cousins and second-cousins were commonplace, leading to a 'genetic' collapse of many families.
The 'connectivity' between families is demonstrated by grants to religious foundations, which were a jealously guarded privilege, confined to those with association to the founders family. A gift may have be given to an Abbey by the founder's grandson, witnessed by a descendant of the brother of his wife's grandfather – such were the fine threads of what constituted kinship.
One early kinship group may have included the Crispin and Gand families, and, if this assumption is correct, we would expect to find the Gand family intermarrying into those families connected to the Crispins, such as the FitzOsborns, the Tosnys of Belvoir, and the descendants of Richard FitzGilbert de Clare. Specifically, the family of Gand would be expected to be associated with the decendants of William Crispin/Colville I. This is exactly what occurs, and they share these associations with the family of Armenters, which, I suggest, derived their name from the Crispin fief of Armentières, Verneuil, and whose progenitor was very likely the said William Crispin/Colville I. These relationships are contineously repeated, and can be seen as a distinct pattern within a historical framework.
This kinship group intermarried with the family of Umframville.
1.Thomas de Colville (my ancestor, grandson of William Crispin/Colville I.).
1.1.Philip de Colville, held land in Thimbleby and Sigston, Yorkshire.
1.1.1.William de Colville, m. Maud d'Albini Brito. William was the br.-in-law of Robert de Gand, grandson of Gilbert de Gand I. Maud was the granddau. of Maud de Umframville, dau. of Odinel d'Umfraville. Robert de Gand was the grandfather of Juliana de Gand, who m. Geoffrey de Armenters.
1.1.1.1.William de Colville, m. Beatrice de Stuteville.
William was the br.-in-law of Alice de Stuteville, widow of Roger de Merlay, son of Ralph de Merlay, Lord of Morpeth, Northumberland, and Juliana of Dunbar, dau. of Gospatric II. of Dunbar. Roger de Merlay and Alice de Stuteville had issue: Roger de Merlay, who m. Margery de Umframville, dau. of Richard Umframville, son of Odinel, and sister of Gilbert de Umframville I. William de Colville's brother, Thomas de Colville, who deceased him, was the br.-in-law of Robert de Quincy,** who was granted the ancient castle of Forfar by his cousin, William I of Scotland. *A sister of Juliana m. Gillbride, 2nd Earl of Angus, their son being Gilchrist of Angus, who m. Marjory of Scotland, dau. of Henry de Huntingdon, Earl of Northumberland and Huntingdon, and Ada de Warenne. Their dau. Beatrix of Angus, m. Sir Walter Fitz Alan le Stewart, High Steward of Scotland. Gilbert de Umframville I. m. Beatrix's sister, Maud.
(**Robert de Quincy was the son of Saher de Quincy and Matilda de St Liz (relict of Robert FitzRichard de Clare, br.-in-law of Raoul de Tillieres, nephew of William Crispin I. Matilda de St Liz was the dau. of Simon de St. Liz, Earl of Huntingdon, founder of St. Peter's, Northants (gifts to which included land held by Robert de Armenters), and sister of Simon de St. Liz, Earl of Huntingdon and Northants, who m. Isabel de Beaumont, dau. of Robert de Beaumont,* 2nd Earl of Leicester and Amice de Montfort, dau. of Ralph de Gael (Brito). *Brother of (1) Adeline de Beaumont, who m. Hugh de Montfort, als Hugh de Gand, son of Gilbert de Gand I. and Alice de Montfort-sur-Risle.(2)Isabel de Beaumont, who m. Gilbert FitzGilbert de Clare,* son of Gilbert FitzRichard de Clare, brother-in-law of Raoul de Tillieres. *His granddau. (by 'Strongbow'), Basilia, m.(as third wife) Robert de Quincy, aforementioned, br-in-law of Thomas de Colville.
Simon de St. Liz and Isabel de Beaumont had issue, another Simon, who m. Alice de Gand, dau. of a grandson of Gilbert de Gand I. On the death of Alice without issue the overlordship went to her uncle Robert de Gand, brother-in-law of William de Colville. Ralph de Gael  was the son of his namesake and a dau. of William FitzOsborn, and his first wife, Alice, dau. of Roger de Tosny I. Alice de Tosni was the cousin of Adeliza de Tosni, heiress of Belvoir, dau. of Robert de Tosni I. and Eve de Montfort's niece, Isabel de Montfort. Thus, Adeliza de Tosni was the second-cousin (given the proposition of the family of Armenters decending from William Crispin/Colville I. to be correct) of Robert and Geoffrey de Armenters and of William Crispin II., whose descendant was William de Colville, who m. Maud d'Albini Brito. See Beatrix de Armenters, as follows, for a connection to Ralph de Gael.
Robert de Quincy was the father of Saher de Quincy, one of the 25 sureties of the Magna Carta. The arms of Saher de Quincy are described as or, a fesse gules, which suggest a close affinity to the Colville family, as Walter de Colville also bore or, a fess gules. (This Saher de Quincey was the grandfather Margaret de Quincy, Countess of Winchester, whose grant of lands in Long Whatton, Leicestershire, was witnessed by Walter de Whatton's grandson. Saher de Quincy m. Margaret de Beaumont, dau. and heir of Robert de Beaumont, 3rd Earl of Leicester.
1.1.1.1.1.Roger de Colville, cousin of Roger de Merlay, huband of Margery de Umframville. Roger was the br. of Philip de Colville, s.l. 1268, who  m. Engelisa, sister of Robert Ingram, whose family were feudatories of Adam de Brus. Philips father, William, held half a knight's fee in Engleby juxta Arneciiffe (where twelve carucates made one knight's fee) of Walter de Fauconberge, Lord of Skelton, given by the Conqueror to Robert de Brus, as parcel of the barony of Skelton, to hold of the King. Philip's son was  William de Colville, fl. 1270; his son being: Robert de Colville, who, in 1302, held land of the Brus fee in Heslerton, and was lord of Ancroft, in Northumberland — Mackenzie.
1.1.1.1.1.1.Walter de Colville, born c. 1207, obit. 1277, m. Elizabeth d'Albini Brito, of Aubourn and Counthorpe, Lincs., dau. of Odonel d' Albini Brito, son of William d'Albini Brito III..* and Matilda, dau. of Odonel de Umframville. William d'Albini Brito III. being, as stated, the son of William de Albini Brito II. and Maud, dau. of Robert FitzRichard de Clare and Matilda de St. Liz. William de Albini Brito II. was the brother of Matilda d'Albini, who m. Gilbert, Earl of Strathearn. Their dau., Ethne, m. David de la Haye, 2nd Laird of Erroll, they the parents of Glbert de la Haye, 3rd Laird of Erroll, who m. Idonea Comyn,* of Buchan, dau. of William de Comyn, 1st Earl of Buchan, and Margaret of Buchan, Countess Of Buchan. *Her brother, Alexander, had at least nine children with his wife, Elisabeth, dau. of Roger de Quincy, 2nd Earl of Winchester, son of the Magna Carta surety, and closely related to the Colville family, including (1) Elisabeth Comyn, who m. Gilbert de Umframville II., 1st Earl of Angus. (2)John Comyn. Robert de Brus granted to Walter Fitz-Gilbert the whole tenement of Machan which belonged to John Comyn in 1320.
I suppose elsewhere this Walter de Colville to be the ancestor of the Hamiltons descended from Walter FitzGilbert; that his grandson was Walter FitzGilbert(Hamilton). I suppose that the common ancestor of these Hamiltons and the descendants of William de Whatton to be William Crispin/Colville I. Given that Walter de Colville was kin of the Umframvilles, Comyns, and Quincys, and held land of the Brus fee, that a grandson of his should assume the Umframville/Hamilton coat of arms and style himself after 'Hamlyton, Hamiledon, or Hamelton', Rutland, near Normanton, (where his family were enfeoffed of Umframville land as a result of Colville, d'Albini, Unframville intermarriages) is eminently feasible.
Concerning the supposed association of the Gand family to Armentières in French Flanders: Of approximately 9, 500 estates listed in Domesday, 760 of them had tenants in chief from the 'southern Low Countries' – only two Flemish tenants-in-chief were from northern, 'Flemish' Flanders: the Abbey of St. Peters in Ghent, and Gilbert de Ghent, of the family of the advocates of St. Peter's'(Eljas Oksanen, Flanders and the Anglo-Norman World, pp. 186-8, 2012). Armentières is a town in the southern Low Countries. There is no geographical, tenurial, or ecclesiatical record of any connection between the Gand family and Armentières in the southern Low Countries.
The principal witnesses of Gilbert de Gand's charter in favour of Abingdon abbey were not Flemish. Gilbert de Gand's ascendency owed much to his marriage into the Norman family of Montfort-sur-Risle, and to a probable kinship relationship to the powerful Crispin family of France. He is first recorded in England in 1069, as joint commander of York, with William Malet, husband of Hesilia Crispin, sister of William Crispin I. (Sherman; EYC 2:432; CP 6: 672 n; P. Dalton, Conquest, anarchy and lordship, 1994, p. 11).
Neither the Gand or Armenters families discernably intermarried with Flemings.
The Gands became further embedded in the fabric of elite Norman society with the marriage of Gilbert de Gand's granddau. to a member of the Crispin kinship group, William de Breteuil, son of William FitzOsborn, whose wife, as stated, was Adeliza de Tosny, sister of  Ralph de Tosny III., whose wife was the niece of William Crispin I. Relationships of these times can not be based on simplistic assumptions, such as the Gands were Flemish, so their tenants, the Armenters, were Flemish. Families have to be studied in the entirety of their relationships over a period of time, in the context of the marriage customs of those times; that is, as social entities.
1.Gilbert Crispin I.
1.1. Gilbert Crispin II., Seigneure de Tillières. Also, as his brother, William,* styled de Colville. They were brothers of Robert Crispin, who was said to have died without being married.
1.1.1. Gilbert Crispin III., m. Hersende de Brezolles, kinswoman of Albert Ribaut, and became enfeoffed in Armentières. Albert Ribaud, gave the church of Brezolles (Eure-et-Loir, cant. Dreux) to the monastery of Saint-Pere of Chartres; the same monastery receiving donations from the Armentières family of Verneuil. 'Deux chartes du cartulaire de Saint-Père font mention de Foulques et de Fulbert d'Armentières' (Charpillon, Anatole Caresme, 'Dictionnaire historique', p. 143, 1868).The Tillières branch of the Crispin family had a share in seigneurial revenues at Brezolles (Daniel Power, The Norman Frontier, pp. 246-247, 2005).
1.1.2. Ribaut. 1.1.3. Richard. 1.1.4. Landry. 1.1.4.1. Raoul.* Confirmed father's gift of land in Armentières to Bec. Richard (de Bienfaite) de Clare* (son of Gilbert de Brionne), m. Rohaise, dau. of  Walter Giffard and  Ermengarde Flaitel. A daughter, whose name is unknown, m. *Raoul, seigneur de Tillières (see Archaeologia Cambrensis, p. 12, 1859; Dictionnaire de la noblesse, p. 583, 1772).
1.2.William Crispin/Colville. He m. Eve de Montfort,* a sister of Simon I de Montfort L'Amaury (W. Frolich, trsl., The Letters of Anselme of Canterbury, 1990-1994, nos. 22, 98, 118, and 147). They were the children of Amauri  de Montfort, obit. 1031, and Bertrade de Gometz. According to Orderic (OV vii., vol. 4), Amauri was the son of William de Hainault (Marjorie Chibnall, ed. & trans., The Ecclesiastical History of Orderic Vitalis, vol. iv., 1969-80). 'Eve de Montfort bore him Gilbert, abbot of Westminster, William Crispin II., and many others'(Milo Crispin, How The Holy Virgin Appeared To William Crispin The Elder And On The Origin Of The Crispin Family, ed. Migne, cols. 735-744, 185. It is not certain whether William de Hainault had any connection to the counts of Hainaut, yet, CP. 7, 708, note (f), suggests that Amauri's grandson may have rejected his wife, a dau. of the Count of Hainault, because of consanguinity.
(William de Hainault was contemporary to Regnier IV. de Hainault, who, in 985, recovered Mons and Hainault. and m. Hadwige, dau. of Hugh Capet, King of France; by whom he had issue Regnier V. who died in 1033, leaving by his wife, Maud of Lorrain, a dau., Richildis, heiress of Hainault, Brabant, Mons, and Valenciennes; which possessions she conveyed to the Counts of Flanders, marrying Count Baldwin V., brother of King William the Conqueror's wife. Gilbert de Gand's mother is stated to be Gisele, a sister of Otgiva, wife of Baldwin IV. count of Flanders (Europaische Stammtafeln (ES, 6:128, 1978). The same authority (ES 2:5, 1984)has 1012 for Otgiva's marriage date, as does K.F. Werner's 'Die Nachkommen Karls des Grossen', in Karl der Grosse, ed. W. Braunfels, vol. 4, 1967. Thus, given Gilbert de Gand's estimated birthdate of 1040-2, there is a thirty year age difference between Gisele and Otgiva, and a relationship of niece/aunt would be more supportable, making Gilbert de Gand a second-cousin of both King William's wife and  Baldwin V., whose wife, as shown, was the granddau. of Regnier IV. de Hainault; who was likely closely related to William de Hainault, grandfather of William Crispin's wife. This would be a typical example of the concept of 'foedus inter consobinos heredes'.
(Saher de Quincy I. was a tenant of Anselm de Chokes (Cochis, Choques, a name used by the Houdain family) at Long Buckby, Northhampton, steward of Sibylla of Anjou, countess consort of Flanders, who m. (1)William Clito,(2)Thierry, Count of Flanders, the youngest son of Duke Thierry II of Lorraine and Gertrude of Flanders, dau. of Robert I of Flanders, the younger son of Baldwin V., and brother of Matilda of Flanders, wife of  William, King of England).
Hugh de Montfort-sur-Risle II., father of Gilbert de Gand's wife, furnished fifty ships and sixty knights for the expedition to England, and was the 'Constable' spoken of by Ordericus at the battle of Hastings; for the de Montforts were hereditary Marshalls of Normandy, a honour to which the Crispins succeeded. He had gained his reputation in arms twelve years before, when he had been one of the leaders at the famous battle of Mortemer. Wace describes how he helped to save William Malet's life (p. 262). He received a barony of one hundred and thirteen English manors, with a large proportion of Romney Marsh, and was one of the barons intrusted by the Conqueror with the administration of justice throughout England, under Bishop Odo and William FitzOsborn, in 1067.
To repeat: Eve de Montfort's niece, Isabel de Montfort, m. Ralph de Tosny III., br. of Robert de Tosny, Baron of Belvoir (Dictionnaire de la noblesse, p. 583, 1772). They were the sons of Roger 'the Spaniard' de Tosny. In 1013, Roger and his father Raoul guarded the castle at Tillières for Richard II, Duke of Normandy. A few years later, the pair were forced into exile, and the defence of Tillières was given to Gilbert Crispin 1. Adeliza de Tosny, sister of Ralph and Robert, m. William FitzOsborn).
1.2.1. Robert de Armenters. Domesd. tom. i. fol. 56 b. 'Hi subscripti Taini de Oxenefordscire habuer tra in Walingeford. Lanfranc Archieps. Remigi eps. Abb. de S. Albano. R. abb. Comes, Hugo. Walter Gifard, Robt. de Oilgi (d'Oilly), Ilbert de Laci. Roger F. Seifridi, Orgar, Hugo de Bolebec. Hugo Grando de Scoca. Drogo. Robt. Armenteres'. In 1086, a manor at Wheatfield (Whitfield), assessed at 2 hides, was part of Robert d'Oilly's* fief. Subsequently it was lost to the D'Oillys and by 1166 was in the honor of Wallingford. Until the 19th century Wheatfield, as a member first of Wallingford and then Ewelme honor, attended the honor courts and paid 2s. cert money. *His son-in-law was Milo Crispin, probable son of William Crispin I.
1.2.1.1. William de Whatton, m. … de Newmarch, dau. of William de Newmarch, benefactor of Blythe Priory, founded by Roger de Busli.
1.Turchetil,* obit. 1036, m. Adeline de Montfort, who, on chronological ground, was most likely a sister of Thurstan de Bastembourg, son of —.** Guillaume of Jumièges records that 'Turstinus de Bastenburg' had 'duos filios Willelmum Bertrannum et Hugonem cum barba de Monteforti', that is, Hugh de Montfort I, father of Hugh de Montfort II., born c. 1020. Guillaume of Jumièges names 'secundus Hugo' as the son of 'Turstinus de Bastenburg … (filium) Hugonem cum barba de Monteforti', Seigneur de Montfort-sur-Risle.  He fought in the battle of Mortemer in 1054. 'Hugo de Monte Forti' witnessed the charter dated to 1060 under which Guillaume II. Duke of Normandy granted 'Brenerias' to the abbey of Bayeux. The Brevis Relatio de Origine Willelmi Conquestoris records that 'Hugone de Mumfordia' contributed 50 ships and 60 knights towards the invasion of England in 1066. Guillaume of Jumièges records that 'secundus Hugo', son of 'Turstinus de Bastenburg (filium) Hugonem cum barba de Monteforti', had 'de filia Richardi de Bellofago …  unam filiam' who married 'Giselbertus de Ganz'.The Stemma fundatoris of Bardney Abbey names 'Alicia de Monteforti' as wife of 'Gislebrictus de Gaunt'.*Brother of Onfroi de Vielles, father of Roger de Beaumont, obit. c. 1093, father of Robert de Beaumont, Earl of Leicester, father of Adeline, wife of Hugh de Gand, alias Montfort. (See David Crouch,  'The Beaumont Twins', p. 16, 1986).
**Anslech? (See: Christophe Maneuvrier, Paysages et sociétés rurales au Moyen Âge. Le Pays d'Auge jusqu'à la fin du XIIIe siècle, doctoral thesis, University of Caen, 2000, vol. 1, (dactyl.), p. 98), one of the three secretarii to William Longsword (Dudo of Saint-Quentin, De moribus et actis primorum Normanniae ducum, Ed. Jules Lair, Caen, F. Le Blanc-Hardel, 1865, p. 220). William Bertran and Hugh de Montfort I. had a sister, Gisele, who m. Giroie (Brito),Lord of Échauffour; their dau., Hawisa d'Échauffour, m. Robert de Grandmesnil. These relationships probably offer a clue as to earlier relationships ('foedus inter consobinos heredes') within the Norman hierarchy, which are otherwise obscured by a very deep fog.
The eldest son of Gilbert de Gand and Alice de Montfort adopted his mother's name and succeeded her as Seigneur de Montfort-sur-Risle. He rebelled against Henry I King of England in Sep 1123, with his brothers-in-law Waléran de Meulan. He m. Adeline de Beaumont, dau. of Robert de Beaumont, Earl of Leicester and his wife Elisabeth de Vermandois (Capet). Guillaume de Jumièges names 'Adeline fille de Robert comte de Meulan' as wife of 'Hugues le quatrième'. Orderic Vitalis names her as one of the three sisters of Waleran Comte de Meulan, whom he married to Hugues de Montfort. Their dau., Adeline de Montfort, m. Guillaume de Saint-Clair; William de Britolio* and Richard FitzRobert, Sire de Creully. *Seigneur d'Ivry, son of William FitzOsbern, Earl of Hereford, a family closely associated with that of Crispin, for reasons I detail elsewhere.
My comment on an act showing a relationship between the families of Ivri, FitzOsborn, and Crispin: 'We see here that Count Rodolph's son, Bishop Hugh, gave lands centred around Guernanville to William FitzOsborn, his nephew, and Gilbert Crispin I.; their subtenant being Foulques de Guernanville, whose gift of his enfeoffment was confirmed by Foulque's son, with the permission of William de Breteuil, Gilbert Crispin I., and his sons, Gibert Crispin II. and William Crispin I.; and Roger de Clare, brother of Robert FitzRichard de Clare and Gilbert FitzRichard de Clare, sons of  Richard de Bienfaite de Clare, and brothers-in-law of Raoul, seigneur de Tillières, nephew of William Crispin I). 
1.1. Lesceline – 'Lezscelinam … filiam …Turchetilli' (Willelmi Gemmetencis Historiæ (Du Chesne, 1619), Liber v., iii., p. 250); m. William d'Eu, whose br., Robert, was the father of William d'Eu, Lord of Hastings, s.l. 1095. He m. (1) Beatrice de Busli, sister of the Domesday magnate, Roger de Busli, founder of Blythe Priory. (2) Helisende d'Avranches, dau. of Richard 'le Goz', Vicomte d'Avranches. Her marriage is referred to by Orderic Vitalis, who says that she was the sister of Hugh, Earl of Chester, but does not give her name (Orderic Vitalis (Chibnall), vol. iv, B. viii., p. 285), and of Judith d'Avranches, who m. Richer de l'Aigle, Seigneur de l'Aigle, grandparents of Richer de l'Aigle, whose dau, Juliana, obit. 1156,in Tilly-sur-Seulles, m. Gilbert Crispin, Seigneur de Tillières (Véronique Gazeau, Normannia monastica, vol. 1). The connection between the family of Whatton and the Mandevilles arose from the likelihood 'that Geoffrey de Mandeville's first wife, Athelais, was a daughter of William of Eu and Beatrice de Bully' (Medieval Prosopography, Volume 14, p. 11, 1993).
1.2.1.1.1. Robert de Watton.
1.2.1.1.1.1. Adeline de Whatton, m. William de Heriz: Reginaldus de Aslacton witnessed Adelina de Whatton's deed, who by the consent of William de Heriz, her husband, gave to the Priory of Lenton, her two men or tenants, Hugh and Henry, with the three bovates of land they held in Aslacton, which gift she and her said husband offered on the high Altar of the Holy Trinity, at Lenton. These were her dower lands that her father held of Robert de Lacy, son of Ilbert de Laci.
1.2.1.1.2. Adam de Newmarch. It is claimed (CP ix. 543, citing Yorkshire Archæological Journal, vol. iv, p. 143, and Blythe cartulary, fo. 106) that Adam de Newmarch was the son of William de Watton, an unnamed son of his inheriting land from William de Newmarch, his uncle: Pipe Roll 31 Hen I (1129/30), Northumberland, p. 36., records 'Wills de Waddona' accounting for 'fil suus' having succeeded to the land of 'Willi de Novo Mercato avunculi sui' in Northumberland.
1.2.1.1.3. Walter de Whatton. Lord of Haslacton, had two sons (patrons of Garendon Abbey, founded by Robert de Beaumont, Earl of Leicester, in 1133), and a daughter: (1) Richard,** his heir; (2) Robert, whose son, Allan, was a witness to the grant of Margaret de Quincy,* Countess of Winchester, of lands in Long Whatton, in Leicestershire, to Brian Fitzwilliam, her forester, temp. Hen, III.; (3) Isabel, who m. Reginaldus de Aslacton, who succeeded to the manor of Aslacton and took the surname. He was probably a descendant of tenant of Walter d'Aincourt in Aslacton. In 1086, the King had 1 bovate, 1 villan ploughed there. Walter d'Aincourt held a manor, there was 1 carucate, the land was equal to 3 ploughs, Walchelin held 2 ploughs of him. Gilbert de Gand held half a carucate as a member of Whatton. Ilbert de Laci held a manor. Walter d'Aincourt was from Ancourt, Dieppe, canton Offranville.
*Her paternal grandfather was Saher de Quincy, 1st Earl of Winchester.
**Richard de Watton, eldest son of Walter, m. Margaret, dau. of Ralph de Mandeville, and Amicia his wife, dau. and coheiress of Richard, eldest son of Nigel Lovetot.* Ralph de Mandeville was the son of Ernulf de Mandeville, obit. 1178, and Alice d'Oilly,* great-granddau. of Nigel d.Oilly, brother of Robert d'Oilly I., father-in-law of Milo Crispin, probable son of William Crispin/Colville I., and mentioned, as shown, with Robert de Armenters, also probable son of William Crispin/Colville 1, in Domesd. tom. i. fol. 56 b.
*Brother of Richard de Luvetot, fl. 1150-1160, who m. Cecily d'Albini Brito, dau. of Ralph d'Albini Brito, parents of William Luvetot, who m. Matilda FitzWalter, dau. of Walter FitzRobert of Woodham Walter, son of Robert FitzRichard de Clare and Matilda de St. Liz. Alice d'Oilly was the sister of Henry d'Oilly, and thereby aunt of Maud, who m. Maurice de Gand, son of Avice de Gand, dau. of Robert de Gand, William Colville's br.-in-law.
Robert d'Oilly I.* was probably a native of Ouilly-le-Vicomte, near Lisieux, caput of the Crispin family. He m. Ealdgyth, dau. of Wiggod of Wallingford and Erminhild of Mercia, the sister of Leofric III., Earl of Mercia, a dau. of whom was possibly William Malet's** mother. *Father-in-law of Milo Crispin. **Brother-in-law of William Crispin/Colville I., probable father of Milo.
1.2.1.2. Henry de Armentieres.
1.2.1.3. Beatrice de Armentieres, m. Meinfelin Brito, Baron of Wolverton, son of Maino Brito of Erce-en-Lanee, Ille-et-Vilaine.
The third part of Ellesborough was given after the Conquest to Maino the Breton, and was held by his descendants as half a knight's fee belonging to their barony of Wolverton. It passed to his descendant Hamo son of Meinfelin … Hamo was succeeded by his son, known as Hamo* son of Hamo (Carta Hamonis filii Hamonis de donatione tocius terre quam Willelmus Brito eis dedit in Eselberga. … Testibus Alano filio Meinfelin, Ricardo de Bechhamptona, Radulfo de Bello Campo, et Ricardo fratre eius Willelmo de Freme …' (The Cartulary of Missenden Abbey: vol. 12, p. 44). On his death his son William obtained his possessions … and held the barony of Wolverton till his death c. 1248. In that year his brother and heir Alan son of Hamo did homage to the king for his lands (Parishes: Ellesborough', A History of the County of Buckingham: vol. 2 (1908), pp. 331-338.
*He m. Matilda Mauduit. The Rotuli de Dominabus of 1185 records property 'in Wulrintone' held by 'Hamo filius Hamonis filii Meinfelin', that he is 'nepos Willelmi Mauduit ex parte matris'… Matilda que fuit uxor Hamonis Meinfelini'. Matilda Mauduit was the sister of William Mauduit, who m. Isabel de St. Liz, dau. of Simon de St. Liz, 4th Earl of Huntingdon and Northampton, and Isabel de Beaumont, dau. of Robert de Beaumont, 2nd Earl of Leicester,* and Amice de Montfort, dau. of Ralph de Gael* (Brito). *To repeat: brother of (1) Adeline de Beaumont, who m. Hugh de Montfort, als Hugh de Gand, son of Gilbert de Gand I. and Alice de Montfort-sur-Risle. (2)Isabel de Beaumont, who m. Gilbert FitzGilbert de Clare,* son of Gilbert FitzRichard de Clare, brother-in-law of Raoul de Tillieres. *His granddau., Basilia, m. (as third wife), Robert de Quincy (son of Saher de Quincy and Matilda de St Liz), br.-in-law of Thomas de Colville.
Buckinghamshire: 'Principal Land-owners in the County at various Periods. When the survey of Domesday was taken, the following were the principal land-owners: Walter Gissard, Earl of Buckingham, had 41 manors; the Bishop of Baieux, 26; the Bishop of Coutance, 18; William Fitz-Ansculf, ancestor of the Paganells and Somerys, 16; Earl Morton, 13; Milo Crispin, 12; Maigno Brito, founder of the barony of Wolverton, 10; William Peverell, 8; Geffrey de Mandeville, 7; Robert D'Oyley and Roger de Iveri, each six manors; Hugh de Bolebec, and Judith, Countess of Northumberland, each five manors; Lewis Neweton, and Walter Fitz-Other, ancestor of the Windsors, each four manors; Hugh, Earl of Chester, Robert de Todeni, Gozelin Brito, and Gilo, the brother of Ansculf, each three manors: no other person appears to have possessed more than two' (Lysons, 466).
To repeat: Ralph de Gael (Brito) was the son of his namesake and a dau. of William FitzOsborn, and his first wife, Alice,  dau. of Roger de Tosny I. Alice de Tosni was the cousin of Adeliza de Tosni, heiress of Belvoir, dau. of Robert de Tosni I. and Eve de Montfort's niece, Isabel de Montfort. Thus, Adeliza de Tosni was the second-cousin (given the proposition of the family of Armenters decending from William Crispin/Colville I. to be correct) of Robert and Geoffrey de Armenters and of William Crispin II., whose descendant was William de Colville, who m. Maud d'Albini Brito, as follows.
Adeliza de Tosni m. Roger Bigod, earl of East Anglia. Their dau., Cecily, obit. 1135, m. William d' Albini Brito, of Saint-Aubin-d'Aubigné (Ille-et-Vilaine) and was mother of  Ralph d'Albini Brito, who m. Sybil de Valognes, widow firstly of Robert de Ros, and secondly of William de Percy, son of Allan de Percy II. and Emma de Gand, dau. of Gilbert de Gand I. The Colvilles were tenants of the Percys in Yorkshire. Ralph was the father of Gunnora de Albini Brito, who m. (1) Robert de Gand, (English Baronies', I. J. Sanders, OUP, 2nd ed, 1963); a younger br. of Gilbert, Earl of Lincoln; grandsons of Gilbert de Gand I. John de Armenters held Stow of the fee of this Gilbert de Gand. Robert de Gand was the father of  Gilbert de Gand, earl of Lincoln, obit. 1242, father of Juliana de Gand, who m. Geoffrey de Armenters, son of Henry de Armenters.
A sister of Gunnora de Albini Brito, Maud, m. William de Colville. William held one night's fee of Robert de Gand in Lincs., husband of Gunnora d'Albini (Brito), Maud's sister. William de Colville agreed to pay the king a fine of 20 mares and one palfrey, to have seisin of Normanton, co. Leicester. Ralph de Albini Brito was the br. of  William d'Albini Brito II., who m. Matilda FitzRobert de Clare, dau. of Robert FitzRichard de Clare ,br.-in-law of Raoul de Tillieres, nephew of William Crispin I., and Matilda de St. Liz. Their son, William d' Albini Brito III., m. Maud de Umframville, dau. of Odinel d'Umfraville, Baron of Prudhoe and Alice de Lucy. Maud was the sister of Richard de Umframville, father of Gilbert de Umframville I., father of Gilbert de Umframville II)
1.2.2. Geoffrey de Armenters. Held the subtenancy of Burley (Rutland) in 1086, also held Kislingbury (Northants) of Gilbert de Gand I.
1.2.2.1. Geoffrey de Armenters, gave tithes from Stow and Kislingbury to St. Andrew's Priory, Northampton. He probably m., as her second husband, Ema d' Insula (Lisle),
1.2.2.1.1. Walter de Armenters, 'also called 'W. filius Emma de Insula,'. He had a seal of two swords, one pointing upwards, the other downwards ('Parishes: Burley', A History of the County of Rutland: volume 2 (1935), pp. 112-119).
1.2.2.2. Henry de Armenters, m. Isabel.
1.2.2.2.1. David de Armenters, 'of Hundigton or Honington, co. Linc.' seals circa 1150 with a device of three swords, that in the middle hilt downwards, the others hilt upwards — perhaps in allusion to a shield of arms.
1.2.2.2.1.1. Henry de Armenters. The seal of Henry, 'of Whitfield, co. Northants', shows a single sword, point downwards, circ. 1180. To repeat: In 1086, a manor at Wheatfield (Whitfield), assessed at 2 hides, was part of Robert d'Oilly's* fief, whose son-in-law was Milo Crispin, probable son of William Crispin I.
1.2.2.2.1.1.1. Geoffrey de Armenters,  m. Juliana de Gand.
1.2.2.2.1.1.1.1. Henry de Armenters, of Stowe and Kislingbury, Northamptonshire, and Burley, Rutland (died shortly before 25 March 1256), m. Alice (living 1266) (Charles Roberts, ed., Excerpta e Rotulis Finium, 2 (1836): 225, 444, 538).
1.2.2.2.1.1.1.1.1. Alice de Armenters, of Stowe, Northamptonshire, The manors to which Alice was heir were principally Church Stowe and Kislingbury (Northants.) and Burley (Rutland), all held by the Domesday ancestor of Geoffrey de Armenters. She m. Sir Gerard de Lisle, son of Robert de Lisle and Alice FitzGerald, after 1256. She m.(2) Nicholas de Segrave; their  dau, Maud de Segrave, born  1296 (aged 25 in 1321), m. Edmund de Bohun, grandson, by his first wife,  of Humphrey de Bohun, who m., secondly, Joan de Quincy, dau. of Robert de Quincy, son of Saher de Quincy, 1st Earl of Winchester, and Margaret de Beaumont. Humphrey de Bohun was the son of Humphrey de Bohun and Maud de Lusignan, dau. of Raoul de Lusignan, Count of Eu by marriage, obit. May I, 1219, in Shenton, Leicestershire, who m. Alix d'Eu, dau. of Henri d'Eu, Comte d'Eu and Mathilde or Maud de Warenne, whose sister, Isabella, m. (1) Robert de Laci, (2) Gilbert de l'Aigle, son of Richer l'Aigle, obit. 1176, Lord of l'Aigle, baron of Pevensey.
A charter of Richer gave several rights and exemptions to the monks of Saint-Évroult to his farm in Auguaise; this act was done in the presence of his wife Odoline, Gilbert and Richer, his sons, Gilbert de Tillieres and others. Richer died in 1176, and was buried with his ancestors in the priory of Saint-Sulpice. He m. Odoline, who was buried in Chaise Dieu, where she had a magnificent tomb in the choir of nuns. She was the dau. of a viscount of Sainte-Suzanne, Maine. From this marriage came three sons, Gilbert, Richer and Engenouf, and a dau. named Julienne. Gilbert was the successor to his father; Richer never married; Engenouf is mentioned in his father's charters. Julienne  m. Gilbert, Lord of Tillieres, after whose death she became a nun at Chaise-Dieu, where she was prioress in the year 1208. Gilbert de Tillieres was the son of Gilbert de Tillieres, and Laurentia, son of Gilbert de Tillieres and Hersende de Brezolles, grandson of Gilbert Crispin I., and likely cousin of Robert and Geoffrey de Armenters.
1.2.2.2.2.Thomas de Armenters, m. Rohesia, co-heiress (of four daughters) of Arfast de March,* who held the second lordship of  Biddlesden in the County of Bucks. The first Lordship of Biddlesden returned in Domesday as held by the King, passed afterwards into the possession of Robert de Meperteshall, living temp. Henry I., then came to be held by Ernald de Bosco, the steward of Robert de Beaumont, who gave his consent for Ernald to build Biddlesden Abbey in 1147. Temp. Henry III, a certain Robert Foliot, descendant of Arfast de March, through his eldest daughter,  put in a claim to this Manor. The third Lordship of Biddlesden was held be Emma d Insula (Lisle), whose son, Robert,  joined her in conveying 5 virgates of land to Biddlesden Abbey. Its first monks came from the earl's own foundation of Garendon in Leicestershire, patrons of which, as said, were Richard and Robert de Whatton, probable great-grandsons of Robert de Armenters.
*He is confounded  with Adelof de Merc; a Domesday tenant of Eustache II. of Boulogne, a tenant of Eustache (Round, 'Counts of Boulogne as English lords', in idem, Peerage and family History).
Before the Conquest Ulf held Burley. In 1086 Geoffrey held it of Gilbert de Gand. Ulf is no doubt to be identified with the Ulf who preceded Gilbert de Gand in his manor of Folkingham (co. Linc.), and with Ulf Fensic who was Gilbert's 'antecessor' in this and many other counties. The overlordship followed the descent of the barony of Gand. Gilbert was succeeded by his son Walter (d. 1138), and he by his son Gilbert de Gand, Earl of Lincoln in right of his wife. Gilbert was the brother of Robert de Gand, br.-in-law of William de Colville, great-grandfather of Walter de Colville, who m. Elizabeth d' Albini Brito, granddaughter of Maud de Umframville, dau. of Odinel d'Umfraville, Baron of Prudhoe and Alice de Lucy. Maud was the sister of Richard de Umframville, father of Gilbert de Umframville I., father of Gilbert de Umframville II.
Gilbert de Gand left a dau., Alice, who m. Simon de St. Liz, Earl of Huntingdon. (Grandson of Simon de St. Liz I, founder of St. Andrews Priory, Northants – MS.) On the death of Alice without issue the overlordship went to her uncle Robert de Gand (brother-in-law, as said, of William de Colville). His son, Gilbert de Gand, earl of Lincoln (obit. 1242) was followed by his son Gilbert (obit. 1274).
Notts. Gilbert de Gand … 'gave to God, and St. Mary of Rufford, and the Monks there serving God, in Increase of the Donations he had settled on them at his founding that Abbey (1147), his whole Demesne in this Place; and Simon de Liz his successor, gave to the said Monastery, the Right of Patronage of the Moiety of the Church, which Alice his Countess, for the Safety of her own, and her Lord's Soul, confirmed, with the Patronage and Advowson of the said Moiety to the said Monks. Gilbert de Scleigbey also gave to the said Monks of Rufford, ten Acres here, which his Father held of William de Albani, on Condition, that they ihould receive him into their Fraternity for Sepulture'.
Geoffrey, who held the subtenancy of Burley in 1086, also held Kislingbury (co. Northants) of Gilbert de Gand I., and both these manors we find, in the 12th century, in the family of Armenters or Ermenters. It is possible therefore that Geoffrey may have been the same as or the father of Geoffrey de Armenters who gave tithes from Stow and Kislingbury to St. Andrew's Priory, Northampton. In the middle of the 12th century, his son John de Armenters held Stow of the fee of Gilbert de Gand, and died without issue. He seems to have been succeeded by his nephew, David de Armenters, son of Henry de Armenters, who gave the church of Burley to the nuns of Nuneaton (co. Warw.). This grant was confirmed by his overlord, Simon, Earl of Huntingdon, and by Henry de Armenters,* son and successor of David de Armenters. Henry de Armenters had succeeded David before 1196, when he held two knights' fees in the county of Rutland and paid scutage of 40s. 'Parishes: Burley', A History of the County of Rutland: Volume 2 (1935), pp. 112-119. *Father of Geoffrey de Armenters, who m. Juliana de Gand.
Richard de Bienfaite's son, Robert FitzRichard de Clare m. Matilda de St. Liz, dau. of Simon I de Senlis (Comes Northants) and Maud of Huntingdon, dau. of Waltheof, Earl of Northumbria. In the period, 1093-1100, he and his wife founded the Priory of St. Andrew's. Henry I confirms the gifts of Earl Simon to St. Andrew's, Northampton (1107): 'Henricus rex Anglise, Roberto Lincolniae episcopo et David comiti et omnibus baronibus, et fidelibus suis, salutem. Sciatis me concessisse et dédisse monachis de Caritate in eccleeia sancti Andreae de Northampton Deo servientibus, ecclesiam sancti Sepulchri, quae est in eadem villa, cum quatuor acris de dominio meo, pro anima patris mei, et matris mei, et pro animabus antecessorum meorum. Et praeterea concedo et confirmo omnes possessiones eorum, quas Simon comes et Matildis uxor sua, et alii barones et homines mei eis dederunt in ecclesiis … Et in Herveleston duas partes decimae Roberti de Armenters, etc. etc.'.
At the general survey, the Earl of Morton or had half a bovate of land in Harleston, it had before the Conquest been the freehold of Leurio and Orgar. (Orgar has been shown to have been associated with Robert de Armenters in Domesd. tom. i. fol. 56 b). William Peverel was certified to hold  one and a half hides here at the same time, and donated the church of Duston (juxta Harleston) to his foundation of Lenton Priory, with the consent of Simon de St. Liz. Orgar was associated in Oxfordshire with Milo Crispin  … at Berwick Salome and Gangsdown an Englishman named Orgar was holding land of Milo which the local jurors considered should have been held of the king, 'for Orgar and his father and his uncle had held it freely in King Edward's time' (The Domesday survey: Introduction', A history of the County of Oxford: vol. 1 (1939), pp. 373-395).
'It is always difficult to obtain contemporary information about the tenants holding the various manors of which an 11th-century honour was composed. Most of them appear in Domesday Book under their Christian names alone, and very few of them can be identified in other documents. Now and then an unusual combination of references tells something about an under-tenant's position in feudal society. The Robert who held in Ewelme of Gilbert de Gand is obviously identical with the Robert Armenteres who appears in the Berkshire Domesday as the owner of a house in Wallingford belonging to this manor (Domesday Book, i, 56b; V.C.H. Berks. i, 326), and with the Robert de Armenteres who attested a charter of Gilbert de Gand in favour of Abingdon abbey (Chronicon Monasterii de Abingdon, ii, 16, ibid.).
Robert FitzRichard de Clare, and Matilda de St. Liz had issue a dau., Maud, wife of William d'Albini Brito II.
1.William d' Albini Brito, of Saint-Aubin-d'Aubigné (Ille-et-Vilaine), m. Cecily Bigod, obit. 1135, dau. of Roger Bigod, I, Earl of East Anglia and Adeliza de Tosni, heiress of Belvoir, dau. of Robert de Tosni I. (Her cousin, as stated …….              ).
1.1.Ralph d'Albini Brito, obit. 1191 in Acre, Palestine, m. Sybil de Valognes, dau. of Roger de Valognes and Agnes FitzJohn, Abbess of Barking; widow firstly of Robert de Ros, and secondly of William de Percy, son of Allan de Percy II. and Emma de Gand, dau. of Gilbert de Gand I. The Colvilles were tenants of the Percys in Yorkshire.
1.1.1.Gunnora de Albini Brito, m. (1) Robert de Gand, 'English Baronies', I. J. Sanders, OUP, 2nd ed, 1963. 'Complete Peerage', G. E. C. et al., 1910; a younger brother of Gilbert, Earl of Lincoln; grandsons of Gilbert de Gand I. John de Armenters held Stow of the fee of this Gilbert de Gand.
1.1.1.1. Gilbert de Gand, earl of Lincoln, obit. 1242.
1.1.1.1.1.Juliana de Gand, m. Geoffrey de Armenters, son of Henry de Armenters. 'When the troubles of John's reign came to a head, the men of Rutland were almost unanimously on the side of the barons. The list given by Geoffrey de Ferland in 1216 of those in arms against the king includes the following knights :— Thomas de Hotot, Henry Murdac, Walter and Thurstan de Montfort, Robert and William Mauduit, Richard de Umfraville, Geoffrey d'Ermenters … Robert de Ros, William 'de Giney,' Hamo the Falconer, William Foleville, Earl David (of Huntingdon), Robert Basset (The Victoria History of the County of Rutland, 231).
1.1.2.Maud d'Albini Brito, m. William de Colville, William held one night's fee of Robert de Gand in Lincs., husband of Gunnora d'Albini (Brito), Maud's sister. William de Colville agreed to pay the king a fine of 20 mares and one palfrey, to have seisin of Normanton, co. Leicester.
1.2. William d' Albini Brito II., m. Matilda FitzRobert de Clare, dau. of Robert FitzRichard de Clare and Matilda de St. Liz. The Rotuli de Dominabus of 1185 records 'Matillis de Sainlis que fuit filia Roberti filii Ricardi et mater Willelmi de Albineio'.
1.2.1. William d' Albini Brito III., m. Maud de Umframville, dau. of Odinel d'Umfraville, Baron of Prudhoe and Alice de Lucy. Maud was the sister of Richard de Umframville, father of Gilbert de Umframville I., father of Gilbert de Umframville II.
1.2.1.1. Odinel d' Albini Brito, obit. November 26, 1235, m. Hawise. In 1238, Richard de Waterville received custody of the lands of Odinel at Dalton, Yorkshire, against Roger de Colville, until Odinel's heir, William, was of age.
1.2.1.1.1.Elizabeth d' Albini Brito, m. Walter de Colville, son of Roger de Colville of Bytham Castle, Lincolnshire, son of William de Colville,*  who m. (1205/6) Beatrice de Stuteville, one of the daus. of Roger de Stuteville, sheriff of Northumberland, her sister being  Alice, widow of Roger de Merlay, son of Ralph de Merlay, Lord of Morpeth, Northumberland, and Juliana of Dunbar, dau. of Gospatric II. of Dunbar. Roger de Merlay and Alice de Stuteville had issue: Roger de Merlay, who m. Margery de Umframville, dau. of Richard Umframville, and sister of Gilbert de Umframville I. This William de Colville being the son of William de Colville being the son of William de Colville and Maud d'Albini Brito.
1.2.1.2.William d'Albini Brito, obit. 1242.
1.2.1.2.1. Isabel d' Albini Brito, m. Robert de Ros, they the parents of William de Ros, lord of Hamlake Castle, and of Trusbut and Wartre. d. 1258. He m. Lucia, dau. of Reginald FitzPiers, Lord of Blewleveny Castle, and had Robert, first Baron Ros by writ, Peter de Ros, and Alice, wife of John Comyn* (Lincoln Assize Rolls, Lincoln N.& Q.' vol. ix., p. 250), son of Richard Comyn, and grandson of William Comyn, jure uxoris Earl of Buchan.
1.2.2.Maud d' Albini Brito, m. Gilbert, 3rd Earl of Strathearn.
1.2.2.1.Ethne de Strathearn, m. David de la Haye, 2nd Laird of Erroll.
1.2.2.1.1.Glbert de la Haye, 3rd Laird of Erroll, m. Idonea Comyn,* of Buchan, dau. of William de Comyn, 1st Earl of Buchan, and Margaret of Buchan, Countess Of Buchan. *Her brother, Alexander Comyn, had at least nine children with his wife, Elisabeth, dau. of Roger de Quincy, 2nd Earl of Winchester, including Elisabeth Comyn, who m. Gilbert de Umframville II., 1st Earl of Angus, and and John Comyn – Robert de Brus granted to Walter Fitz-Gilbert the whole tenement of Machan which belonged to John Comyn in 1320. It was a medieval 'norm' to give forfeited lands to a member of the disgraced family. John Comyn was the cousin of his namesake, husband of Alice de Ros.
Robert FitzRichard de Clare's, brother, Gilbert FitzRichard de Clare, was the father of Richard FitzGilbert de Clare, who m. Alice de Gernon, sister of Ranulf de Gernon, 4th Earl Chester. Their daus. were (1) Alice de Clare, who m. William de Percy, Lord of Topcliffe, son of Alan de Percy and Emma de Gand, dau. of Gilbert de Gand I. (and Alice de Montfort-sur-Risle,* dau. of Hugh de Montfort-sur-Risle I.), overlord of Whatton; (2) Rohese de Clare, who m. Gilbert de Gand, Earl of Lincoln, grandson of  the aforementioned Gilbert (Rot. de Dom., 9). Alice and Rohese were the sisters of Roger FitzGilbert de Clare, earl of Hereford.
Robert FitzRichard de Clare's relict, Matilda de Saint Liz, m. (after 1136)
1. Saher de Quincy I.
1.1. Saher de Quincy II., m. Asceline, relict of Geoffrey de Waterville, sister and coh. of William Peverel, of Bourn, co. Cambridge (who d. on Crusade, 1147-48), dau. of Robert Peverel, of the same, by his wife Adelicia. In 1190, her dau. Asceline de Wateville, owed 60m. for seisin of the lands of her mother, who was wife of Saher de Quency (Pipe Roll, 2 Ric. I.,  p. 29; 4 Ric. I., p. 261; cf. Farrer, Feudal Cambridgeshire, p. 160). Ascelina de Waterville was a great benefactresses to the nuns of S. Michael the Archangel by Stanford (Bytham Catle) … 'For the souls of my father & my mother, & for the fouls of my lords & children, & all my anestors, & for the health of my soul … Witnesses, Hugh the capellan, Thomas de Colevill, Geoffry de Colevill, Ralph de Colevill, Philip de Colevill …  & many others. These Colvilles were the grandsons of of William de Colville (by his son, Thomas, and Asceline de Wateville), who m. Maud d'Albini Brito, that is, 'William le Colevil & Matilda my wife (i.e. Maud d'Albini), have given & granted, & for me & my heirs sold, & by this our present charter confirmed to the monk & his heirs, for his service, one half acre of land to  wit, that which lies beyond the land of the church towards North-Witham … witness (his grandson) Thomas son of Ascelina, son of his son Thomas, who  predeceased his brother, William, the heir of Bytham.  Peck in his 'History of Stamford' recites three deeds of gift from Ascelina de Waterville to the nuns of St. Michael's in Stamford, the first of which was witnessed by William de Colewill.
1.1.1.Robert de Quincy, granted the ancient castle of Forfar by his cousin, William I of Scotland. He m. Orabella, dau. of Ness, son of William, Lord of Leuchars. His sister, Asceline, was the aforementioned wife of Thomas de Colville.
1.1.1.1.Saher de Quincy, one of the 25 sureties of the Magna Carta. The arms of Saher de Quincy are described as or, a fesse gules, which suggest a close affinity to the Colville family, as Walter de Colville also bore or, a fess gules. (This Saher de Quincey was the grandfather Margaret de Quincy, Countess of Winchester, whose grant of lands in Long Whatton, Leicestershire, was witnessed by Walter de Whatton's grandson. Saher de Quincy m. Margaret de Beaumont, dau. and heir of Robert de Beaumont, 3rd Earl of Leicester. On the death of Margaret's br., 1204, Saher de Quincy became coheir to half of the estates of the Honours of Leicester and Grandmesnil.
1.1.1.1.1. Roger de Quincy.
1.1.1.1.1.1. Elizabeth de Quincy, m. Alexander de Comyn, 6th Earl of Buchan, Constable of Scotland (obit. 1290), son of William Comyn and Margaret, Countess of Buchan. Alexander Comyn was uncle of John Comyn, who m. Isabella de Ros.
1.1.1.1.1.1.1. Elizabeth Comyn, m. Gilbert de Umframville II., Earl of Angus. 1.1.1.1.1.1.2. John Comyn. Robert de Brus granted to Walter Fitz-Gilbert the whole tenement of Machan which belonged to John Comyn in 1320. As shown, the Colvilles held land of the Brus fee.
Saher de Quincy was the br. of Robert, ob. ante 1232, who m. Hawise of Chester, Countess of Lincoln. Their dau., Margaret de Quincy, m. John de Lacy; their dau., Maud, m Richard de Clare, son of Gilbert FitzRichard de Clare, grandson of Roger FitzGilbert de Clare, earl of Hereford, aforementioned.
Michael Stanhope
2014.
Below is an extract from Michael Stanhope's suggested pedigree for the earliest members of the Crispin family, in which he proposes that Gilbert Crispin I was an illegitimate son of Gilbert de Brionne and therefore a great grandson of Duke Richard I of Normandy. A little further on he suggests that Robert d'Armentieres was a member of the Crispin family and also an ancestor of the Wormleys.
1.1.1.2.1. Rollo, one Scandinavian leader among several who vied for outright control of the relatively small amount of territory ceded to them, around Rouen, by Charles III., King of France, in return for providing protection against fellow Scandinavian raiders, and giving feudal allegiance to the king. Although history tends to be written as if evolves around the actions of individuals, making it easy for people to identify with and understand, these leaders would have had the essential support of other powerful men.
1.1.1.2.1.1. William Longsword. 'William first appears as the leader of the Normans in the year 933 ["Willelmus, princeps Nordmannorum, eidem regi se committit; cui etiam rex dat terram Brittonum in ora maritima sitam." Flodoard, Annales, s.a. 933, 55; van Houts (2000), 45], having succeeded his father Rollo sometime in or after 928 [Rollo's last known appearance in the records, see Flodoard, Annales, s.a. 928, 41; van Houts (2000), 45]. In (probably) 942, he was treacherously killed at the instigation of Arnulf I of Flanders ["Arnulfus comes Willelmum, Nordmannorum principem, ad colloquium evocatum dolo perimi fecit." Flodoard, Annales, s.a. 943, 86; van Houts (2000), 47]. Shortly thereafter, an anonymous poet wrote the Planctus, a poem lamenting his death' (Stewart Baldwin). Flodoard states that William's mother was a 'concubina Brittanna', which, in the context of the Planctus, which states his mother was from 'overseas', might mean Britain, and, specifically, the Irish Sea (Hibernian) region associated with Viking piracy.
1.1.1.2.1.1.1. Richard I.,  'duke' of Normandy, born 933, died November 20, 996.
1.1.1.2.1.1.1.1. Goisfred, born  circa 958, died 1010, assassinated.
1.1.1.2.1.1.1.1.1. Gilbert de Brionne. He was named as 'Gislebertus Brionensis Comes primi Ricardi Normannorum ducis nepos, ex filio Consule Godefrido', in the foundation charter of Bec, circa 1034. He was born circa 980, and most modern historians state that he was assassinated in 1040 or 1041, after he had become tutor of the young Duke William.
1.1.1.2.1.1.1.1.1.1. Richard FitzGilbert (de Bienfait), s.l. 1088, from the town (St. Martin de Bienfait) of that name near Liseux, the caput of the Crispin family. A popular fallacy is that he was born circa 1035, this being based on an incorrect date being given for the death of his father, i.e. 1035. His son, Roger, was a justicar of England in 1075.
1.1.1.2.1.1.1.1.1.2. Glbert Crispin I. His sobriquet derives from OFr crespin, a derivative of crespe 'curly' – he had 'capillos crispos et rigidos, atque sursum erectos, et ut ita dicam, rebursos ad modum pini ramorum, qui sepe tendunt sursum'. Hence the name of  'Crispinus, quasi crispus pinus' (Milo Crispin, How The Holy Virgin Appeared To William Crispin The Elder And On The Origin Of The Crispin Family, ed. Migne, cols. 735-744, 185). The same source notes that he was 'of renowned origin and nobility', without revealing detail! He was also known as 'Gilbertus de Teuleriis', Castellan (1041) of Tillieres, arrondissement of Evreux, and was probably a son of a concubine. That he was not the same person as Gilbert de Brionne has been recognised in academic sources for nearly 200 years – Aug. Le Provost, Rom. Rou, t. II, p. 232 and 238; Mem. League of Antiqe de Normandy,1828-1829, p. 419; Mabillon 'Life of St. Hellouin', Gall. Christ., vol. xi. – as detailed in MSAN, pp. 110-112, 1837. Unfortunately, the beam of knowledge has not illuminated many 'internet histories', which have an ageing Gilbert, Count of Brionne, being a commander of a border fort, presumably in between his tutoring duties. Gilbert Crispin 1. was also given command of Damville, dioc. d'Evreux, another fort on the 'frontière normande'. Gilbert's son, also Gilbert, inherited the command of Tillieres, his brother, William, was given the command of Neaufles, another important border fort. The Crispin brothers were to become known as 'de Colville', the name of another fort and land (at Colleville-sur-Mer), they were given by Duke William prior to the Conquest.
1.1.1.2.1.1.1.1.1.2.1. Gilbert Crispin II. He donated a moiety of Damville to Bec in 1070, a gift witnessed by Richard FitzGilbert (de Bienfait),  'Ricardi filii Gisleberti comitis'. The heir of this line continued to be called Gilbert for several more generations; Gilbert VI. died at Acre before March 25, 1191.
1.1.1.2.1.1.1.1.1.3. William Crispin I., from whom descended the Stanhope family.
1.1.1.2.1.1.1.1.1.3.1. William Crispin II.
1.1.1.2.1.1.1.1.1.3.2. Robert d'Armentieres, from whom descended the Wormley family.
1.1.1.2.1.1.1.2.  Robert d'Evreux, Archbishop of Rouen (by the Duchess Gunnora).
1.1.1.2.1.1.1.2.1. Richard d'Evreux, donated a mill at Evreux to the abbey of Jumièges by charter dated 1038-1039.
1.1.1.2.1.1.1.2.1.1. Agnes d'Evreux, m. Simon I de Montfort, br. of Eve de Montfort, wife of William Crispin I.
Michael Stanhope 2015.